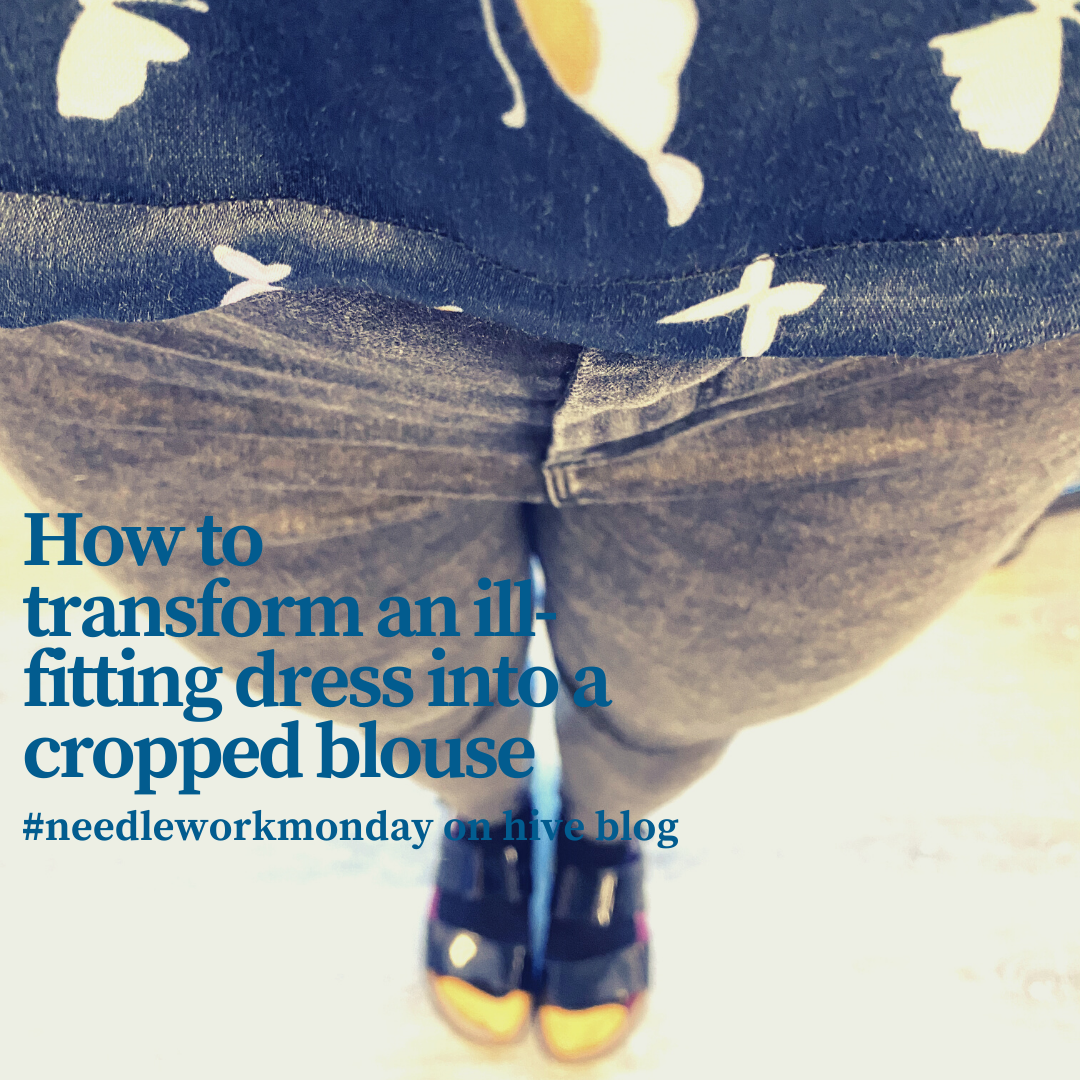 Every Monday I tell myself, today I will only write a short update on my projects. And then I end with taking excessively photos and writing my fingers of, this Monday is no exception.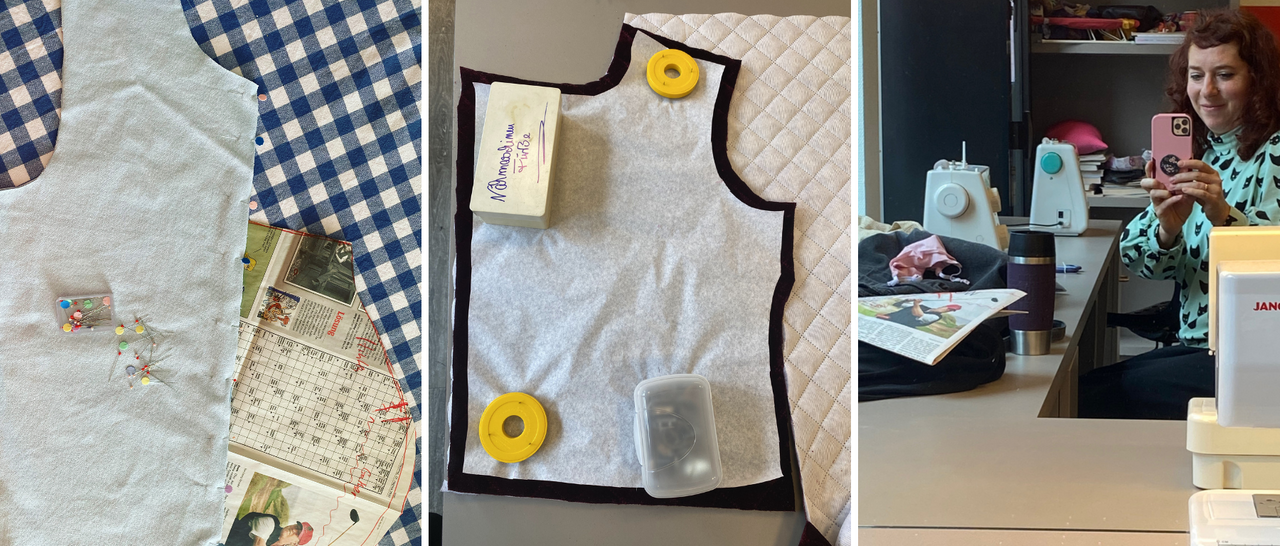 I am currently working on three sewing projects, an Asuka Hamada dress (already finished and killed), a copycat sweater (nearly finished) and the jacket from Wendy Ward's book, which @puellacreativa kindly gifted me (still at the beginning). But no fear: I am not replaced by a clone or alien… naturally I also have several knitting and crochet projects on the side :-DDDD
Ok let's start with the Asuka Hamada dress. I promised you photos two weeks ago….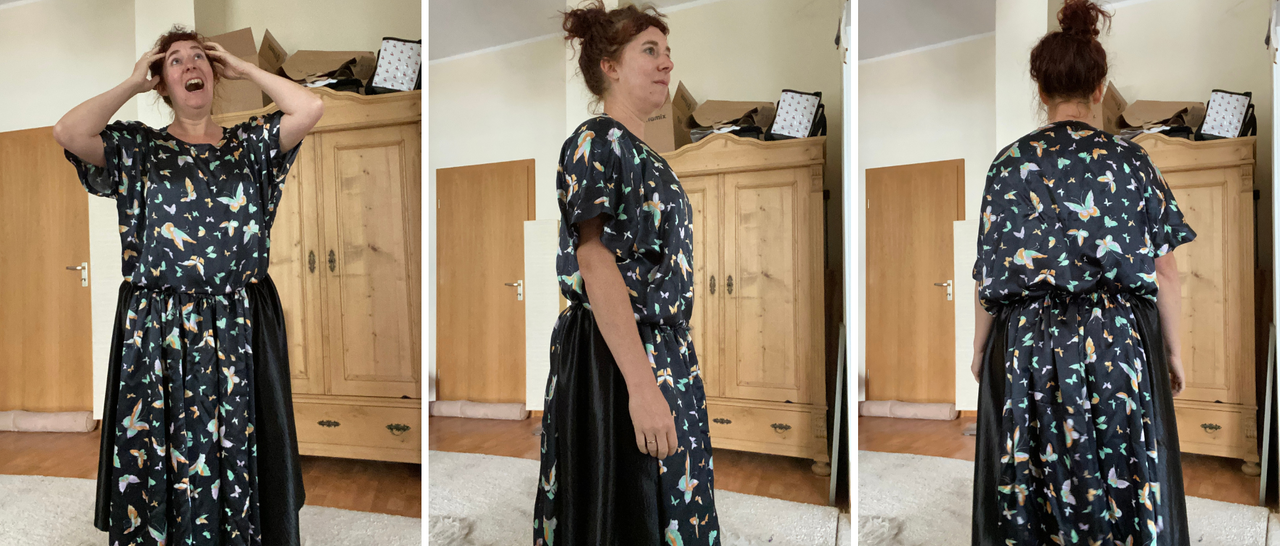 I think we can all agree that this is a disaster. The dress was given with two variations in the book, one shorter and more tailored, one oversized. As I have a bigger size than the patterns are planned for, I decided to use the oversized dress pattern and hoped this will fit ok on me. Hope in the context of my sewing practice – especially if I use woven fabric – is a wasted effort. I should have skipped the cutting and sewing and instead should have started with digging a hole and burying the fabric.
You see, my mood is not good while thinking of this dress….
Back to the beginning of this project. I wanted to make a comfortable dress which I could use in summer and fall. I thought the wide sleeves and all in all relaxed fit of the Asuka Hamada dress would allow me to wear a turtleneck shirt beneath and my mint coloured crochet jacket over it. The dress was in my eyes a perfect addition to my curated mint/lime/black wardrobe (yes, I still try to wear the things I put into my curated wardrobe… works so lala).
The first hurdle was, that the skirt part of the dress needed much more fabric than I anticipated (read: more than I had) And as always, I had chosen a sale fabric and was unable to get more. Instead I bought black satin to get the required amount of fabric for the skirt. Which was not as easy as one would think… black has a lot of different nuances.
The sewing process started well. The body of the dress was fast assembled, and I liked the oversized fit on me. Next step was sewing the skirt parts together and gathering the skirt. At this step my suspicions that the fit of the dress may not be perfect grew, because the skirt part was really huge with all the gatherings.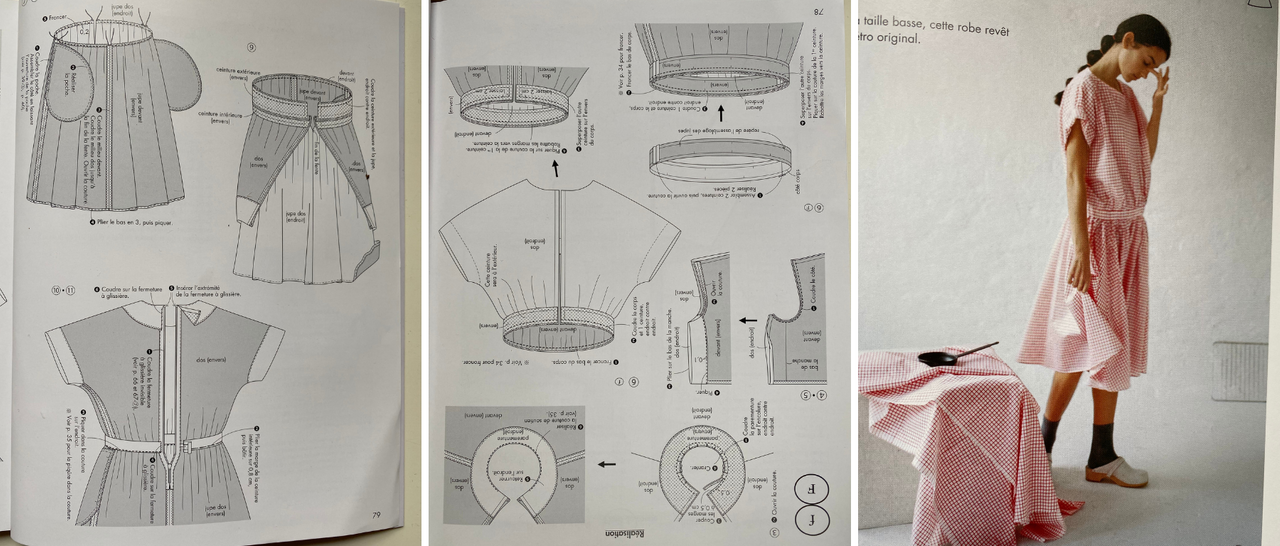 Perhaps you remember that the book from Asuka Hamada is a French translation of a Japanese book and I neither speak French nor Japanese (just for you to know, my dear readers, reading my own blog later is like watching a car accident in slow motion ???). The explanations on how to sew the waistband on the dress and how to bring body and skirt together were beyond me and my meagre sewing skills. I could not decipher the schematics and the French explanations were so short, that although I translated them with the help of a friend, did not help.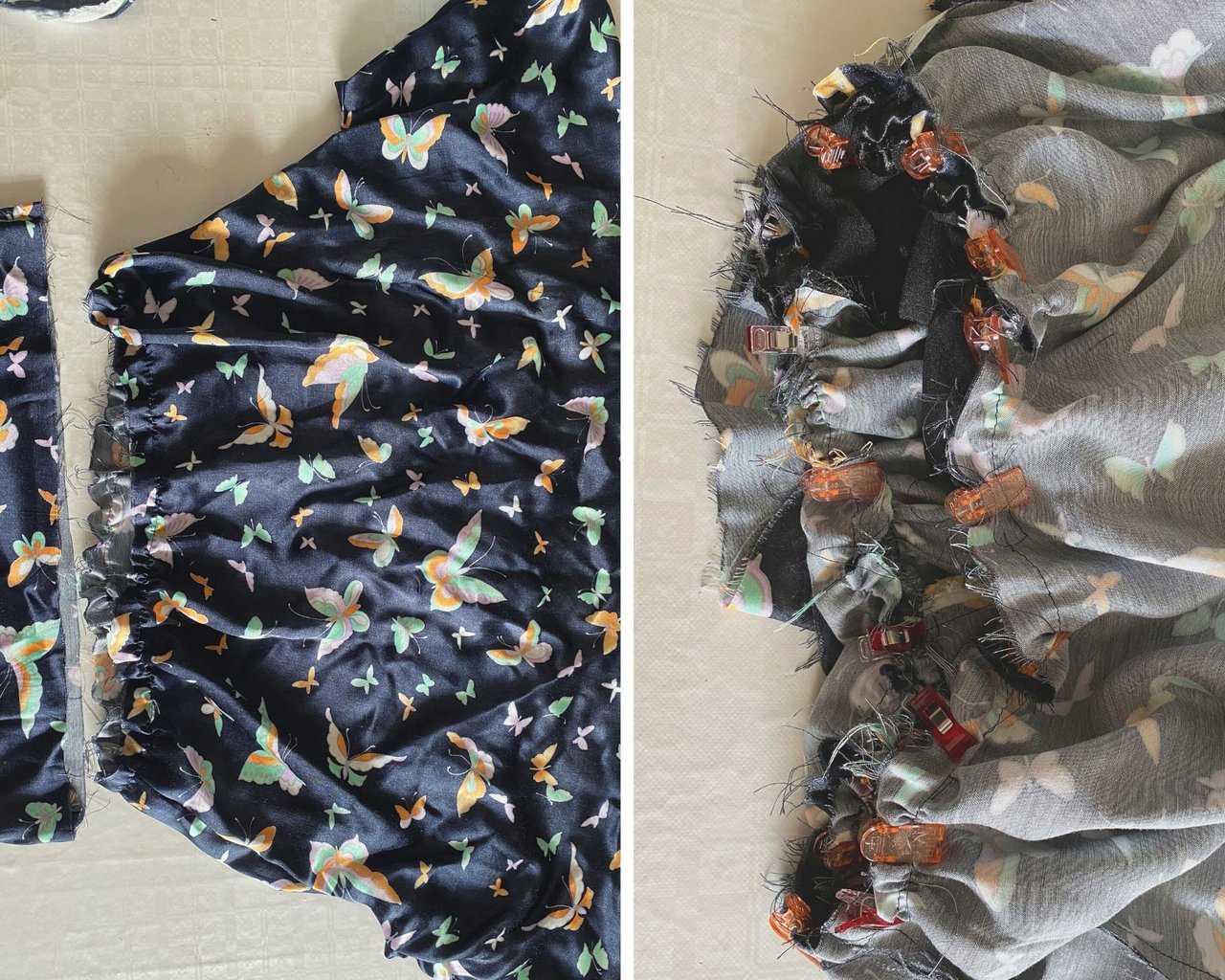 Here I was with a nice dress body and an elephantine skirt and no idea how to form both into a dress. And as I already was suspicious that the dress may not look as beautiful on me as on the model in Asuka Hamada's book, I pinned it together without waistband and tried it on… Oh Gag! You saw the photos the dress is a unshaply sack. And the black fabric I substituted makes it even worse. And I had to kill it instantly.
I am so disappointed. No idea why I still believe I can sew something wearable with woven fabric. And I am also disappointed that I do not have a size/body form which looks good in these beautiful Japanese garments.
Sigh ?
.
.
After a minute of silence for the dead dress, on to what's salvageable: I took the body of the dress, shortened it appr. 5 cm at the front for a high/low hem and finished it with bias band. And I really enjoy wearing this top. Here we have a three-day heat spell and the wide fit is perfect for this weather. I already wore the top to the sewing course, and nobody laughed about it.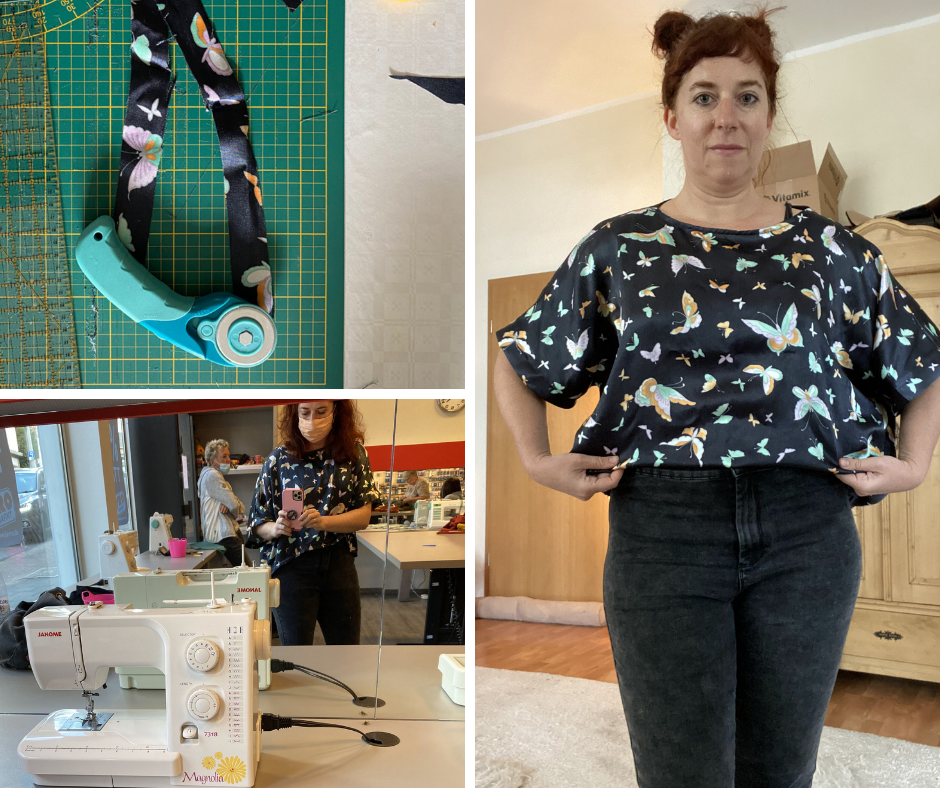 But the monstrous skirt… Any ideas what I can do with it? I pondered ripping the black fabric out and then trying to make a gathered or A-line skirt with zipper or elastic. Or do you think the fabric (a thick satin) is not a good idea for a skirt…? Too clingy?
Dear Needleworkers, your wonderful ideas always help me to rescue my – ahem – strange creations. So, if you have an idea what to do with the fabric of the skirt, please tell me. You have two weeks to rack your brain, as I will not participate next Monday (a bit of free time with my husband).
I have high hopes for your collective brain capacity ????
Thank you @crosheille for iniciating and @muscara, @shanibeer, @marblely for hosting the #needleworkmonday. If you want to see more beautiful projects with yarn, fabric and most of all needles, follow @needleworkmonday on hive blog. Or even better grab your needles and keyboard and join the #needleworkmonday community. You can read more comments on this post on my hive blog.