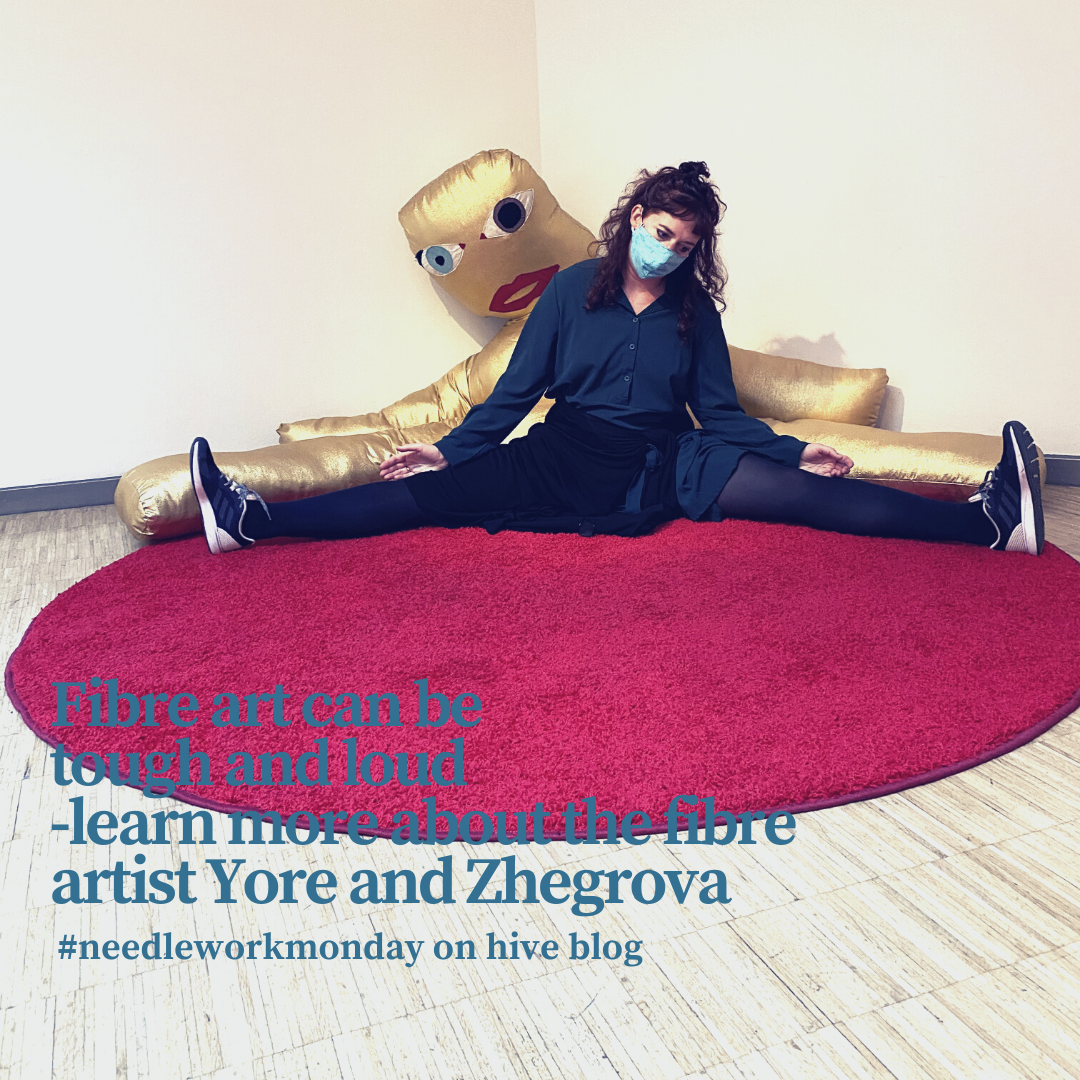 What do you do, if you should not leave the country because of a pandemic, cannot spent a lot of money, get migraines from driving longer in the car, only have 5 free days but ABSOLUTELY WANT TO ENJOY A VACATION (sorry for shouting):
You visit Erfurt :-DDDD
That's what we did. And we not only found a wonderful town full of historical buildings, we also stumbled over two fibre art exhibition which were so beautiful I want to share these with you (I will write two post about the individual exhibitions, this is part one)
The first exhibition was a chance discovery. We arrived Friday evening and knew, there will only be so many days with open shops and museums during our visit, so first thing we planned for Saturday was exploring the historical town centre. We had a taut timetable for all the beautiful churches, buildings, museums and parks we wanted to see in our super short visit.

But although our plan was good, our execution only so lala… because while wandering through the town centre we were distracted by one stunning facade after the other so that we did not checked our phones to see where we currently were. Naturally we got lost between timbered houses, tiny yarn shops and a famous ice cream parlour (I ate marzipan-chocolate ice with chunks of hazelnut-chocolate spread – extremely delicious).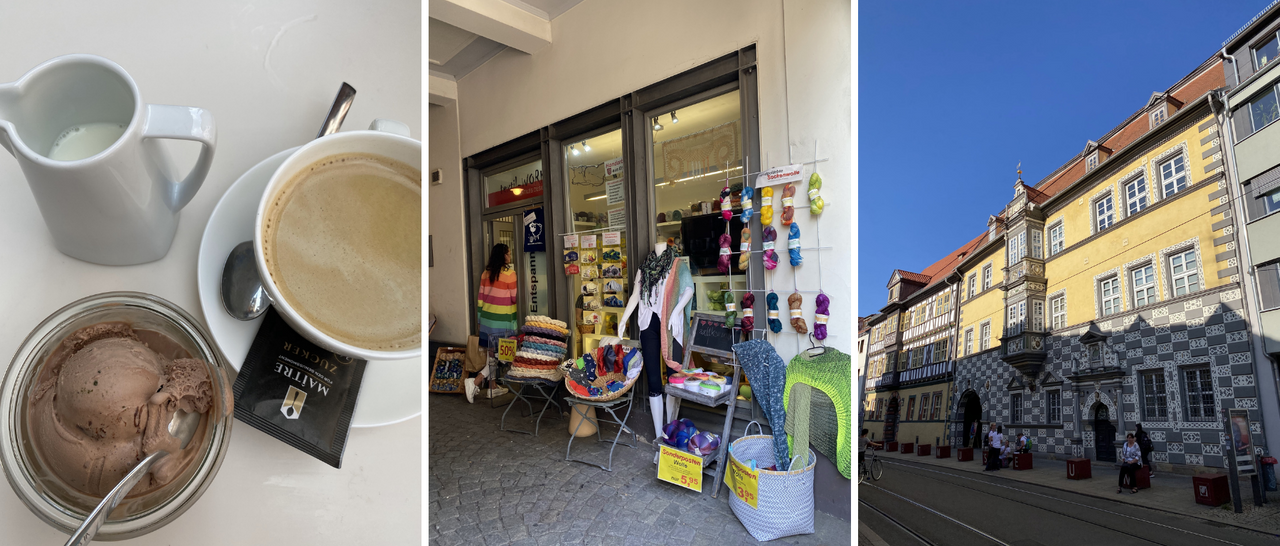 On our way back to find the famous medieval "Krämerbrücke" (merchants bridge) a bridge which is densely covered with still inhabited historical buildings and tiny-tiny shops (hence the name), we stumbled over a museum which was not on our original to-visit list: the art house Erfurt. Behind an entrance which was overgrown with roses light and airy rooms with surprising textile artworks opened up.
(Beware, some artworks contain explicit images although made in fibre, the somehow loose their shock moment for me. But you are warned :-D)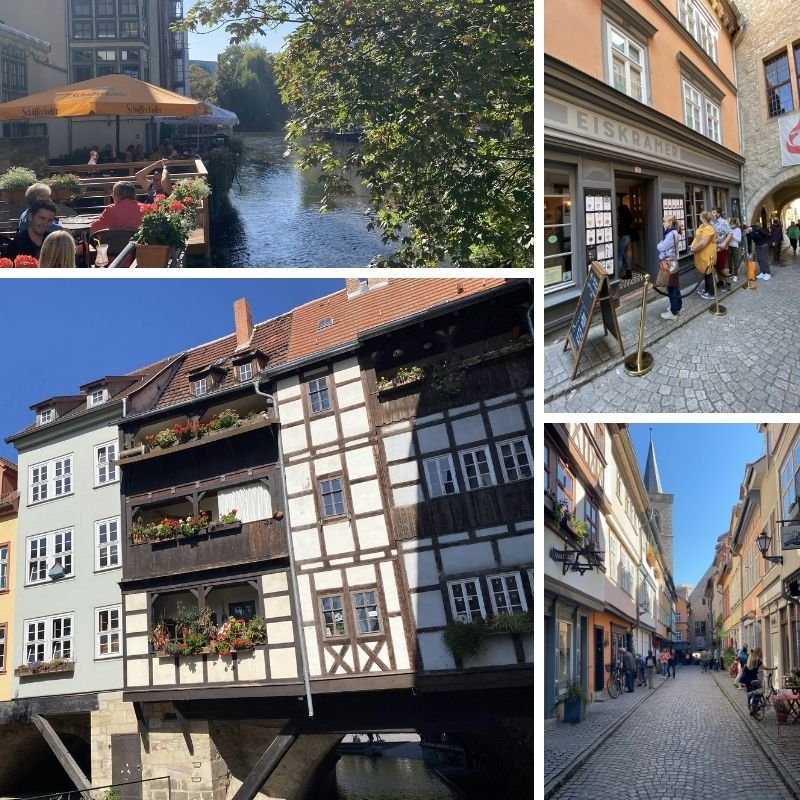 During our stay in Erfurt the art house hosted the group exhibition "Soft_wear. Textiles after Technology". Seven artists explored the similarities and differences between computer technology and hand crafted textiles and how both techniques which at the first glance may seem completely unrelated influence each other. Starting with linguistic accordance like the use of the words "thread", "network", "web" or "grid" for either textiles or computer technology as Sarah Crow and David Kerr the curators of this exhibition state.
The complete exhibition is worth visiting (you can get a glimpse at their website) but I was drawn immediately to two artist and their very divers styles.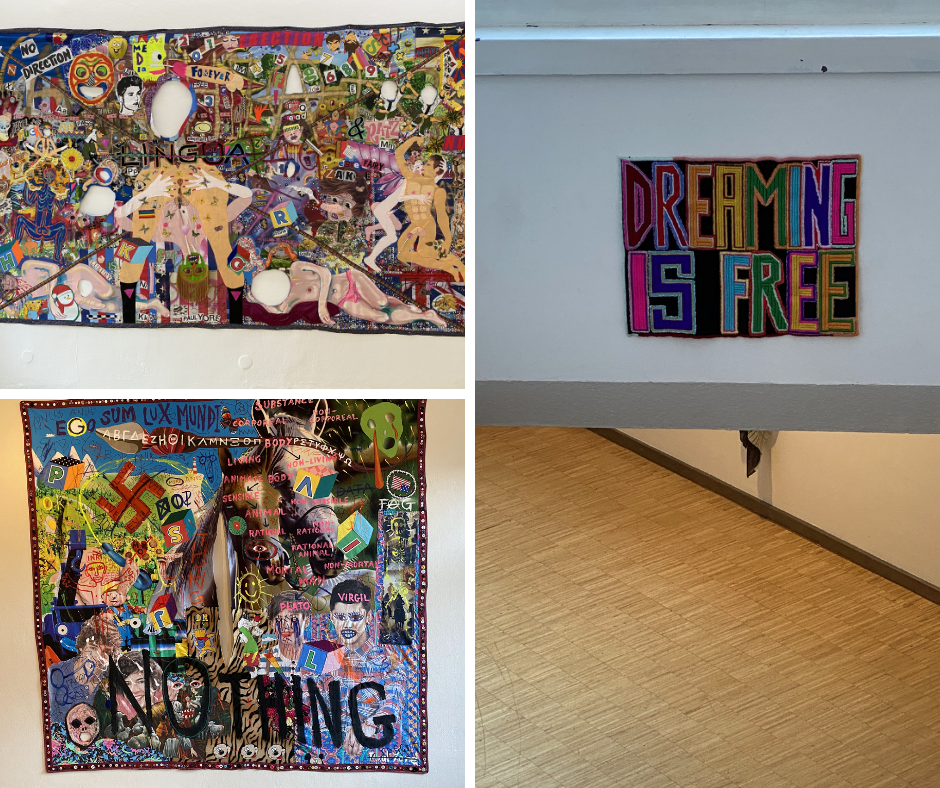 The first being Paul Yore an Australian born fibre artist whose artworks are explosions of color and symbols, of taboo breaking images formed by a myriad of different techniques: He paints, he sews, he cuts and frays, he uses needlepoint and appliqué and many more. Fibre art as he says is his way to survive in a capitalistic and a dehumanising world. The slow production and tactile quality of his fibre art are an acknowledgement of the human body versus a non-tangible and instantly produced algorithm of social media. His huge wall hangings are reminder of the cost of fast fashion and the cost of easy digestive social media images, but pick up on them and exaggerate memes, often circulating around sex and gender and their norms. He criticises political leaders who support racism, sexism or ableism by incorporating portraits of them combined with symbols and letters into his works and by this lending his artworks a educational quality which reminds me of medieval paintings of Hieronymus Bosch.
His wall hangings are for me at the first glance overwhelming beautiful in their richness of color, images and techniques only with a more intimate view I was able to distinguish the social critic woven into these artworks.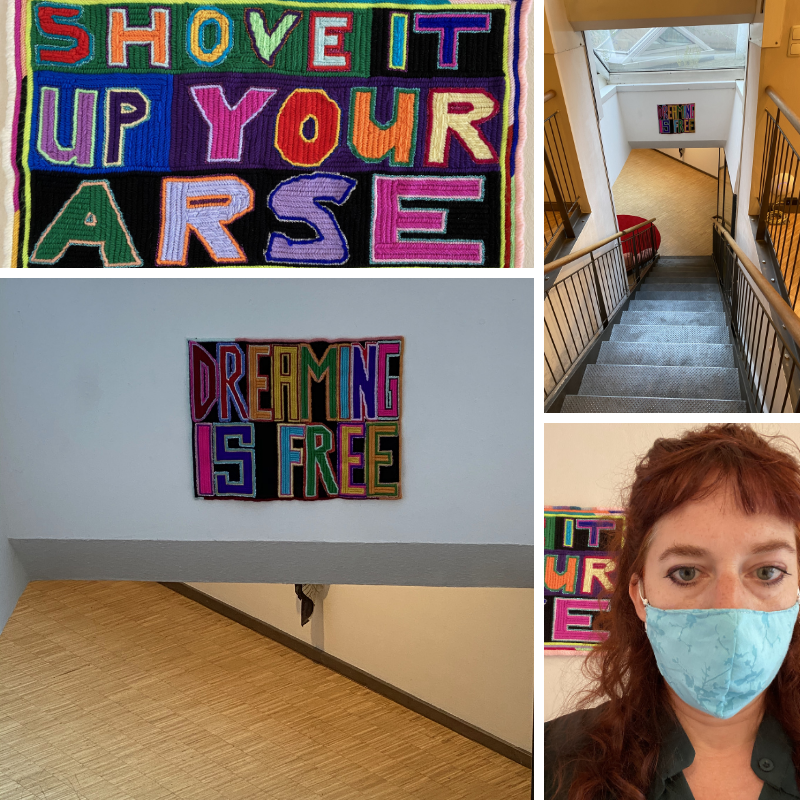 But his Oeuvre is much wider, he also builds huge sculptures, sews flags or uses his own body as a canvas. Besides the huge wall-hangings I could view in the art house Erfurt his needlepoint artworks in bright colors with -ahem- blunt messages like "shove it up your arse" or "dreaming is free". Here the difference in written meaning (rude, direct) and the neat and meticulously executed needlework in (for me) pleasing and cheery colors achieved a contrast which is amazing. I have to admit I now ponder to learn needlepoint… (Sadly, I cannot simply admire other people's skill, I always want to be able to do it myself).

The second artist whose artworks spoke to me from heart to heart (this is a pun… his sculptures have sewn on hearts you should touch) is Dardan Zhegrova who lives and works in Prishtina. His sculptures are made to be touched; soft, big and malleable they wait for the audience to interact with them. Which we did… :-DDD Sadly because of the pandemic we had to restrict our interaction to a lame sitting in front of them.

Zhegrova artworks mostly start with a poem and then develop into sculpture and or performances. The big human figures in Erfurt for example had speakers inside them you could listen to if near enough (which we were not… pandemic you know). His art reflects on his own childhood experiences which are influenced by the war in Yugoslavia which ultimately lead to a separation of the country, but also mirrow his own fluid gender experience. His reflections and memories are presented not only in textile sculptures, but often the artist himself speaks about his experiences hidden behind artful masks.
Zhegrovas work "your enthusiasm to tell a story" which was exhibited in Erfurt spoke to me in a very emotional way. His sculptures with their sunken posture and big eyes and open arms caused a mix of compassion and affection. In my view these huge puppets wanted (I am an animistic at heart I fear) to be hugged but on the other side they had no means of escape, fixed in a forever receptive posture. On the other hand, Zhegrova created a kind of designed spatial impression like a polished Instagram account with returning and harmonious colors and shapes, by using a reduced colour palette (mainly red, blue, pink and gold) and by positioning his puppets on circular red carpets (which by the way could also be interpreted completely different: as blood flowing out of mutilated bodies).
I found the whole exhibition (as I already stated above) very inspiring; inspiring to explore for me unknown artist, to explore different fibre arts and craft techniques and perhaps to loosen up in my own clothing production and try new things.
If you want to know more about the artist and the exhibition follow the links inserted in the post, also these are the places I got my information about the artworks and artist.
Thank you @crosheille for iniciating and @muscara, @shanibeer, @marblely for hosting the #needleworkmonday. If you want to see more beautiful projects with yarn, fabric and most of all needles, follow @needleworkmonday on hive blog. Or even better grab your needles and keyboard and join the #needleworkmonday community. You can read more comments on this post on my hive blog.