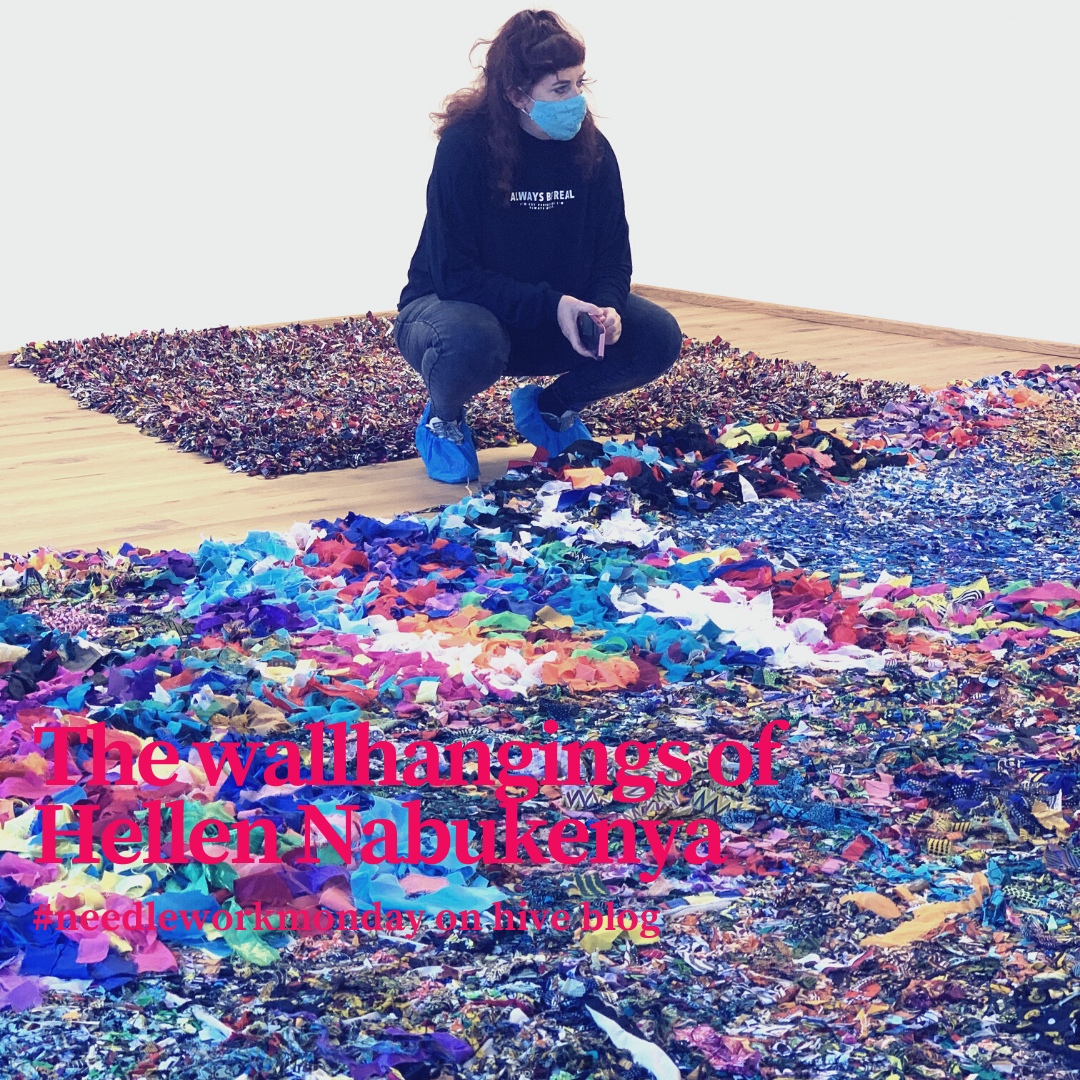 Last week I presented you two fibre artist and their colourful works I per chance got to know on my short visit of Erfurt. And I promised you a second part with yet an even cooler artists: Hellen Nabukenya. Dear needleworkers grab all your yarnends, fabric scraps and tiny threads, after reading about Hellen Nabukenya you will never again throw them away 😀
Hellen Nabukenya is a known artist from Uganda who works with fashion discarded materials. She has currently an exhibition in Kunsthalle Erfurt, so if you live nearby, perhaps you have a chance to visit this amazing exhibition.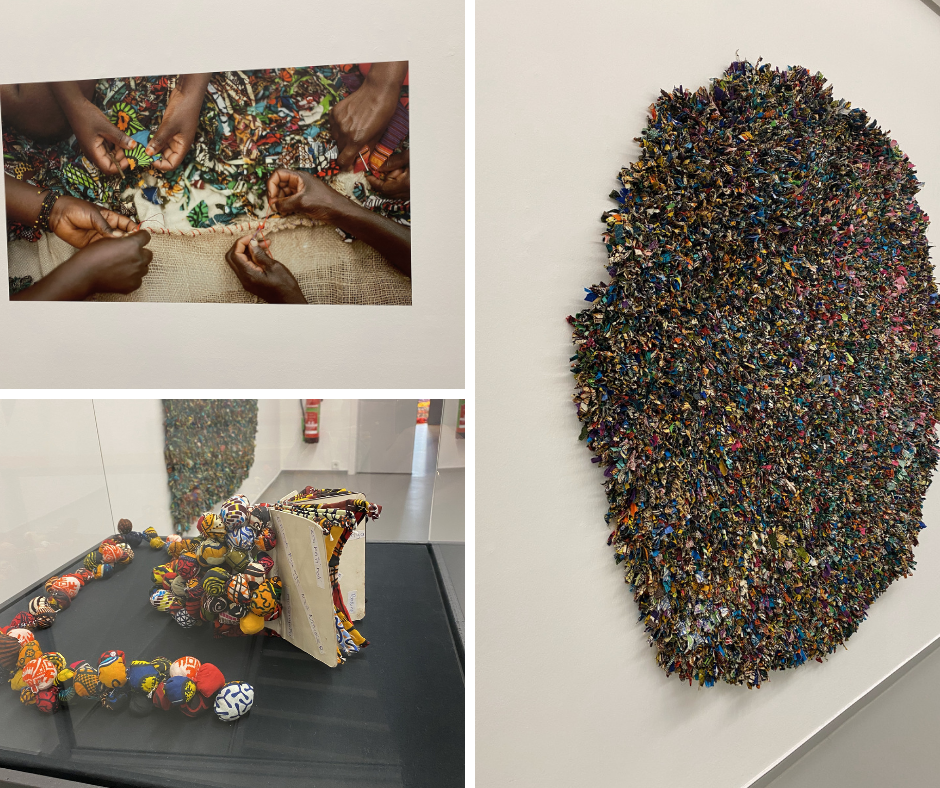 Her artworks, huge carpets, wallhangings and accessories make use of discarded fabric scraps, which others deemed worthless. The carpets excited me because of their amazing hues: from afar I got the impression of a one coloured carpet for example in a deep brownish green, like the wild sea, but observing the carpet from nearby I noticed that it is made from hundreds of multicoloured fabrics which are sewn and knotted together. The long fabric scraps are arranged so cleverly that they result in a harmonious whole.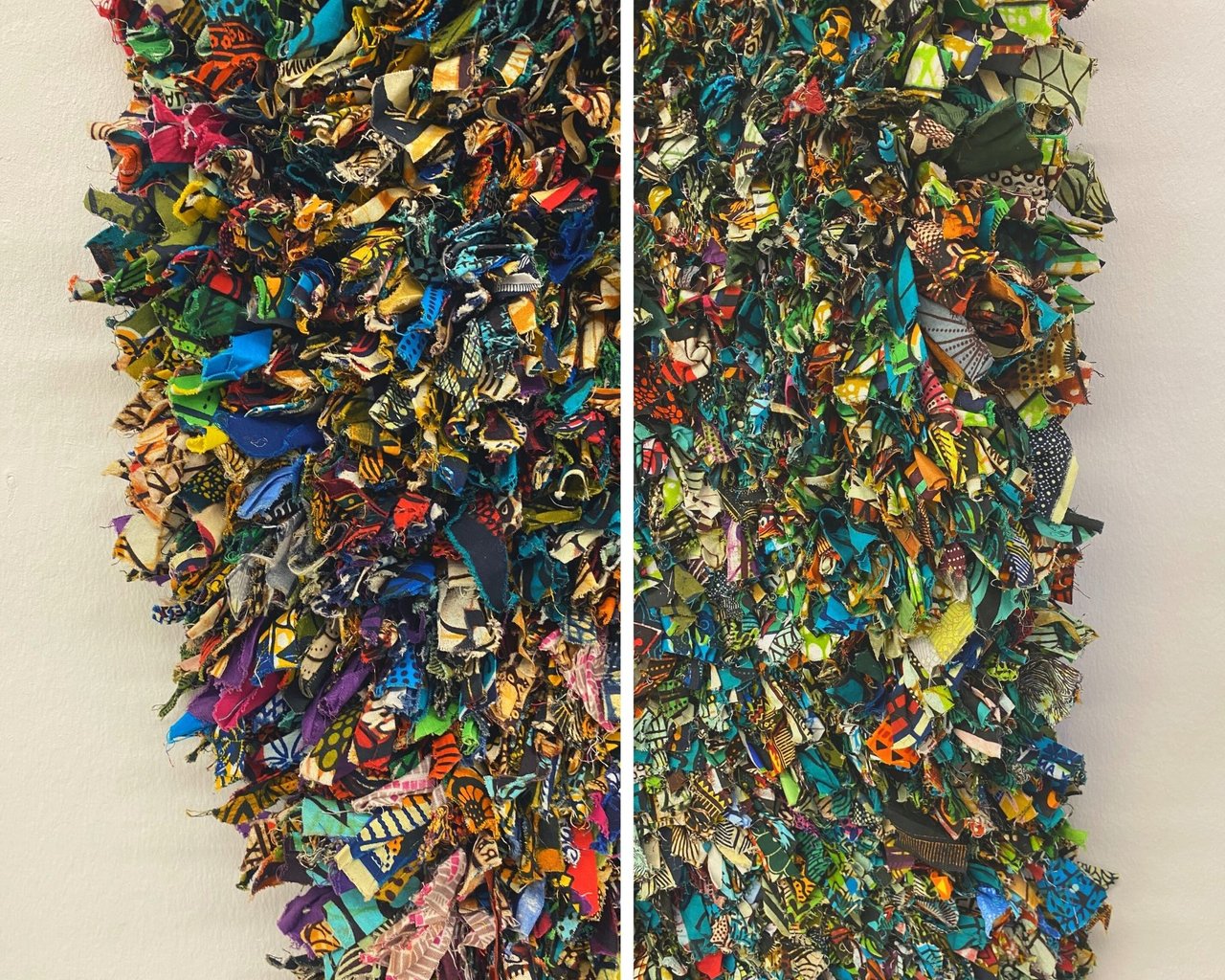 The exhibition in Erfurt is presented with a clever dramaturgy. The observer is led through a corridor where he can observe at first only her wahllhangings and accessories, but which will ultimately led into a renaissance room (with stucco and paintings) which is completely filled with a huge carpet and a sound installation which explained the background of this exhibition.
The room is amazing, an explosion of colors and a tactility which is unique because of the long fabric scraps Nabukenya uses for her carpets. The visitor can step onto the carpets (with a protective cover over their shoes) and sit down to experience them in community with other people.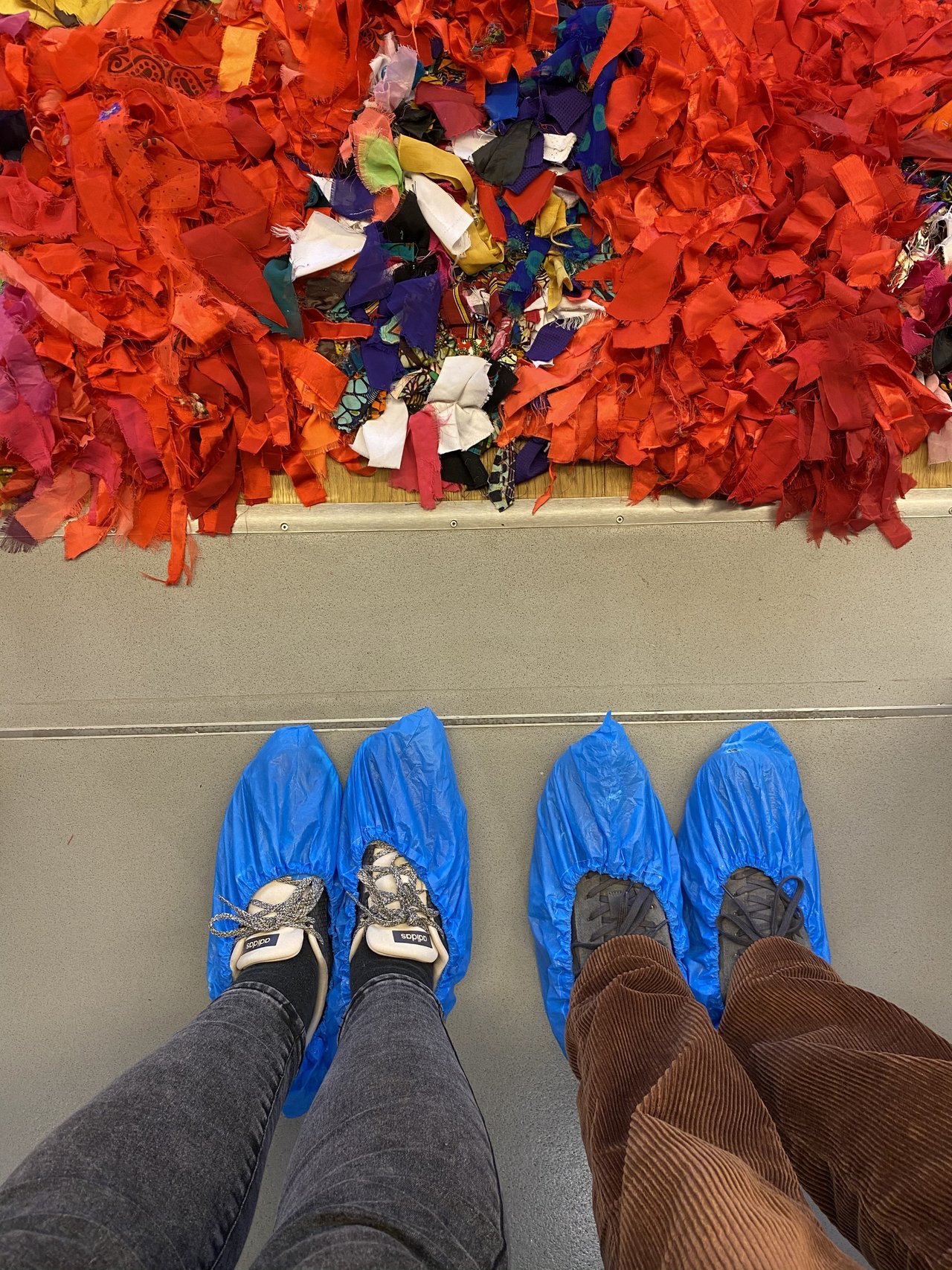 The exhibition of Nabukenya is made in collaboration with another artist, Matthias Körner, who discovered Nabukenya in Uganda and worked together with her. He made a documentary film about her creative process (which is shown at the exhibition) and a sound collage which can be Listenende to in the renaissance room. The exhibition which has the title "Tuwaye" which means "lets talk" not only presents the artworks of Nabukenya, but also the social change she initiates through her works. Let's talk is an invitation to explore the stories behind the carpets. Nabukenya does not work alone on these huge projects but engages woman who otherwise have a tough time to make a living. She teaches them beforehand how to design and sew clothing and then they all together work on Nabukenyas artworks. The work is done with sharing stories and feelings, sometimes this being the main reason to meet (for example if there is no fabric to have for working on the artworks).
Nabukenyas artworks talk about the hardship of living as a woman in Uganda and they show a way how support between woman can change the living for the better.

Nabukenya has studied textile design and styling in Kampala and already during her studies she started to work as an artist. You can find her on facebook and you can read more about the exhibition in Erfurt here.
Thank you @crosheille for iniciating and @muscara, @shanibeer, @marblely for hosting the #needleworkmonday. If you want to see more beautiful projects with yarn, fabric and most of all needles, follow @needleworkmonday on hive blog. Or even better grab your needles and keyboard and join the #needleworkmonday community. You can read more comments on this post on my hive blog.