Just back from a City Tour to Leipzig, our bathroom full of stinky clothes which are soaked in museum sweat I notice we have a competition running in the Needleworkmonday community on Hive: writing about freeneedling. Perfect opportunity for me to scream in capital letters "NOOOOOOO" because I love this idea and had no time to grab hook or needle and experience the leisurely luxury of freeneedling (and I planned to write about Leipzig :-D). But this will not stop me to participate and to come forward with a perfect example of my personal laziness ability to relax. Here it comes my needle-free freeneedling alternative: Browsing patterns :-DDD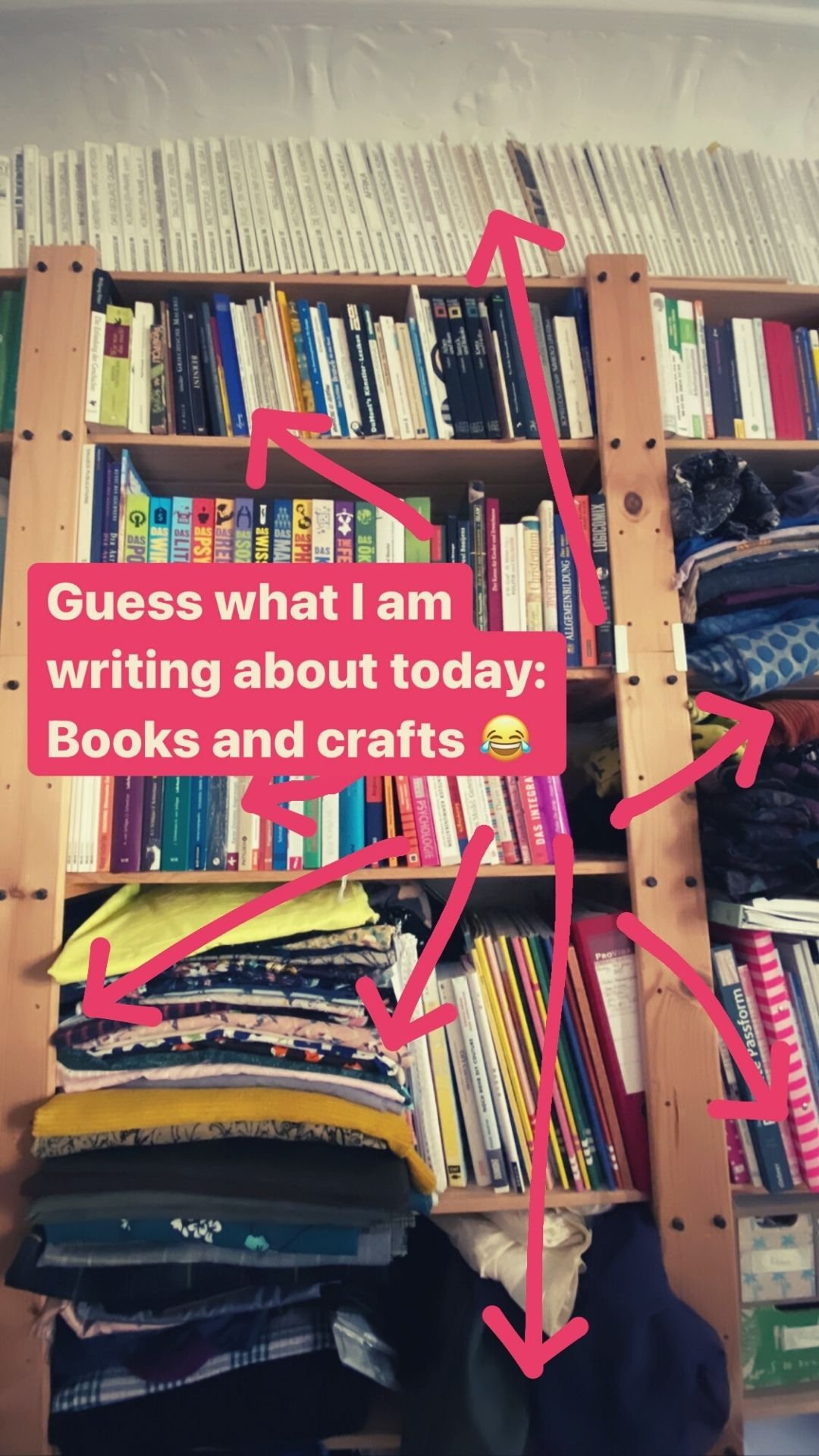 Have you also experienced these moments when you crave crafting so much that you are nearly unable to decide what you want to start first? Where you run like a nervous chicken from yarn stash to sewing machine to the box of unfinished project back to the yarn stash? This is a moment which calls in my eyes for the needle-free freeneedling.
For this lovely and time eating hobby you can use your phone or computer or grab all the crafting books you possess and immerse yourself in the world of wonderful stitch patterns, garment patterns or stories about fabric and so on. Although I really love to browse digitally on Ravelry or on Instagram and Pinterest, for me holding a real book in my hands is unbeatable. Buying books – I must shamefully commit – is a real vice of mine. Our home is cramped full of books and although we both (my husband and I) several times a year swear to stop buying books, it never happens. Since I read all books with mainly consist of letters on my e-reader I only buy books which have a lot of photos like cookbooks, books about art and most important about sewing, knitting and crochet.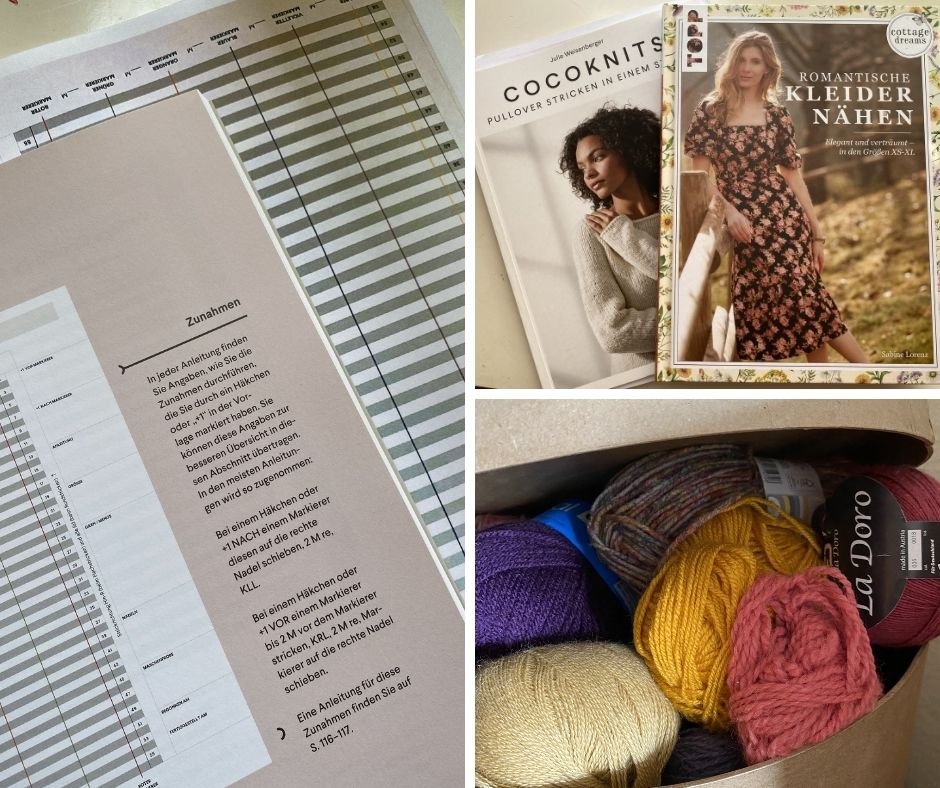 Full turn back to the beginning where I told you I would have loved to write about Leipzig… I may have bought two more crafting books there. 😱😂 And my needle-free freeneedling session was last weekend after the washing was done. The two new books I took home are a sewing book Romantische Kleider selber nähen (sewing romantic dresses yourself) and a knitting book – Cocoknits – the latter I wanted to buy for at least two years now.
So, I sat down with a hot drink and started to read about the Cocoknits method. And read a bit more and then the real experience started. I got excited about several designs in the book, a v-neck sweater, a V-neck cardigan, and a cardigan with pointed fronts.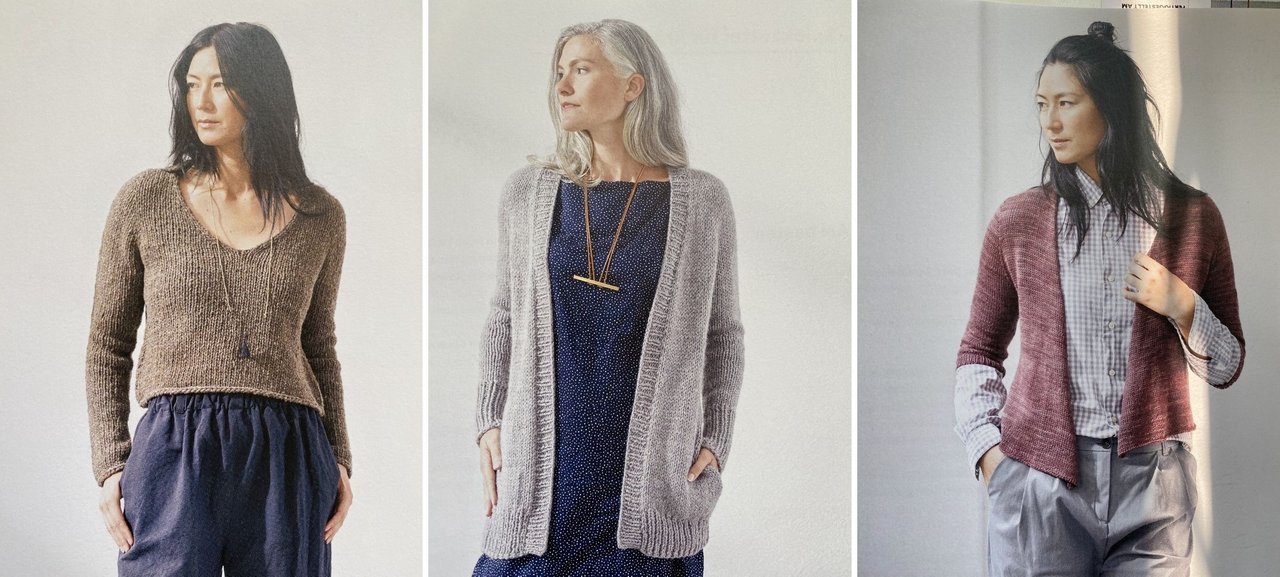 photos are from the book "Cocoknits sweater workshop" from Julie Weisenberger

I directly run to my box of yarn scraps and envisioned a thick sweater made with irregular stripes either like this one from Laerke Bagger or more conventional stripes like this one. My brain worked in overdrive and I already calculated how much yarn I need for the thick striped sweater only to then ponder that I seldom wear handmade sweaters as I am afraid to wash them often (and I mostly wear a sweater one or two times and then wash it… to explain this, I walk a lot and so I sweat, sigh). Ok, the cardigan it will be. I fetched the book again and printed out the worksheet for the cardigan where all increases and stitch counts are spelled out and again dreamed about the yarn I would use. Only again – while I let my mind indulge in virtual cardigans – a change of direction happened. I reminded myself of the multiple unfinished knitting projects I have in my box of shame and so I picked up the new sewing book as I found it much more reasonable to sew a dress than to start a new cardigan (yeah, I know… I have exactly as much handmade dresses as handknit sweaters :-DDD). And ohhhh so many lovely patterns in there and the process of loving everything, wanting to sew all at once, searching for fabric etc started again.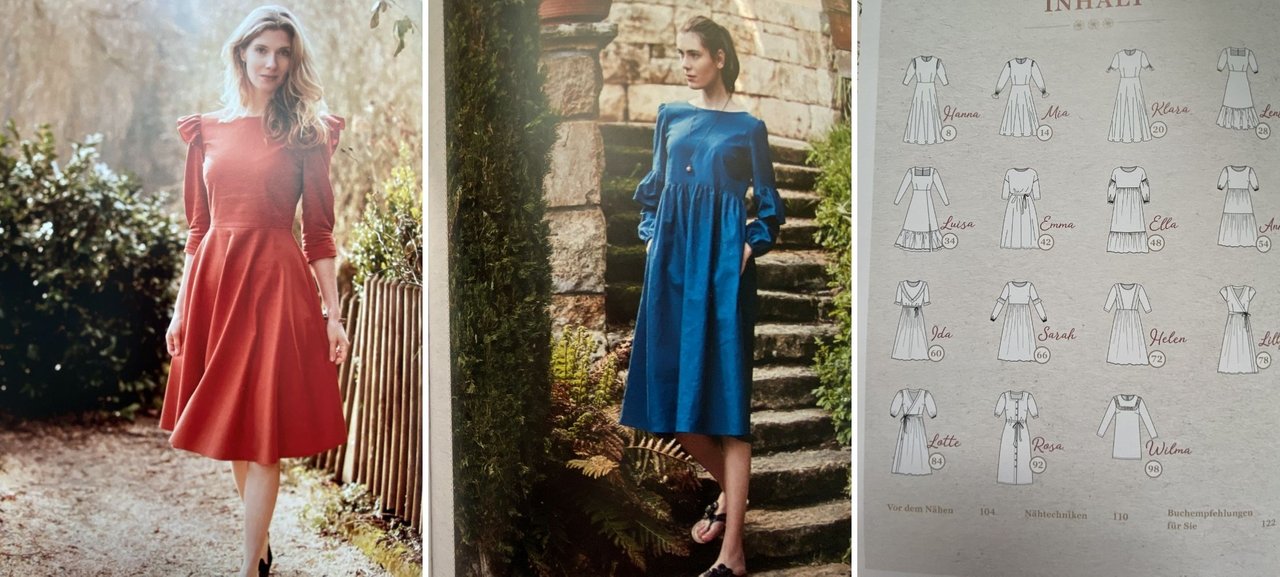 photos are from the book "Romantische Kleider selber nähen" by Sabine Lorenz

But this time it led to a real project and so we leave the carefree and relaxing area of needle-free freeneedling. <3
But honestly, for me browsing through books or online patterns is at least as much fun as starting something new. I love to look at all the wonderful projects accomplished designers invented, to admire intricate stitch patterns in crochet or knitting and to start hundreds of virtual projects myself. And I love to talk about all these possibilities which is one of the reasons I am so glad we have the #needleworkmonday community (and the live meeting we had on discord chat was sooooooo nice, I would love to see all of you there).
Addendum: you cannot buy the sewing book from Sabine Lorenz anymore as there are several mistakes in the pattern print out. The publisher is preparing a new and corrected edition (and hopefully they will send me the new pattern sheets).
---
Thank you @crosheille for initiating and @marblely for hosting the #needleworkmonday and the community builder team @lauramica, @romeskie and @kattycrochet I am so glad to be part of.
If you want to see more beautiful projects with yarn, fabric and most of all needles, follow @needleworkmonday on hive blog. Or even better grab your needles and keyboard and join the #needleworkmonday community. You can read more comments on this post on my hive blog. 
Read more about my art und upcoming exhibitions on neumannsalva or buy some of my digital artworks on NFT showroom.