First: last Monday's dress dyeing session was a huge success.
Second: I need a bigger table for sewing (look at the title photo and you know why :-D).
Last Monday I tried out another sewing pattern in the hunt for the perfect dress. This perfect dress should be in my eyes the right amount of fitted and comfortable – in sewing speech I think this sums up as semi-fitted 😀 But that's not all. I want the dress to fit my body, which seems to not conform in many ways to the "standard" body used as a model for sewing patterns (or RTW clothes). Why even sew clothes, when I cannot make them fit me better than bought clothes, so my inner argument (meanwhile disregarding that I am not a learned seamstress, nor in any way gifted with sewing). And with these high hopes I tried out another cottage style dress from a new sewing book I brought back from my tiny vacation in Leipzig.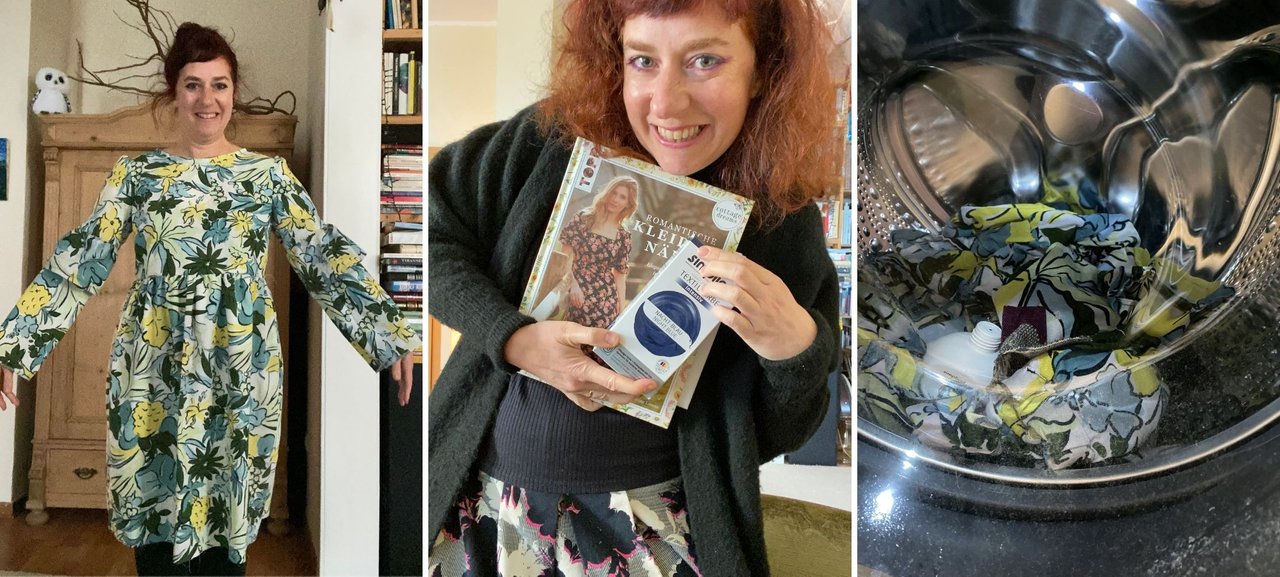 You already saw the result last Monday; a dress which fits ok in an eyesore curtain fabric 😀 But "ok" counts in my world of unskilled sewing as a huge success, so I decided to upgrade this dress by dyeing it dark blue. Yeah – a plan. Only I did not know which kind of fabric I held in my hands and if it would hold the new dye. From other dyeing session I knew that pure synthetic (like the thread I use for sewing) will not change it color at all. From the grip and drape of the fabric I extrapolated (yes, I do scientific guessing :-DDDD) that it was a heavy cotton. @cryptocariad even found a sound test strategic to figure out the fibre content of my flowery curtain fabric. She said I should burn it…
---

Yes, yes, dear Needleworkers, I know you are hoping to now read about me incinerating a whole dress in my flat only to guess the fabric type. But no, I have learned something in the last years…. do not burn your projects at home :-DDD I am kidding. I got @cryptocariad's tip after I already shoved the dress for dyeing into the washing machine, so the opportunity for me to burn something was gone 😀
Thankfully the fabric was some kind of natural fibre as it dyed wonderfully. On our live chat I already showed you a first glimpse of the dress. But because it was so wet, it looked more black than blue.
So, here are the promised photos of the dyed and dried dress: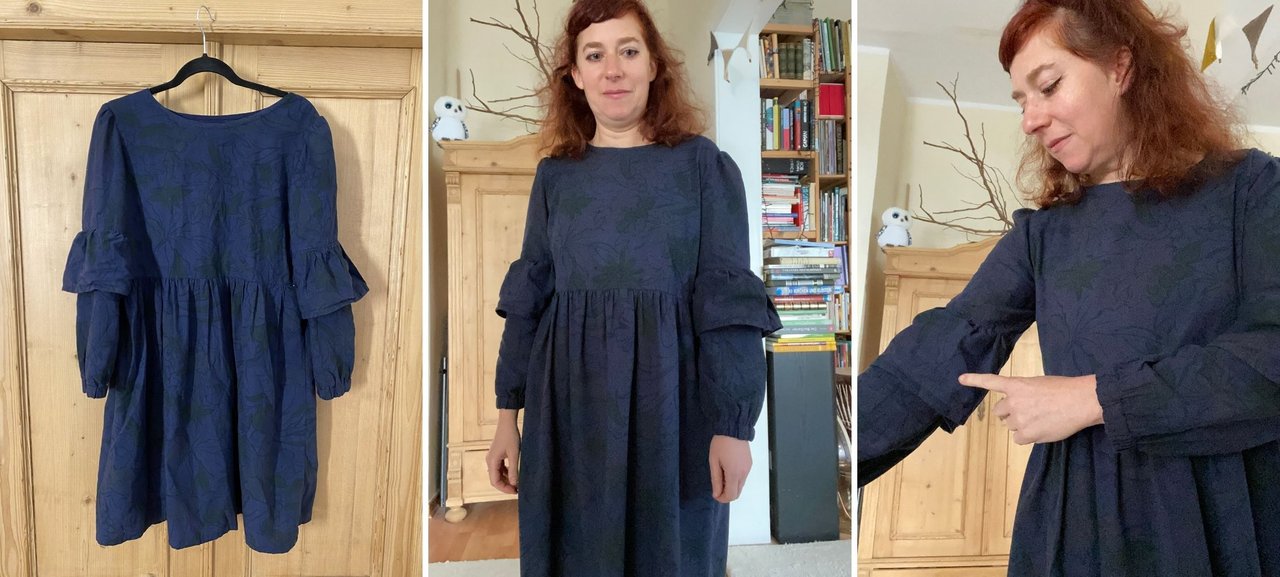 The fabric is dark blue, but the flower pattern is still subtly visible. An outcome I honestly love. Finally a weird sewing experiment with bargain fabric went well 🎉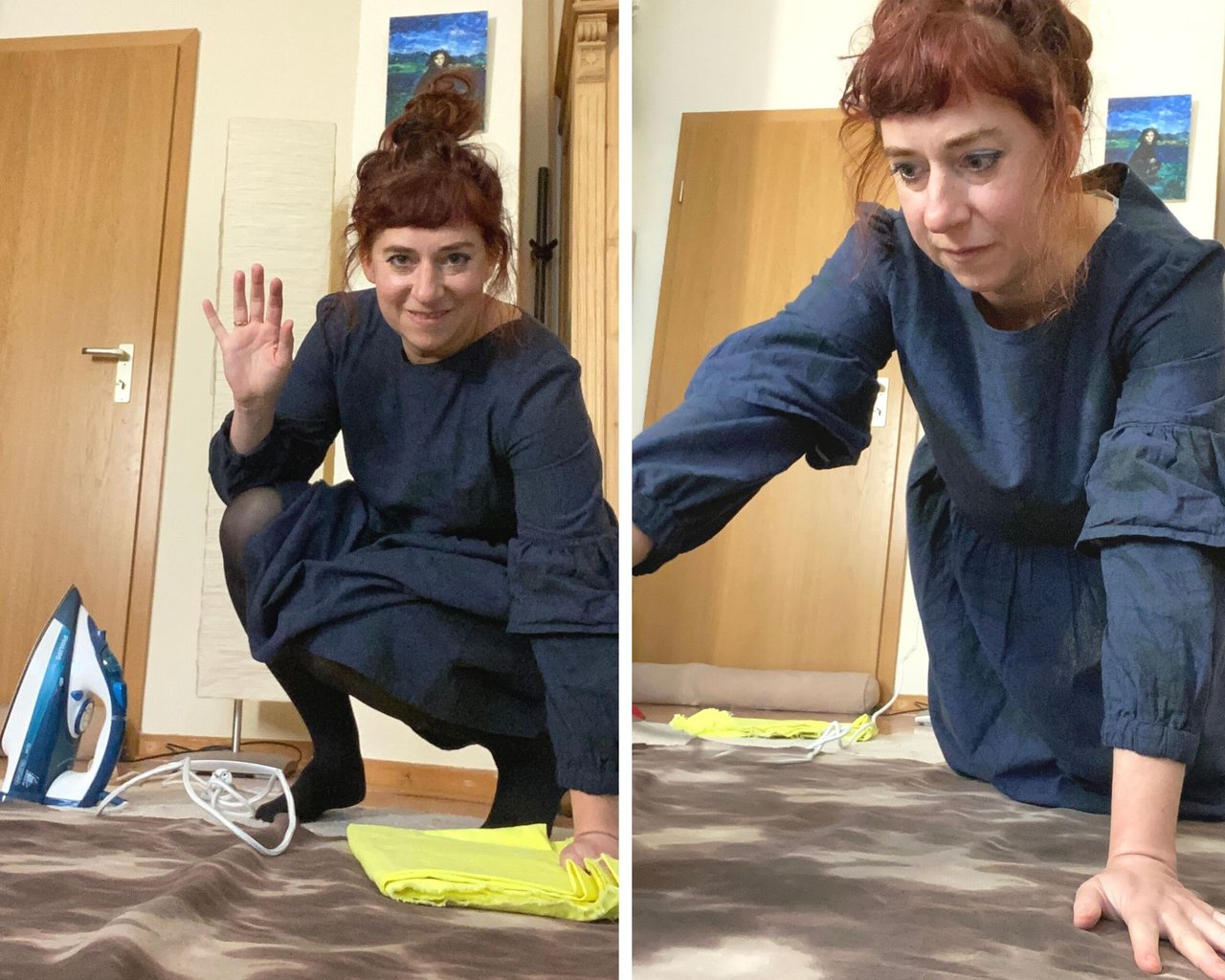 You now may wonder why I show you these strange photos of me ironing fabric on the floor – that's because I am already sewing with another bargain fabric in a strange color scheme. I was able to hunt down several metres of a stretchy jeans fabric in – how to describe the color elegantly…hmmm – several shades of 💩 😀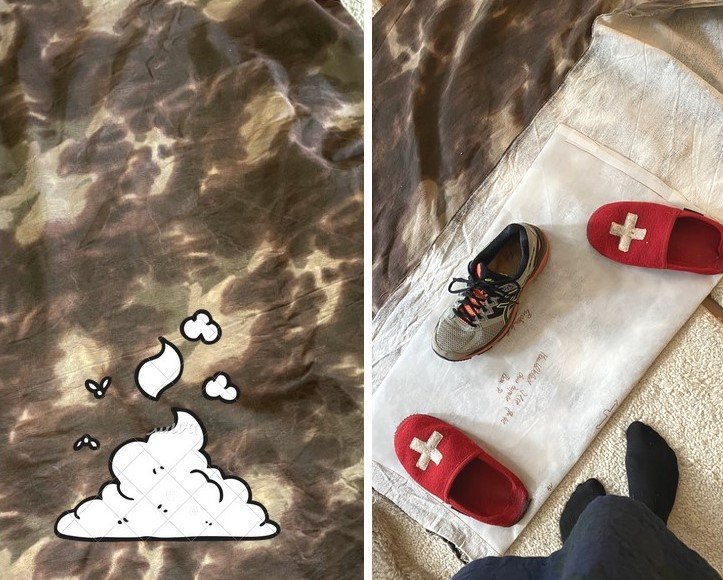 The fabric was 3 € per meter so I bought all I could get with a lovely coat and perhaps pants in mind. The downside was after washing it I had no place that was big enough to iron it before cutting the pattern. Believe me, ironing is not my most loved activity, but ironing while crouching on the floor lends it a whole new layer of discomfort.
But back to the dress, I wore it several days in a row and I feel like it is a real success. The only tiny tiny grain of salt is the fit of the shoulders (I already wrote this last Monday). And I think I would love to talk about the fitting of shoulders (for tops with set in sleeves) at our next live chat, if you are interested?
---
Thank you @crosheille for initiating and @marblely for hosting the #needleworkmonday and the community builder team @lauramica, @romeskie and @kattycrochet I am so glad to be part of.
If you want to see more beautiful projects with yarn, fabric and most of all needles, follow @needleworkmonday on hive blog. Or even better grab your needles and keyboard and join the #needleworkmonday community. You can read more comments on this post on my hive blog. 
Read more about my art und upcoming exhibitions on neumannsalva or buy some of my digital artworks on NFT showroom.