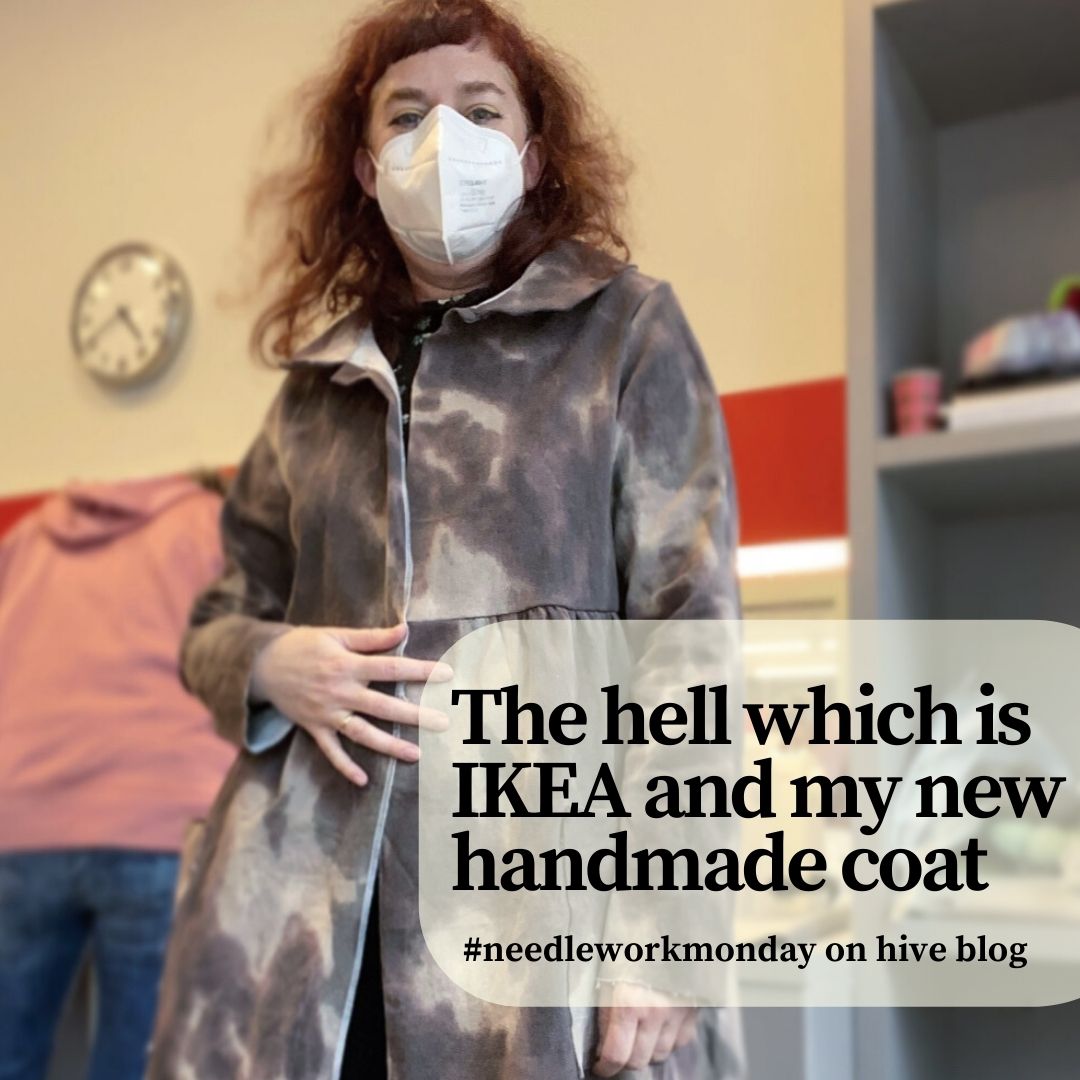 Hard work pays back, am I right? But what is with weird work? Like ironing several meters of fabric on the floor. In which way will this pay back…? Questions I asked myself last week while wandering cranky and helpless through the halls of IKEA's underbelly. Read a long intro about my studio renovation and find out more about my newest sewing project, a lovely coat with a Peter Pan collar.
For years now I tell you that I only have a very tiny table for sewing and no table at all for pattern and fabric cutting. After Corona subsided here so far that my husband is out of the home office, we decided to renovate our workroom and transform it into a studio for me (Woot woot). We moved our kitchen table into the studio (it's the same table we use as a Computer desk) to create one long working space for me, so that I can sit there and paint, write or sew. We even had the grand plan to buy another table for the sewing machines and arrange it in a right angle so that the machines will not block the light from the window.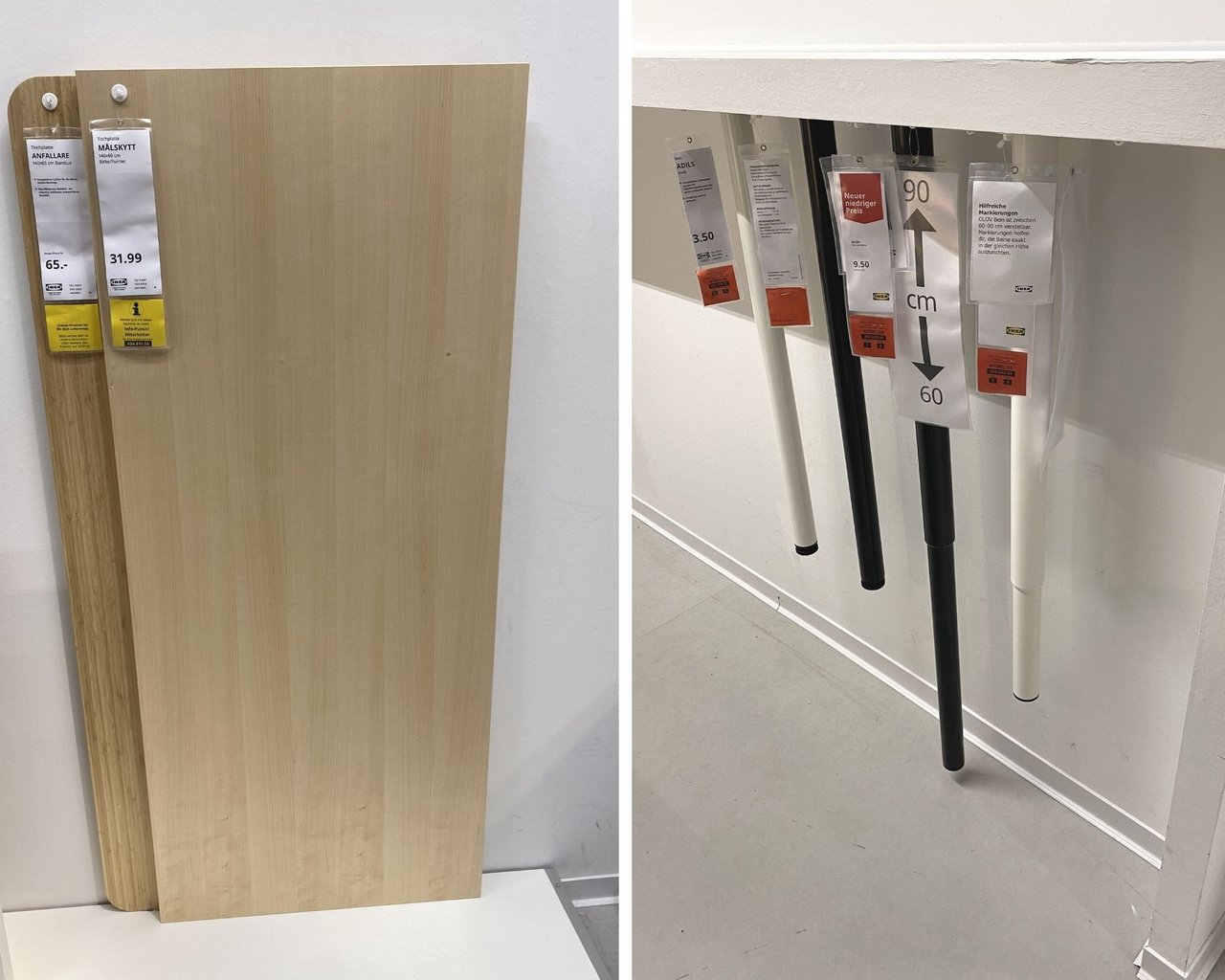 Great plan, yes. So, back to the beginning. We drove full of hope to the nearest IKEA and were able to find a table plate with the right measurements and even better, with adjustable legs. The latter is important as our room has a kind of ledge which hides the heater plumbing. A "normal" table would be standing 15 cm afar from the wall, but adjustable legs would remedy this problem.
Equipped with a receipt for the plate and four legs we went into the IKEA market hall where you can pick up bigger things. Table plate: check. First table leg: check. Second table leg: check. Third table leg: ahem??! Yeah, funny they delivered us a table with two legs. After a lot of searching the shop assistant was able to organise a third one which looked a bit used, but surprise, we did not want a table with three legs. I was so disappointed… I hate if there is (more) chaos (than normal) in my room and I really wanted to see if our plan with the tables worked out.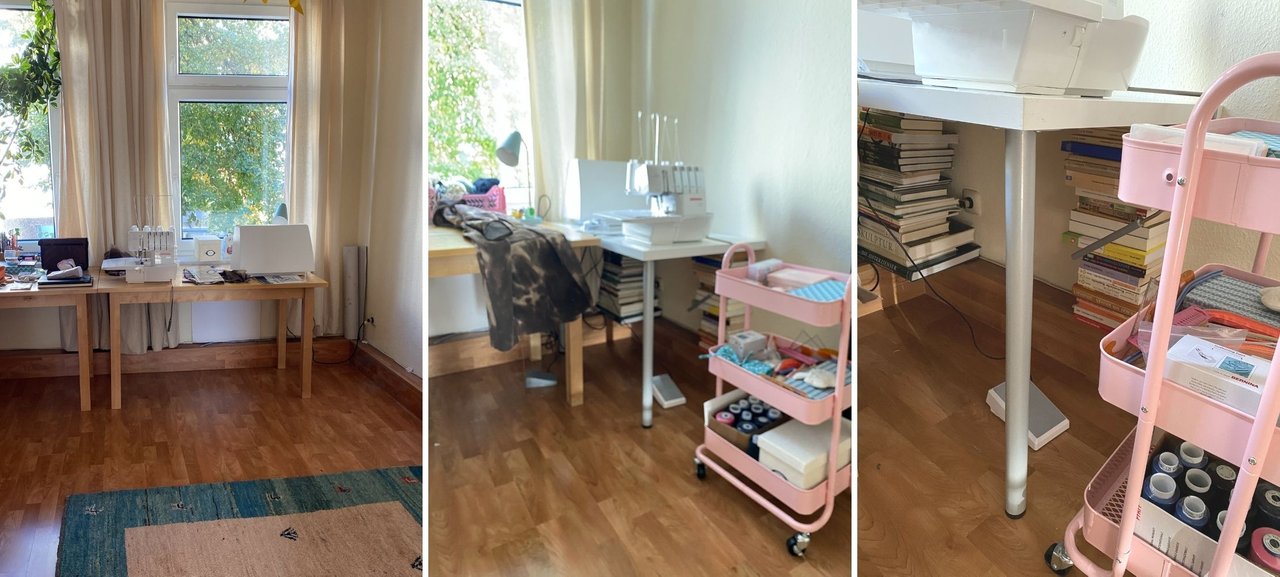 Back home without my husband had the wonderful idea to borrow a quite similar table from friends (its smaller, but has the same height) and we instantly set it up, only … the ledge, you remember? The new table must stand directly at the wall or it would not fit. And as the borrowed one does not have adjustable legs, we improvised and used – tada – books as legs :-DDDD Several problems solved at once. The table fits and I have a lot more space in my cupboards because a whole cupboard full of books changed its destination into being table legs :-DDD
This is one week past and with renewed hope we will today drive again to IKEA…
---
But although my room is full moving tables, half cleared cupboards and still far away from tidied up, I did manage to sew a coat. Last time I sewed a coat I wanted to be crowned ruler of the world, but no fear, this time I will be modest and graciously accept accolades in the comment to section. 🤣 I am joking, I hope you know this…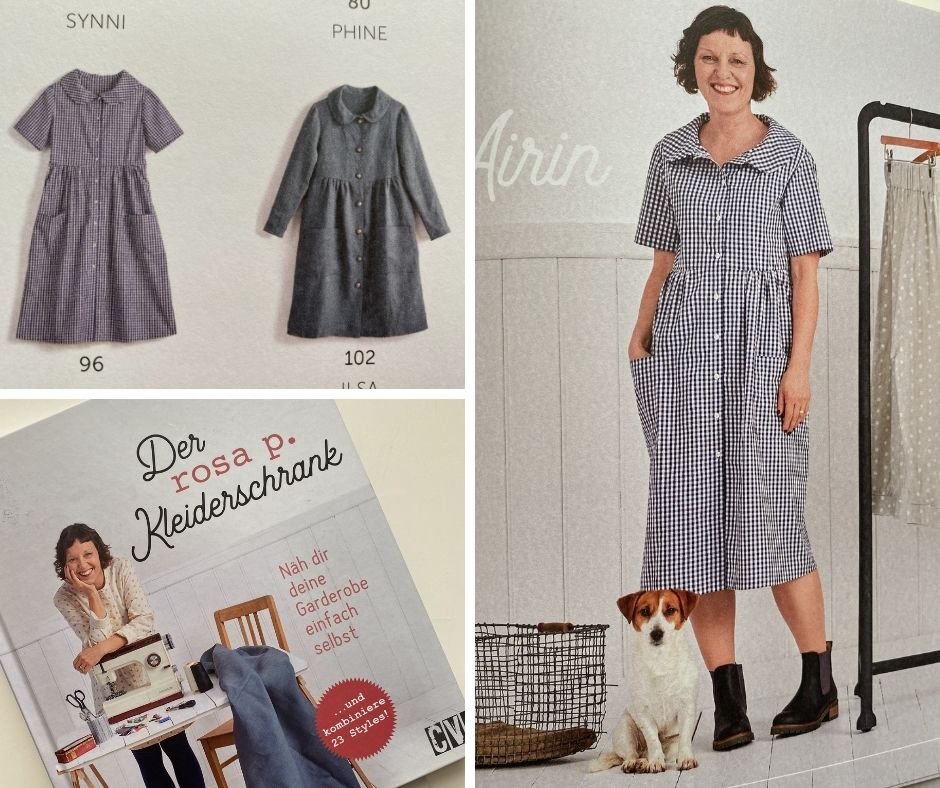 The coat is a project I am in love with for a longer time. It is from a German sewing book which translate roughly into "the wardrobe of Rosa P." Rosa P. being the author 😀 The coat is a mix between dress and coat and the book delivers two versions of the pattern; one which is more a dress because of the thin fabric, and one made from a heavy linen fabric. The coat has a cute Peter Pan collar, gathers at the waist, and closes with big buttons. To be honest, it looks like one of the wide dresses I so love only disguised as a coat :-DDD I already sewed some of the garments from this book so I was sure the sizing has a lot of built in ease. Accordingly, I used size 38 for the body and size 40 for the armholes and the bottom part. By the way it would have been totally different if I went with the sizes/measurement the book suggests. Then I would have used 40 for the bust, 42 hip and 44 for the waist. Finished garments measurements are such an important information in sewing books in my eyes, which sadly is missing in this book.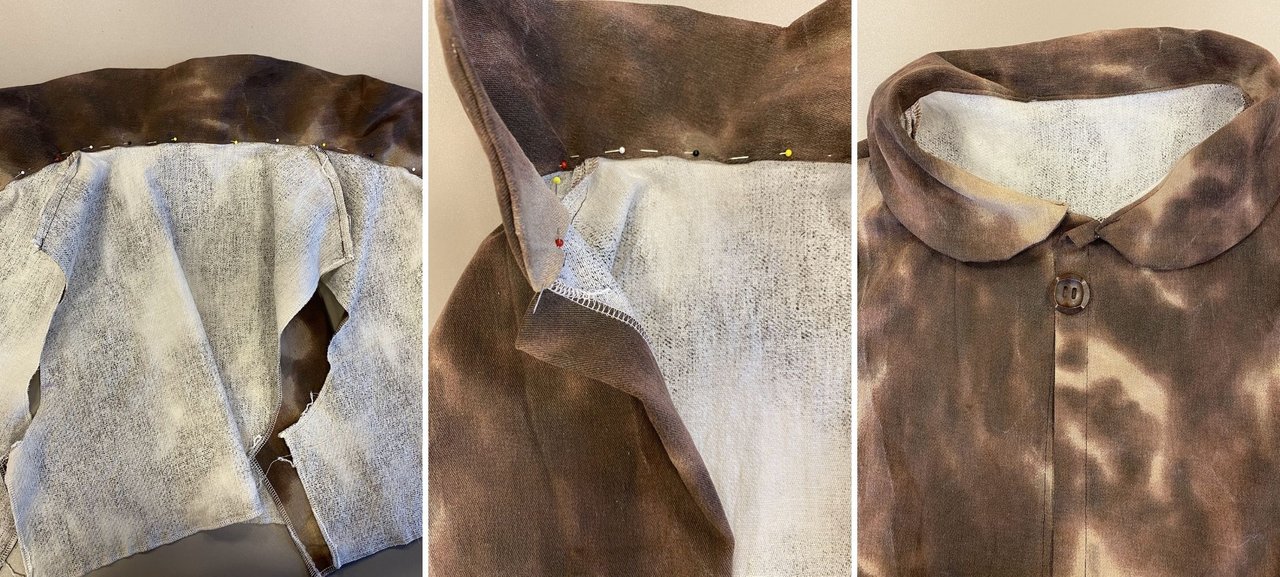 Back to the coat. You already saw me ironing the fabric, which is a kind of stretchy jeans fabric (I still haven't burned it to determine the exact fibre content :-D). The material is lovely to work with and I could sew the whole coat in a very short time. The only part which was a bit tricky was the dollar, but here I had help from the sewing course… annoyingly the teacher does not want to explain the techniques, but simply wants to sew it herself. I knew this already and I fear I was a bit rude and pulled the coat out of her hands to sew it myself. Still, I am unsure if I can replicate the technique she used for the collar (without a facing).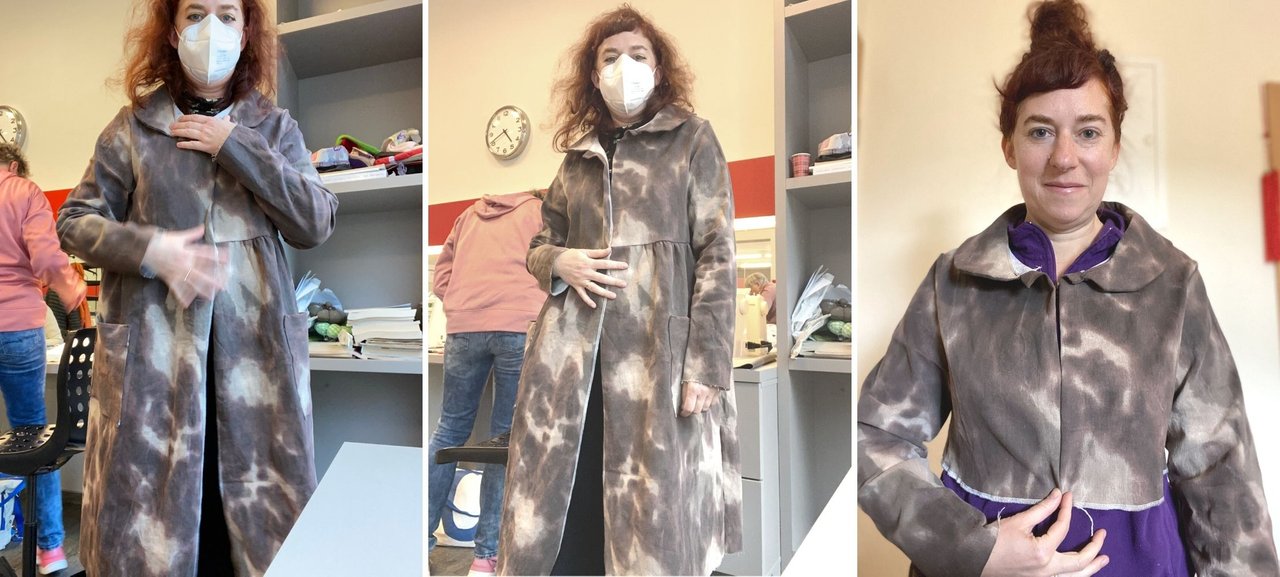 Here you can see me wearing it during the course, to find the perfect length for sleeves and hem. I am fairly satisfied with the fit and am pondering if it will be too big, if I try make it again in thin fabric as a dress? What do you think?
That's it. The coat is still in this nearly finished stage. And there is a reason (don't laugh) I am pondering to dye it. 😁 But I find it hard to decide on the color, as the fabric dye cannot lighten the present brownish color, it can only make the whole fabric darker. I am pondering to whether dye it completely brown or try out a red or lilac. I made this color test with alcoholic markers, but I am very unsure how the real fabric will behave.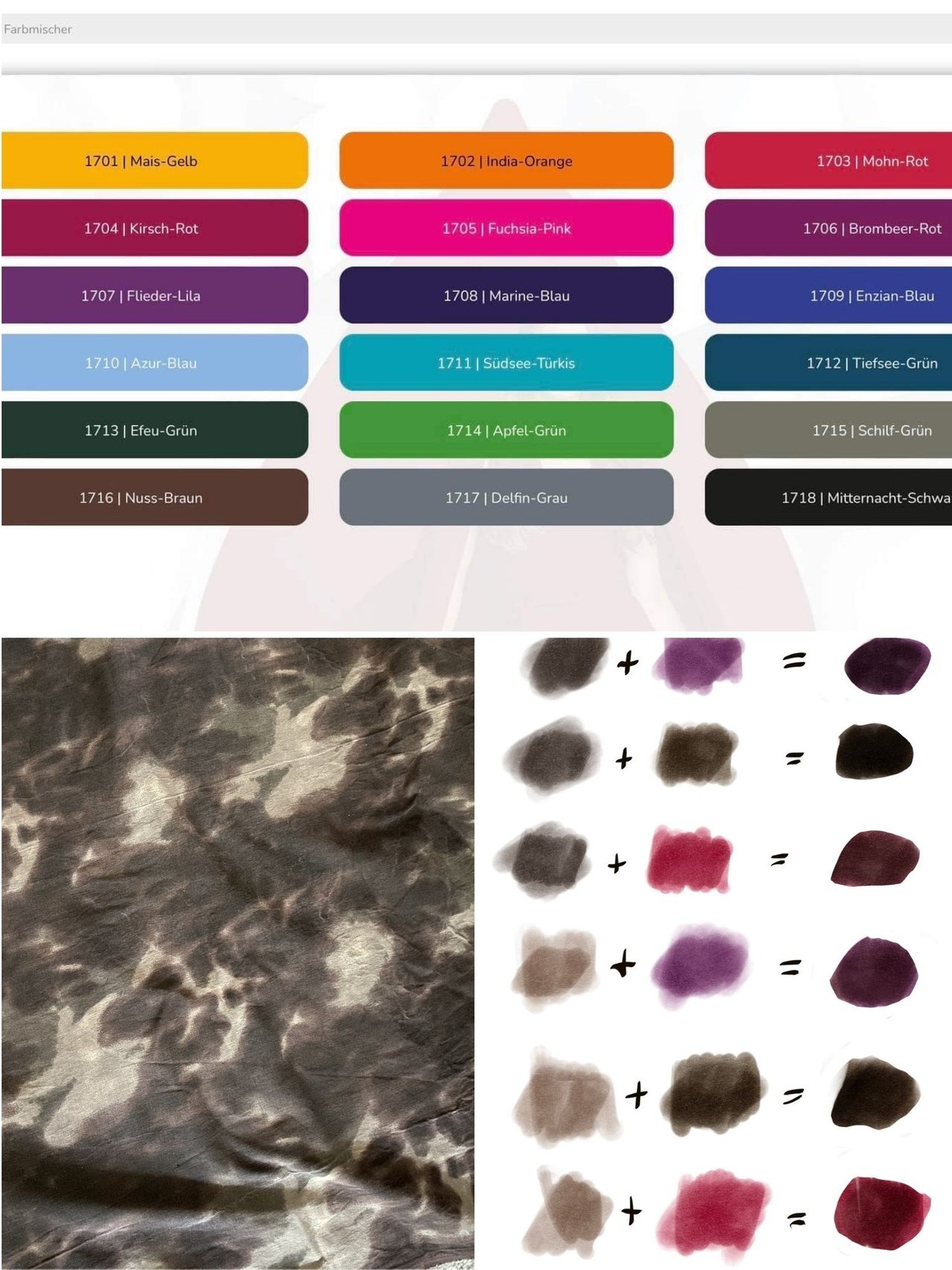 The first photo shows all colors I can buy
Dear Needleworkes, please help. Do you have experience/ideas how it will turn out? Or would you wear the coat it like it is?
---
Thank you @crosheille for initiating and @marblely for hosting the #needleworkmonday and the community builder team @lauramica, @romeskie and @kattycrochet I am so glad to be part of.
If you want to see more beautiful projects with yarn, fabric and most of all needles, follow @needleworkmonday on hive blog. Or even better grab your needles and keyboard and join the #needleworkmonday community. You can read more comments on this post on my hive blog. 
Read more about my art und upcoming exhibitions on neumannsalva or buy some of my digital artworks on NFT showroom.