(For the impatient readers who tire of my long-winded introduction: I will start to write about my expirience with the sewing pattern Lisette roughly at the fourth paragraph 😁)
Could it be possible that I only can sew fitting garments with recycled fabric?
Most of you know that I love to sew with stretch fabric because the material is forgiving and hugs my body although I am not a master sewist and have a lot of curves which seem to be never catered for in bought patterns, but woven fabric … oh oh oh…. woven fabric is my nemesis.
Every month I again try to sew a garment in woven fabric, always hopeful that I will master the skill of fitting this unforgiving material around my body. I always start and hope hat this time the pattern I chose will be so easy, that even i cannot fail. And guess what, I fail. Every time I pick up a pattern for a blouse or dress, a skirt or pajama pants in woven fabric something goes amiss.
But not this time. JOYYYYYY
---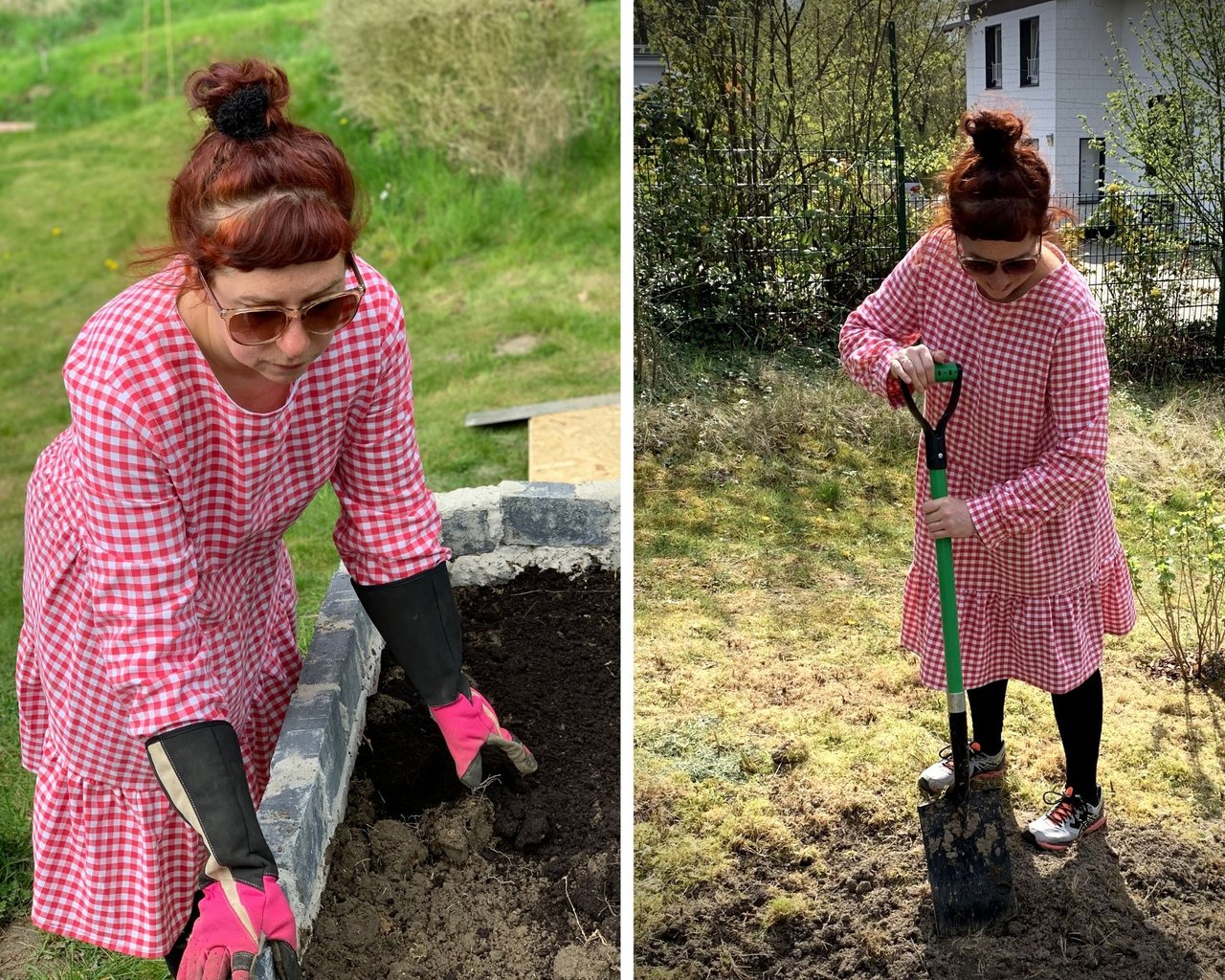 I still have a lot of checkered fabric from my old bedsheets which I decided to recycle into garments instead to mend them. Some weeks ago I made a wide gathered dress out of the first sheet and I nearly made a wearable dress, it only had minor issues at the shoulder and although I grumbled a lot about this dress, I love to wear it as it is (but still dream of making another one where I will incorporate all of your helpful advices).

---
I deviate… the woven bedsheet fabric… Last week I decided I want to try to sew a summer blouse and fittingly I stumbled upon a lovely blouse pattern in La Maison Victor a Belgian sewing magazine: Lisette, a blouse with short raglan sleeves, a gathered front and a bow at the back. This translated for me into: no buttonband to sew, no collar to work and no setting in sleeves – I can do this :-DDD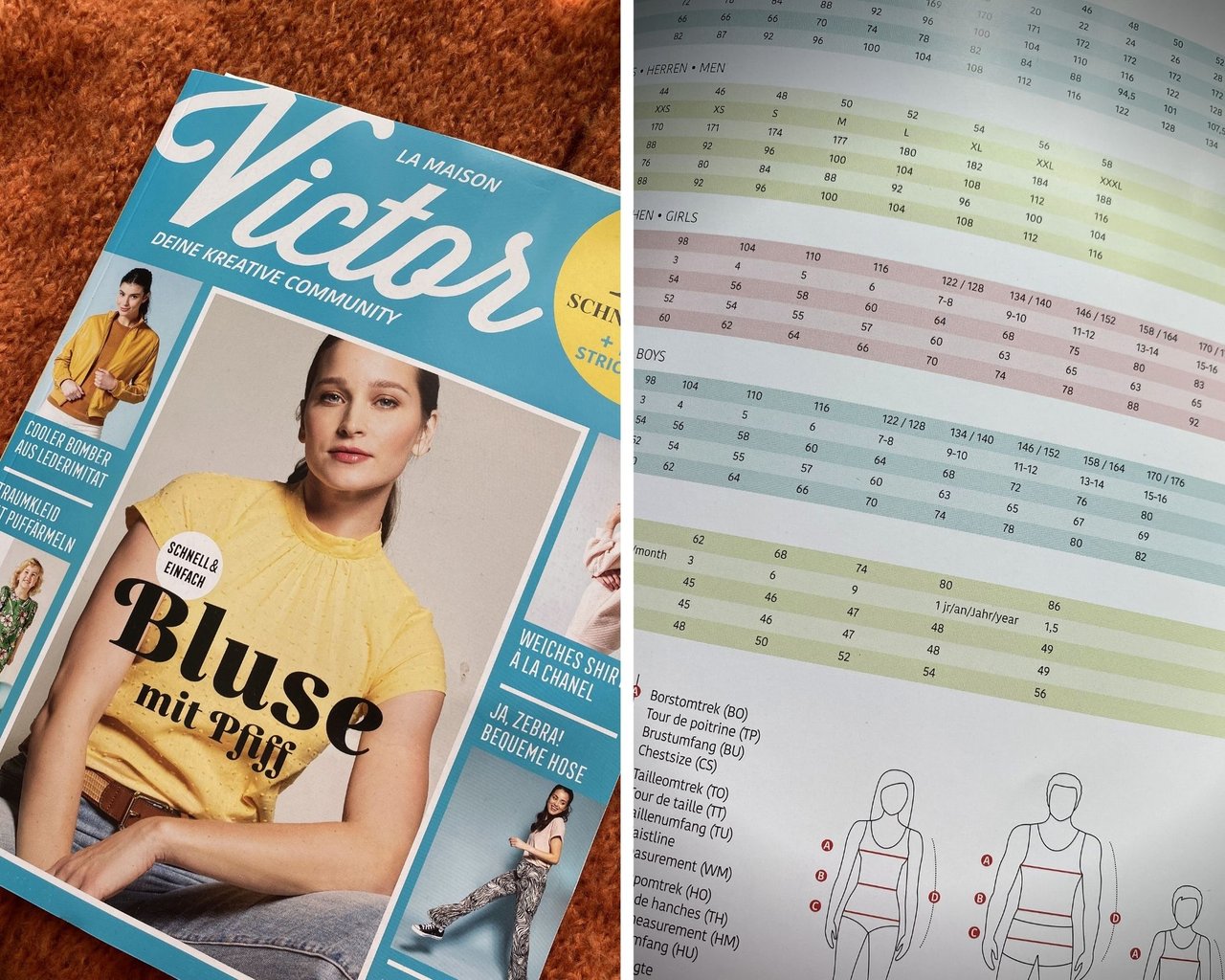 The blouse Lisette is on the cover of the magazine in a lovely light yellow fabric and I love the style, only the sleeves looked a tad too narrow to my liking (in German there is this funny word which describes when clothes are so tight that the wearer seems to explode out of them "spack" perhaps "taut" in English only more negative). With this cover photo in mind I decided to size up and sew size 42 to get wider sleeves and a more relaxed fit. Sadly, La Maison Victor does not provide the finished garments measurements (like the patterns in the magazine fibremood), so choosing a size was a bit of guess work and intense hoping. According to La Maison Victor's size chart I am at the height of a size 32, bust width is between 38 and 40, waist is 44 and hips 42…. The only upside of La Maison Victors sizing is its wide range, they start with size EU 30/ UK 6 and reach up to EU 56/ UK 32.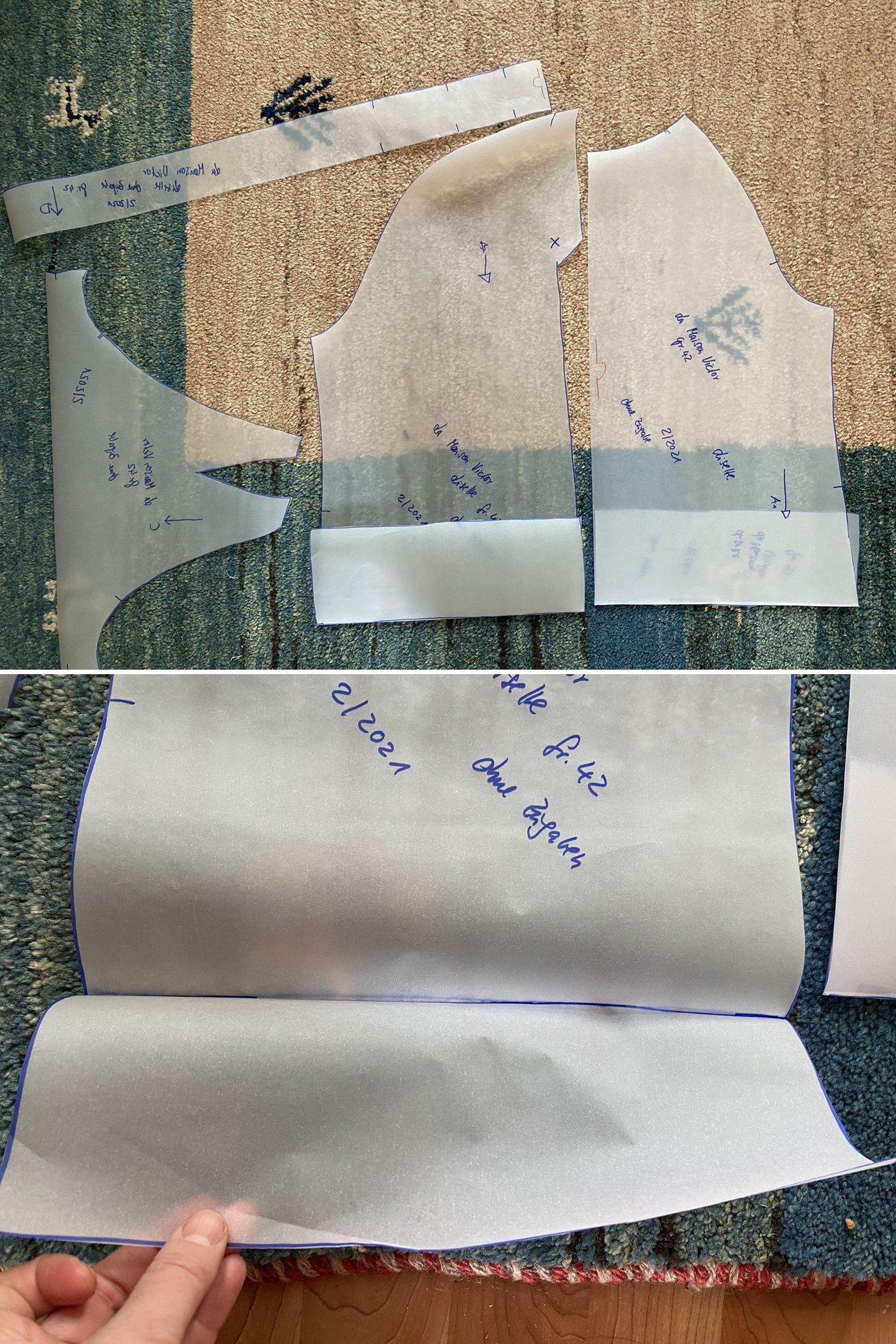 After cutting out the pattern pieces I noticed another fit issue I always have: the pattern was much too long. Easy to fix, I simply shortened the blouse 10 cm (the waist of this pattern is only slightly accentuated, so cutting of 10 cm at the bottom was no problem).
Fabric cut out and ironed, I started to sew. The explanation for the sewing process was ok for me – they are a lot more detailed than for example Burda patterns – and everything went well till the stand-up collar and tie.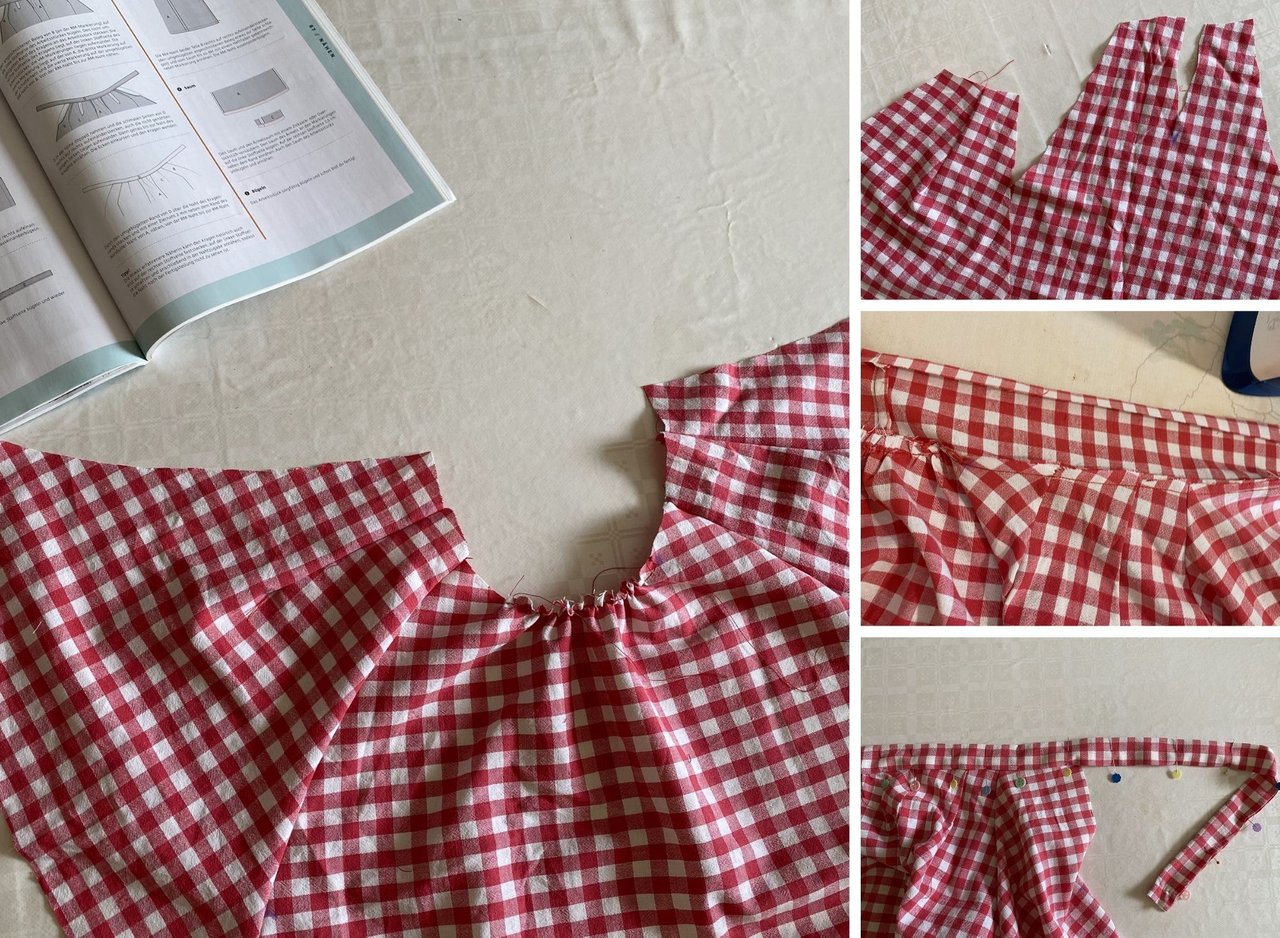 The raglan sleeves are so lovely to work with (in my eyes), closing the dart and setting in is not complicated at all, only straight lines to sew (ok… slightly curved lines). All pieces of the blouse fit perfectly together, and I had the project together in no time. But the collar… I have no idea how La Maison victor thought I should ensemble this. At one stage they say I should have turned the collar inside out (after sewing it on the neckline), no idea how this could work. But as always in sewing, I fear its my missing skill not a faulty explanation. I simply ignored the magazine's explanation and sewed the collar and tie as I would sew a waistband on a skirt: I folded the tie in half, ironed the seam allowance inside, sewed it on at the wrong side and then at the right side. For me this looks ok and I do not think the sewing police will follow me on the open streets and check if I made the collar and tie correctly – or will they???

I ended with a fitting blouse which is completely wearable. I still cannot believe it. I made a fitting garment with woven fabric. Was is the easy pattern? Or was it because I was more relaxed as I could not destroy precious fabric with my sewing? I still don't know, but I will test it and sew this blouse with some of my stash fabric which is not a recycled bedsheet (cross your fingers this will work too :-D)

I was so inspired by @crosheille's nature photos that I could not resist to sneak some garden photos into this needlework post :-DDD We had super warm weather yesterday and we invited my mother into the garden to eat together and to show her the snail fence we built and all the tiny flowers which are now blooming.

(Ok she also had to look at the crazy hole we started to dig which will hopefully be a terrace for a flower patch someday and the dried-out corpses of all the brambles we cut)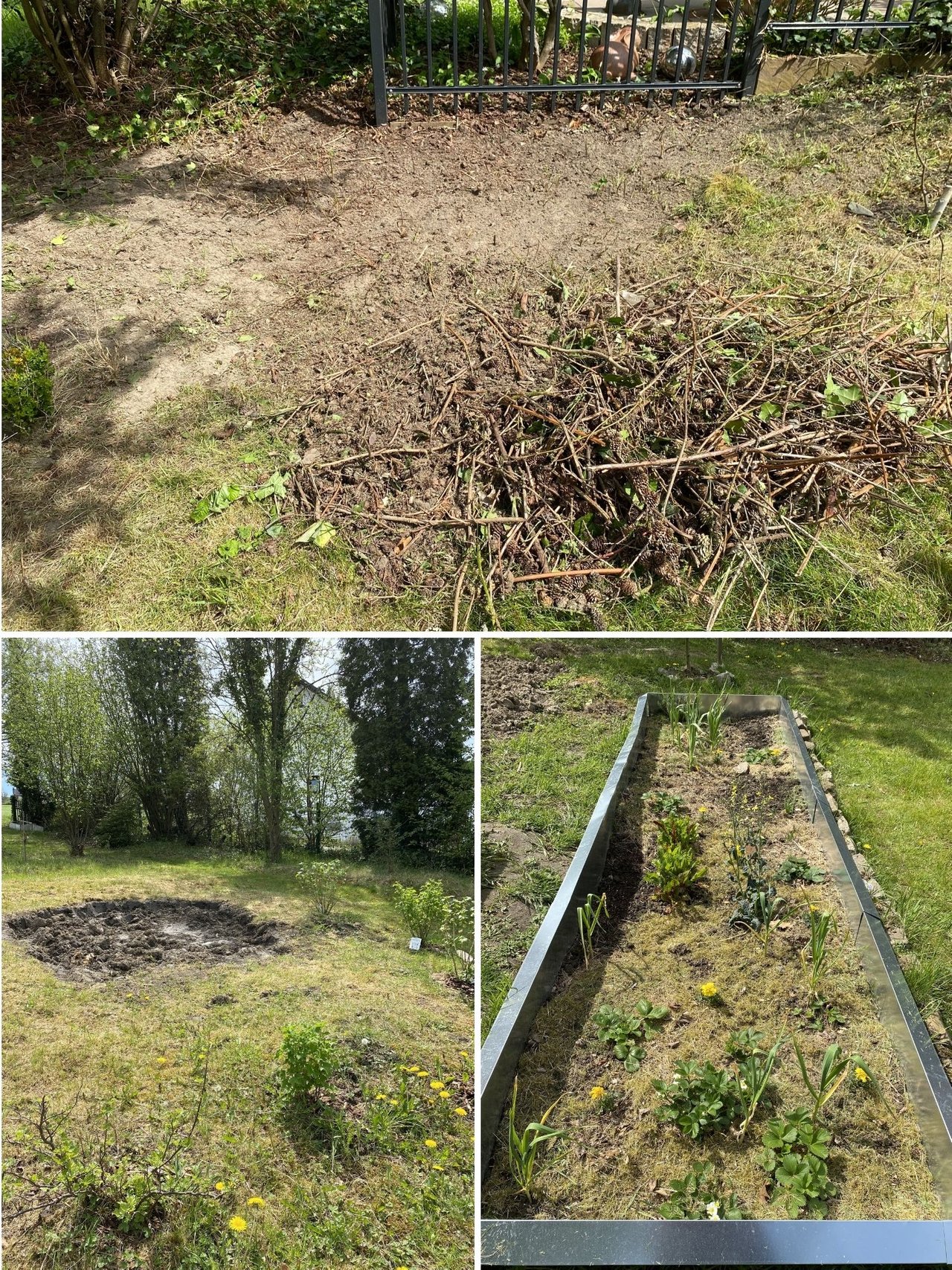 Thank you @crosheille for iniciating and @muscara and @marblely for hosting the #needleworkmonday. If you want to see more beautiful projects with yarn, fabric and most of all needles, follow @needleworkmonday on hive blog. Or even better grab your needles and keyboard and join the #needleworkmonday community. You can read more comments on this post on my hive blog. 
Read more about my art und upcoming exhibitions on neumannsalva.