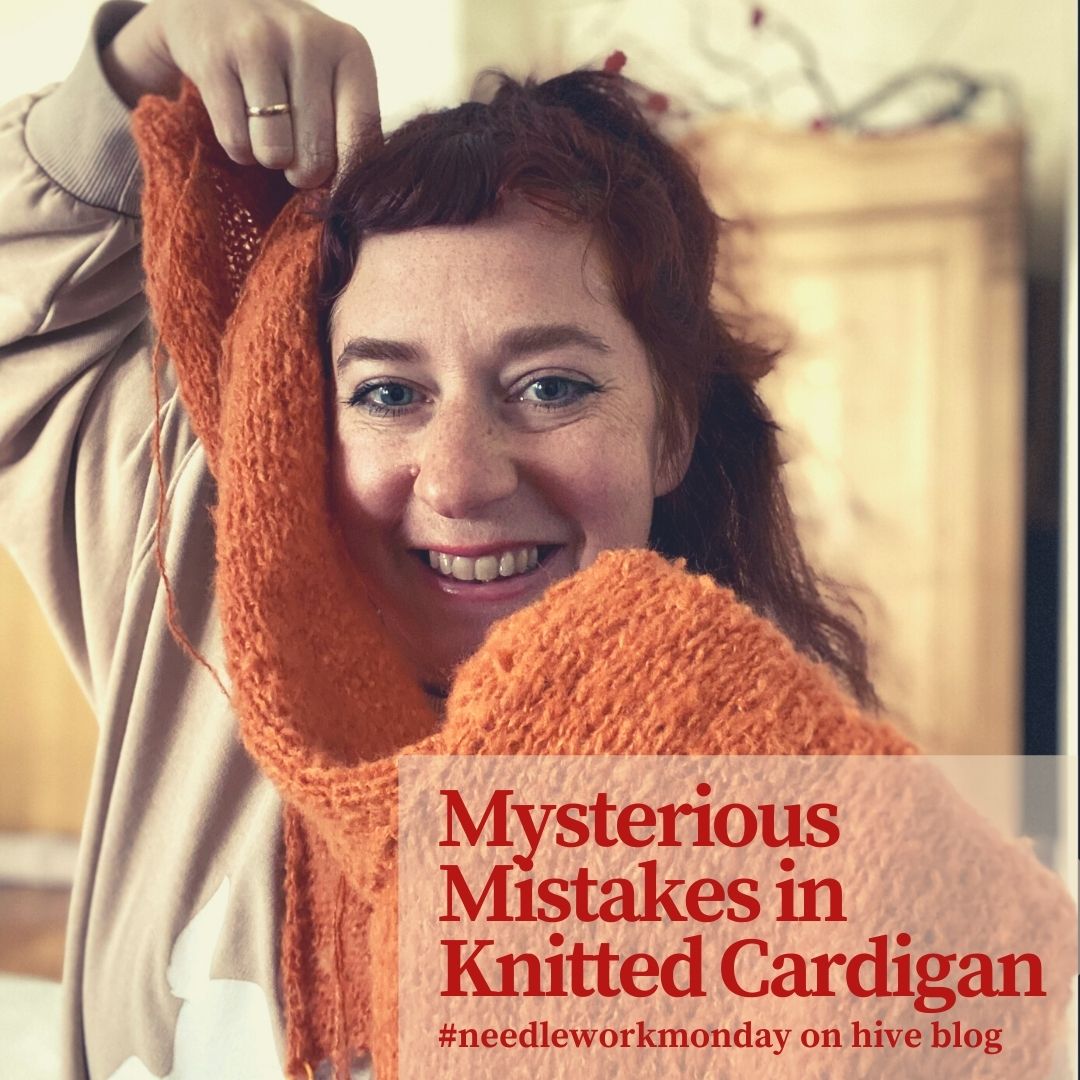 Do you believe me when I tell you I do not want to write about mistakes I make while crafting? Again…?
While I woke up today, I envisioned this wonderful post about a cardigan I knitted. It is a pattern from this lovely book: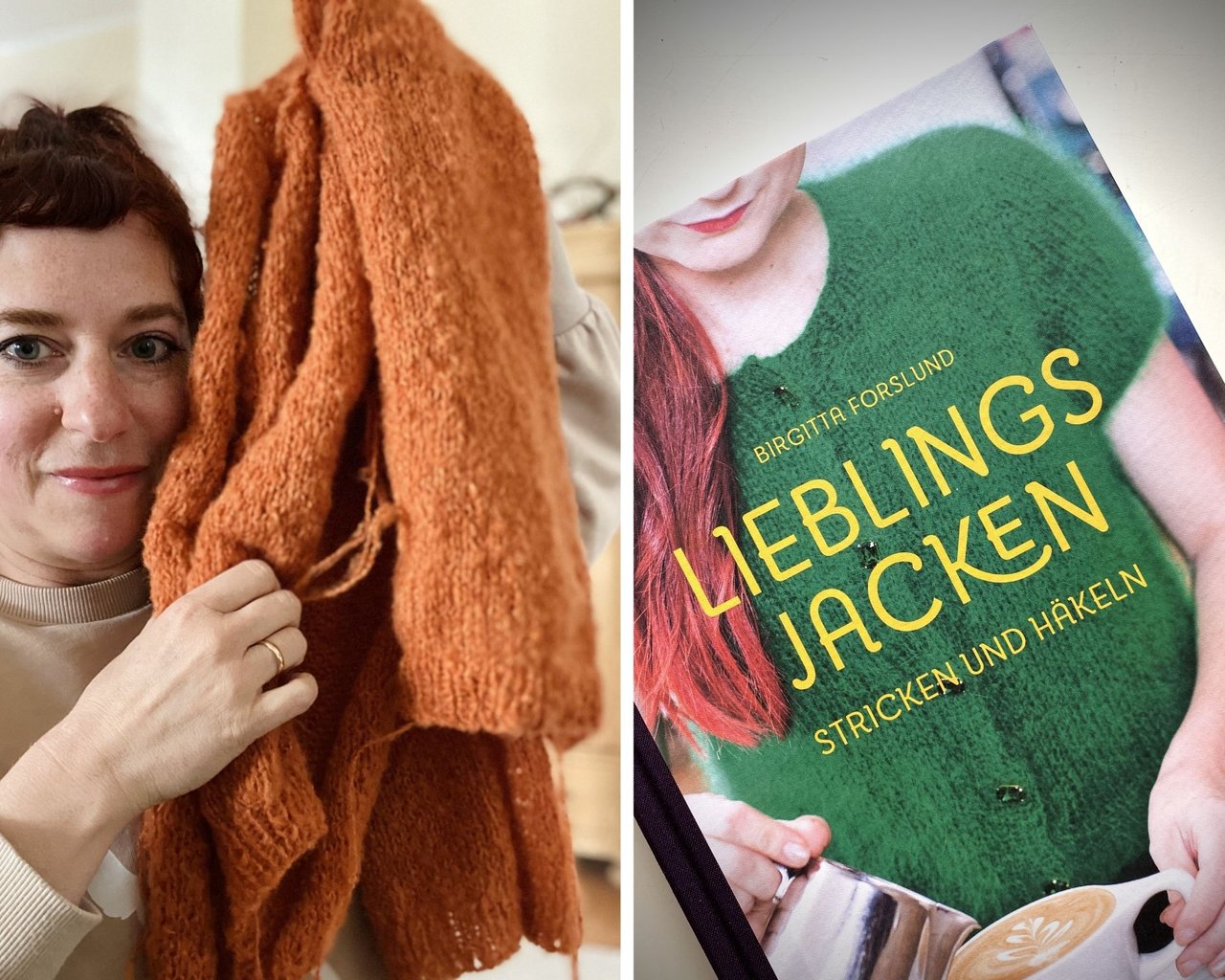 I started the cardigan a long time ago, but for some weeks now I am in the mood to finish all (ok… some) of my sleeping projects. Over the last week I was so frustrated with my checkered dress, that I pulled out this half-finished cardigan and knitted on and yesterday I had all parts finished: two fronts, the back, and the sleeves. My fear that the yarn will not suffice did not come true. I painlessly got all parts knitted.
---
Back to this Monday's morning. You remember, I woke up. But surprise, surprise as I looked at the two fronts of the cardigan – which I hurriedly wanted to sew together, so that I can present you a flawless knitted cardigan – the fronts did not look the same!!!! I made a mistake, again. Perhaps I should be banned from making clothes. I fear one day there will come an official looking letter on thick cream-colored paper which tells me I am expelled from the secret guild of garment-maker-enthusiasts… 😱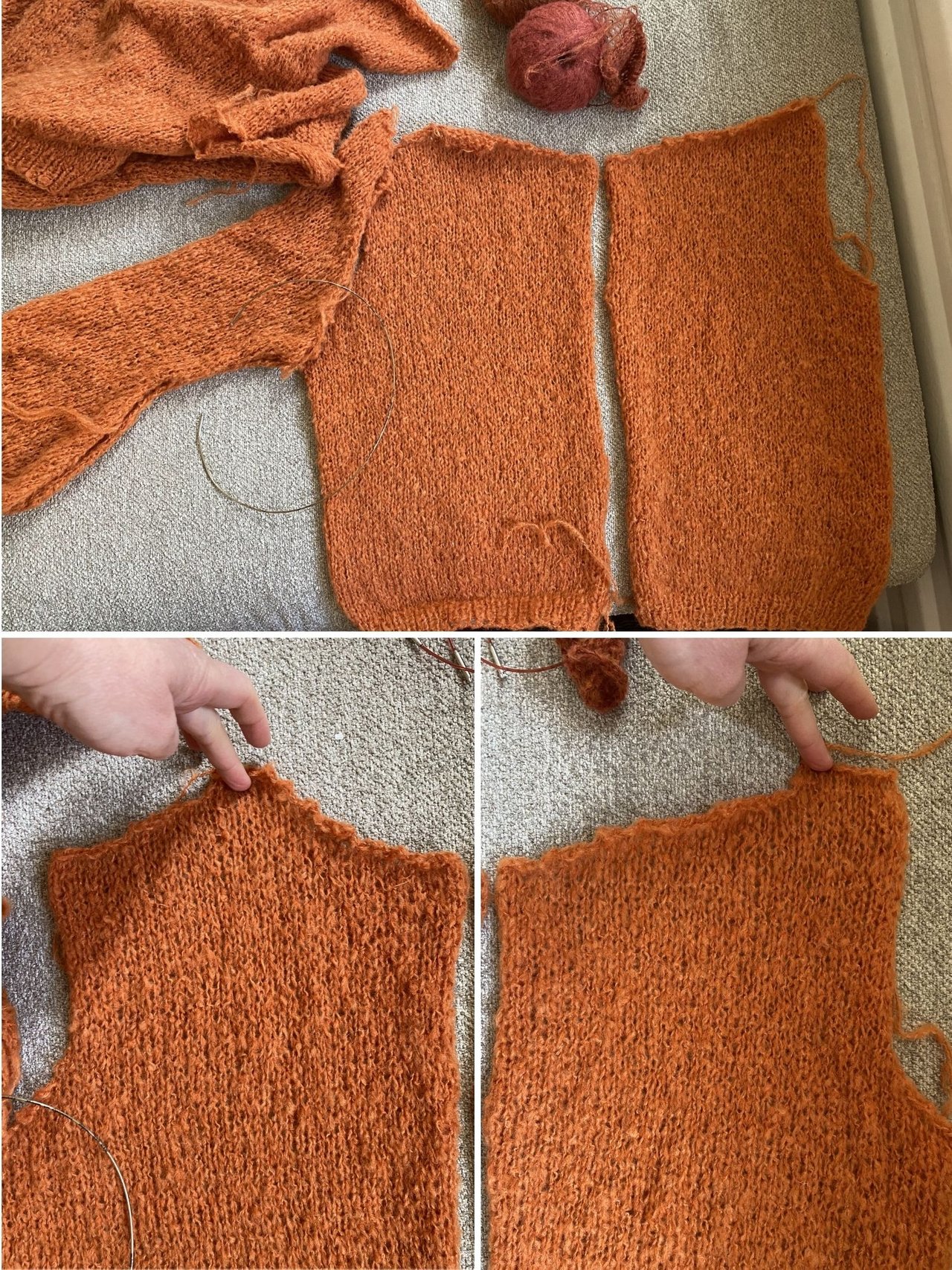 But we are early in the morning, so I courageously tried to unravel the last rows of the second front where I made the mistakes. I accidentally had cast of all stitches at the neckline instead of distributing between neckline and shoulder. The yarn although very fluffy behaved nicely and I was able to remedy the mistake in no time (lie… I needed more than an hour because I was sweating profoundly in fright to drop stitches).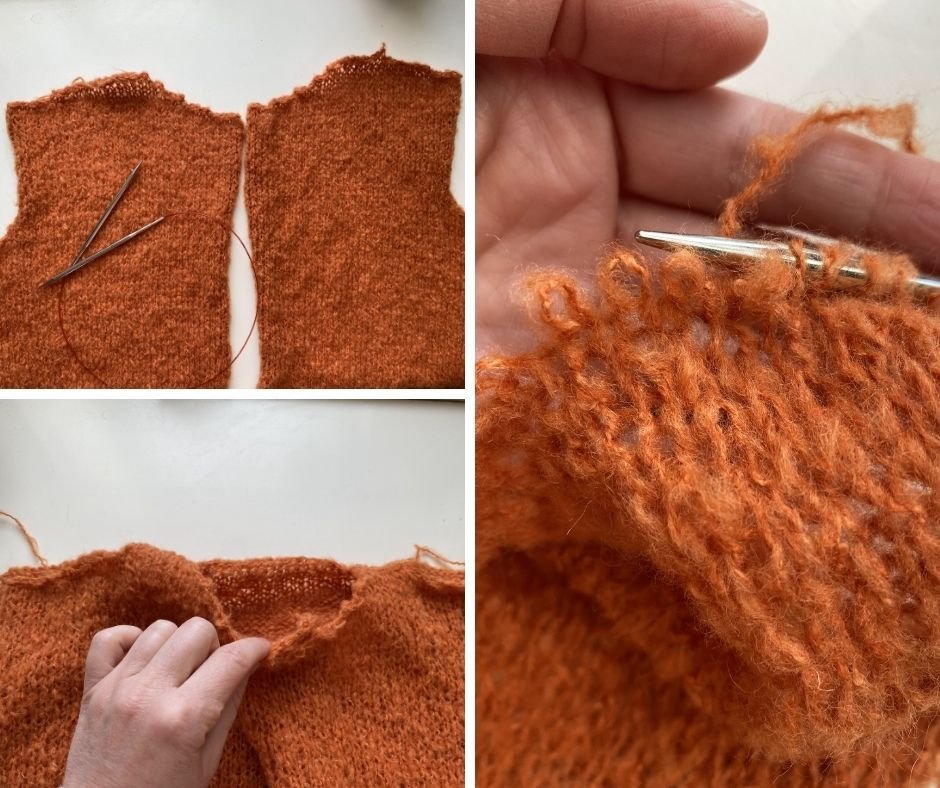 Still Monday morning I sewed the fronts to the back and (yeah, I know it's repetitive) surprise, surprise another strange occurrence: the fronts were overlapping, meaning they are wider than the back. Big sigh. I double checked the pattern. But I did everything to the letter. No idea why this happened. But to be honest, it's the second pattern I use from this book and the first one had also massive mistakes (which I only noticed after I was finished and checked everybody else projects on Ravelry). This time, nobody complained on Ravelry… but look at the pattern (I hold my fingers over the culprit stitch count) the back has 86 stitches and the fronts 50 each. But that's not all, I also find the neckline tiny.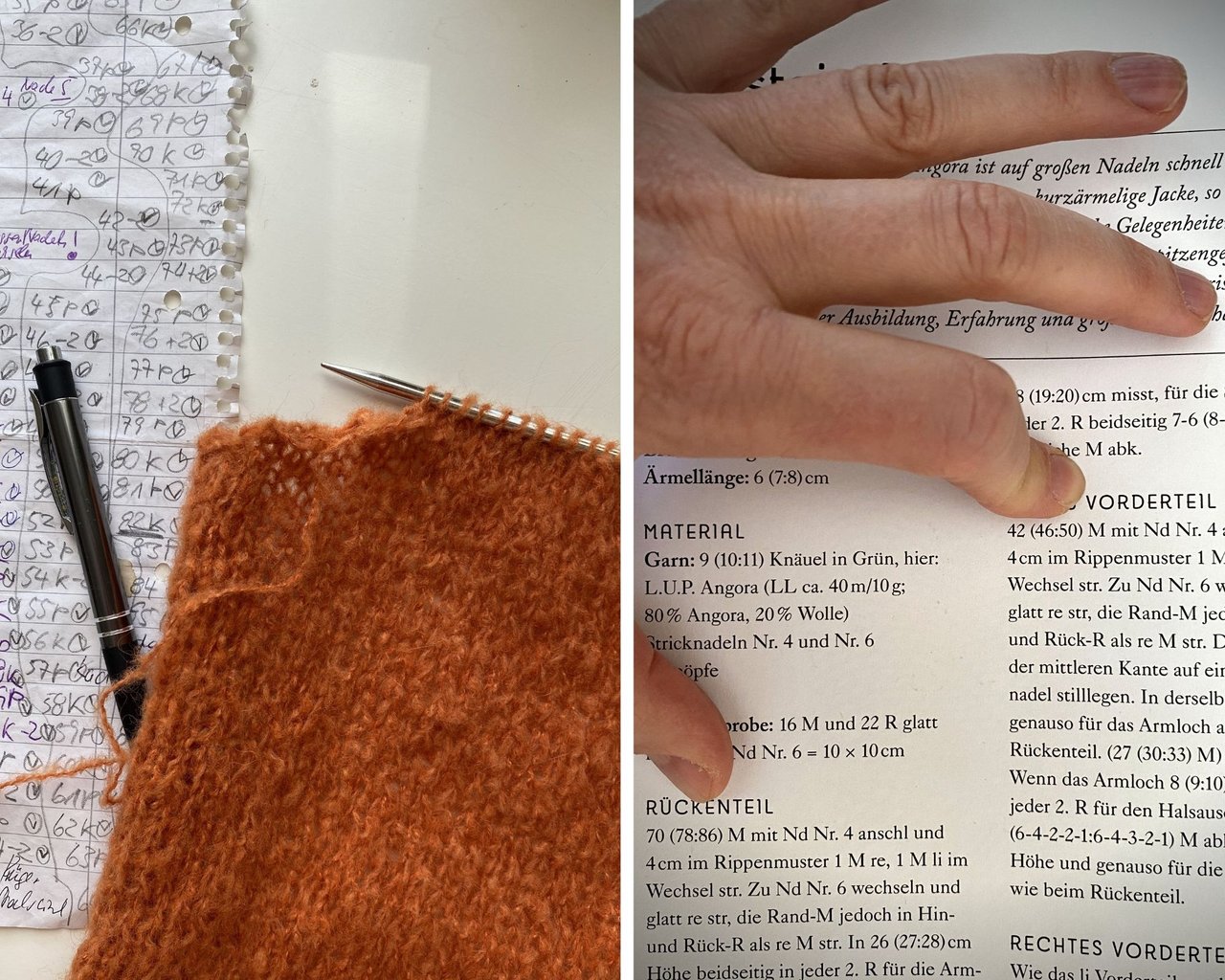 After a cup of coffee, I decided to pin the jacket together before I do something I would regret later (like trying to steek the back and insert more stitches, which I have never tried before). And oh wonder, the thingy kind of fits. Not sure if this owed to the very loose knitted fluffy yarn? Ideas my dear #needlworkmonday experts?

---
Thank you @crosheille for iniciating and @muscara and @marblely for hosting the #needleworkmonday. If you want to see more beautiful projects with yarn, fabric and most of all needles, follow @needleworkmonday on hive blog. Or even better grab your needles and keyboard and join the #needleworkmonday community. You can read more comments on this post on my hive blog.
Read more about my art und upcoming exhibitions on neumannsalva.