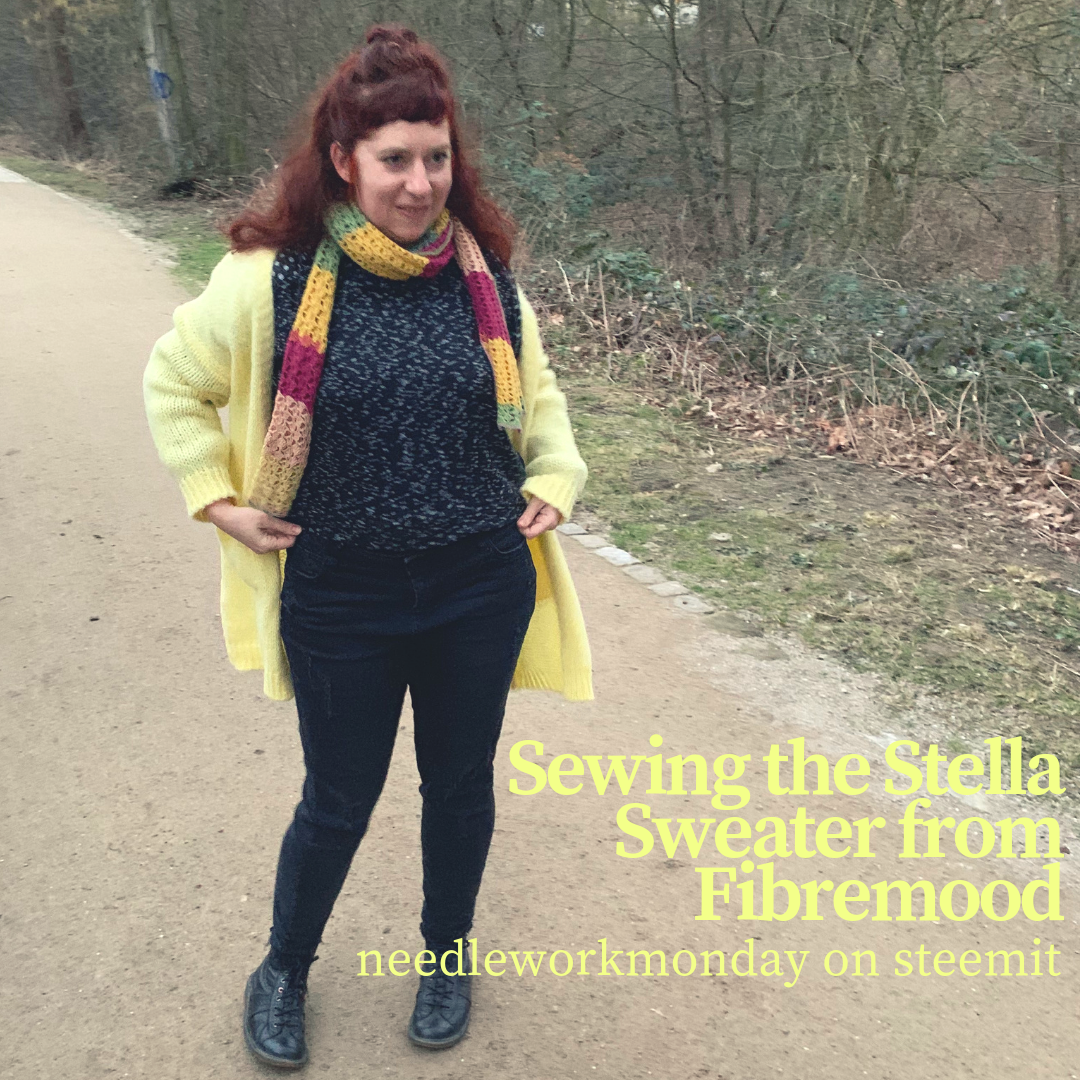 I am boring. And a coward. Now it is out. And as it is #nedleworkmonday you have guessed right, I spoke of my sewing abilities. Last year I think I have made approximately a million half circle skirts with an elastic waistband. At least if not more 😀
This year started with an orgy in sweaters and shirts. I started with a pattern from the new Rosa P. book which was meant as a turtleneck. I made this shirt three times and already have cut out the fabric for a fourth one. As I do not need four turtleneck shirts, I modified the neckline…I told you I am boring 😀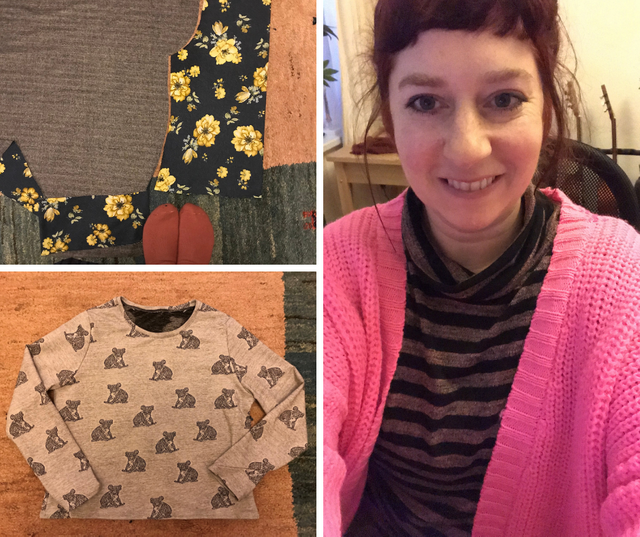 But today I will present you my newest obsession the Stella sweater from fibremood. You could glimpse at the traced pattern last week and I was boring good, I finished this sweater and did not tried something else.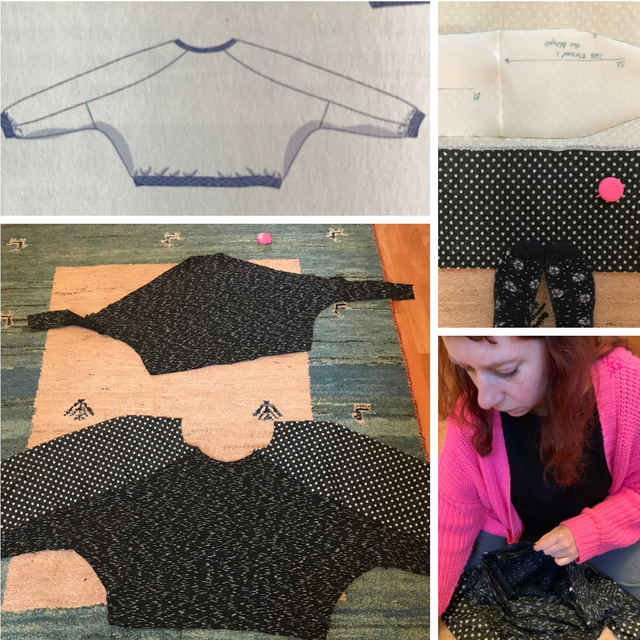 The Stella sweater has wide batwing sleeves and is very short. Short is good in my opinion, but I was not so sure, if the wide sleeves would look flattering on me as the models in the magazine are all very tall and thin. But the pattern was so intriguing that I wanted to try it in spite of the risk (ohhh… I notice a small sign of me being more daring in sewing :-D)
The special feature of this sweater is, that its sleeves are constructed out of multiple parts. This allows crazy mixtures of fabric in different colours and patterns.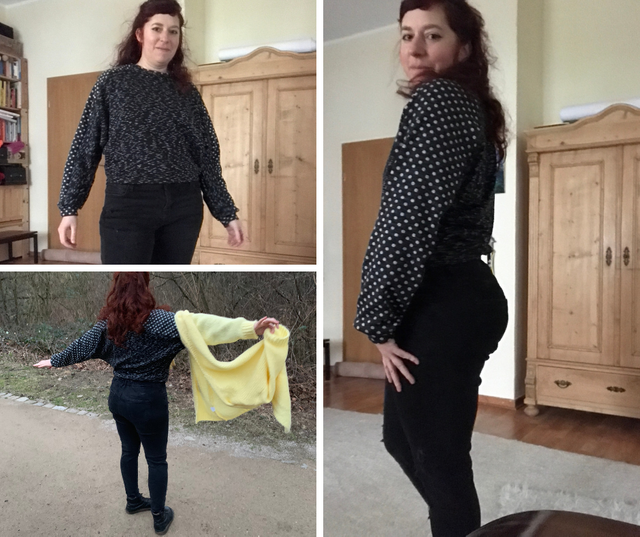 For my first attempt I used two different anthracite fabrics, one dotted and one with subtle stripes. Both were again lucky finds from the bargain box of my personal local fabric store. I used size L which fits perfectly with one little modification: I made the waistband almost as wide as the sweater. The original pattern uses a waistband which is a bit smaller than the body of the sweater and is sewn on stretched. For the rest I followed the description, and all went well even for me as a still beginning sewer.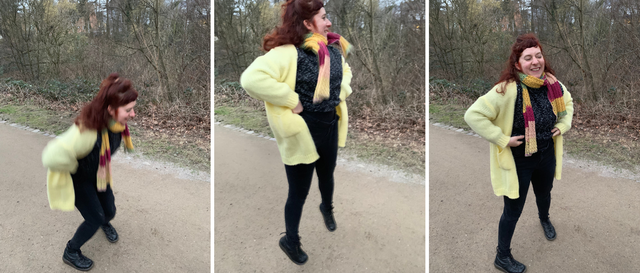 Now comes the boring part: I made another one 😀 I had enough of the polka dot fabric for the body of a second sweater and I added a red fabric for the upper parts of the sleeves. For the underarm parts I have chosen a grey fabric which I had cut from too long skirt. I like this new combination even more as the first one, but unfortunately the skirt-fabric is a bit stiff. Next time I will be more attentive to the drape of the fabric….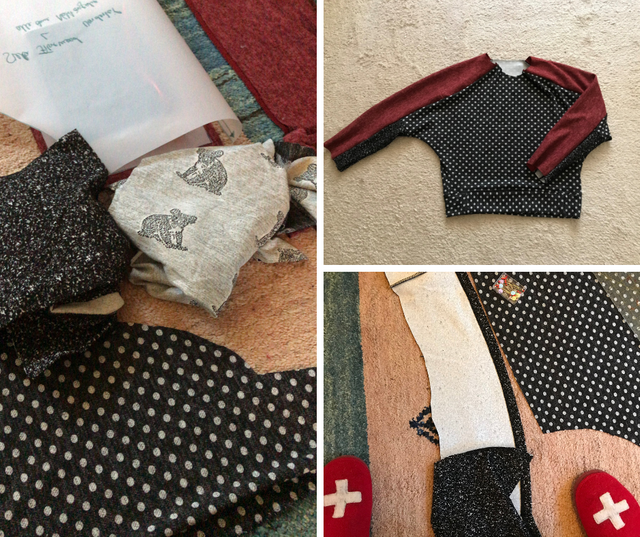 As you can see, I am not completely finished. I will make the neckline and the cuffs out of the red fabric today.
Next time…. Yes, there will be a next time 😀 I told you I am boring, if I learned something I stick with. I am too lazy to try out new things. And I saw on Instagram a beautiful version of the Stella sweater in a bold flower fabric 😀
Thank you @crosheille for iniciating and @muscara, @shanibeer, @marblely for hosting the #needleworkmonday. If you want to see more beautiful projects with yarn, fabric and most of all needles, follow @needleworkmonday on steemit. Or even better grab your needles and keyboard and join the #needleworkmonday community. You can read more comments on this post on my steemit blog.