I think Marie Kondo silently left our flat. My guess is that she, after being happy about my attempt of tidying my box of shame (read about it here), went into our kitchen for a nice cup of tea, and there she found my tension squares. I imagine her sighing softly and then wandering of to a more compliant client 😀
I really tried. The last week was full of good intentions and hard work (don't laugh sewing in yarn ends is a tough job… ok, I am also laughing). I started the week with choosing buttons for my striped green jacket and I finished the yarn end situation.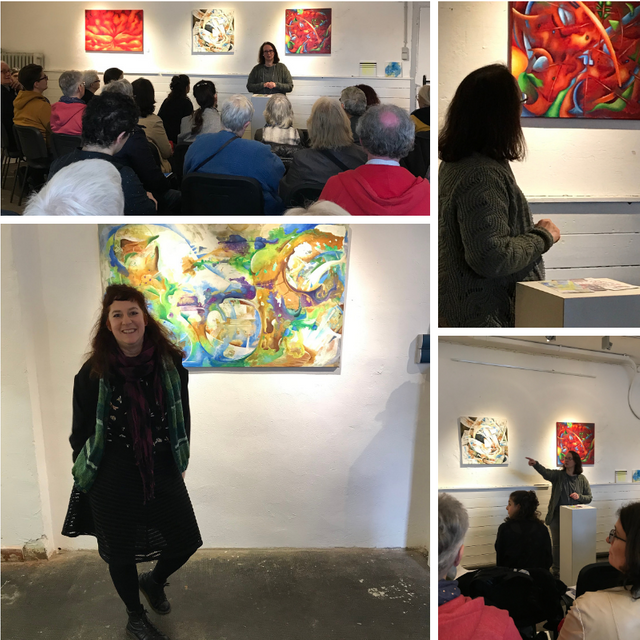 My good friend Silvia started a new series of painting in a for her unusual style: they are abstract. Last Friday she had an exhibition with a reading, with authors who used her new paintings as an inspiration…. And I kind of promised her that I will wear the striped cardigan. You see, I was highly motivated to finish this beast cardigan. And I succeeded – woohoo!
As Silvi is not only an amazing artist, she is also willing to take crazy photos of my knitted creations and so, here we are: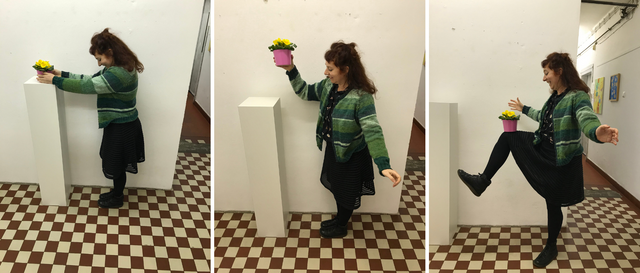 For this cardigan I used Andi Satterlunds Miette cardigan as a basis but omitted the lace bands and instead knit little bobbles along the raglan lines and the button band. I also made this cardigan a bit longer. Therefore, I modified the waist shaping. I decreased less at the waist, but increased a bit more to accommodate my hips 😀
If you want to see all my notes than visit my ravelry project site for this cardigan.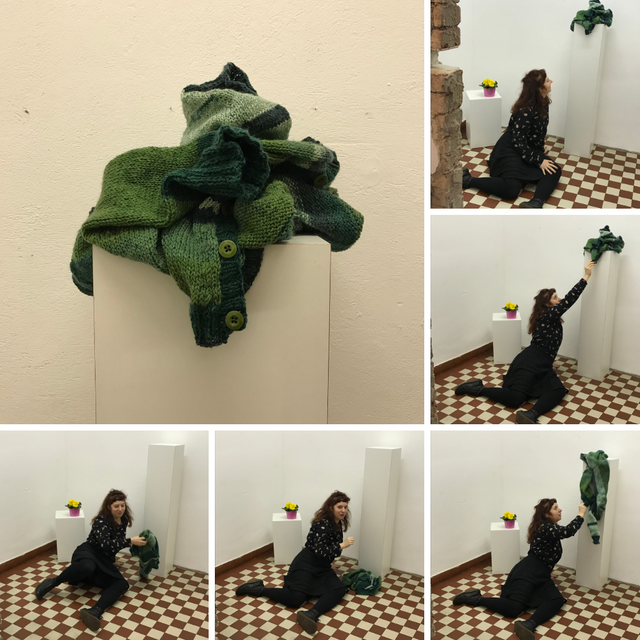 The rest of the week was a mixture of some sewing for friends and family and sh*** migraines. I explain my lapse into starting a new project although I heard the spirit of Marie Kondo tell me to first finish of all my box of shame projects, with exactly these migraines…. I wanted to reward myself. And rewarding went like this: I browsed through a new knitting and sewing magazine I bought last winter. And there are so many wonderful projects inside (if you are interested it's fibremood from the Netherlands) …. I simply could not decide what to start. So, I tried out two different yarns and patterns and simultaneously traced out the pattern for a dolman sleeve sweater. You see, I am super focused…. I only stared two projects at once 😀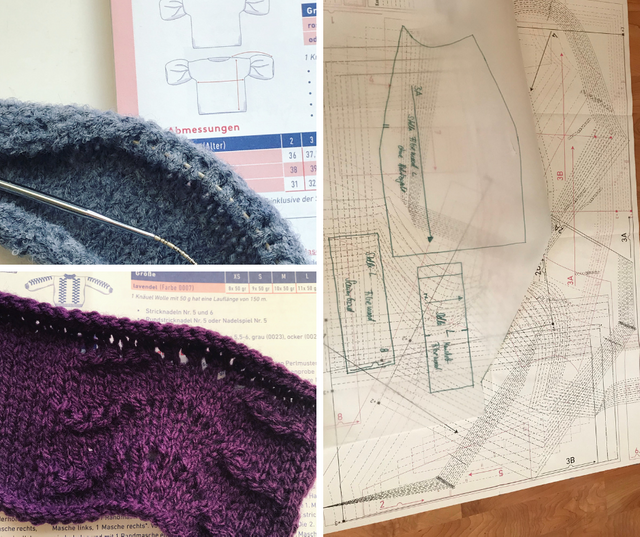 If you want to readread more comments on this post visit my steemit blog.
Thank you @crosheille for iniciating and @muscara, @shanibeer, @marblely for hosting the #needleworkmonday. If you want to see more beautiful projects with yarn, fabric and most of all needles, follow @needleworkmonday on steemit. Or even better grab your needles and keyboard and join the #needleworkmonday community.