Tiding up my knitting without Marie Kondo
Last week I whined about my second sock… and I think this whining got on my own nerves: I could no longer listen my own inner voice, it was too annoying. Solution: I started the second coral sock. I am still on the leg, but it is growing slowly.
This brave step into the direction of tiding up my unfinished projects inspired me, and I dared to dig deeper into this said box of shame. I found a crochet cardigan for which I started ages ago to write a pattern and a knitted cardigan which I improvised with the Miette cardigan in mind. (You will never guess… I found approximately 10 more unfinished things which I discreetly will cover with the cloak of oblivion ?)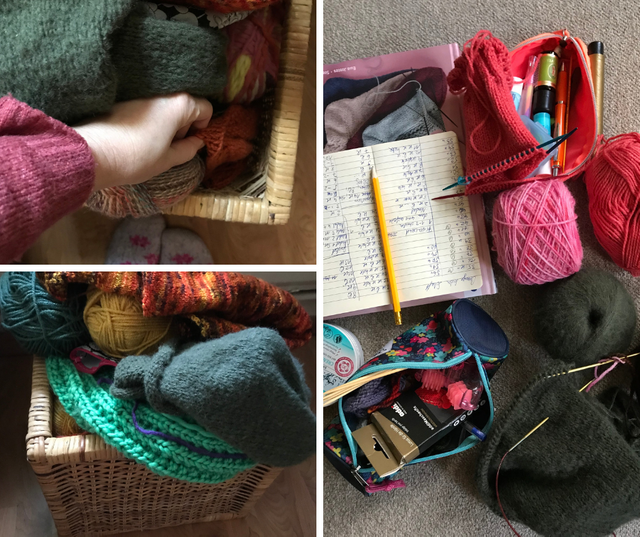 And now you know why I called this post 'tiding without Marie Kondo' 😀 I stumbled per chance over her books I think half a year ago. And I was instantly amazed, as I loved her way to treat inanimate objects with love and respect. I am no expert, but it reminded me of Shinto and so I wanted to know more. I found out that she is super famous in the USA and Japan and perhaps soon in Germany too, as there is currently airing a documentary series about her life changing work.
After reading her book, I know the cloak of oblivion is not one of her principles 😀 And my tidying up my unfinished objects no real 'tidying up' as Mari Kondo would propagate it.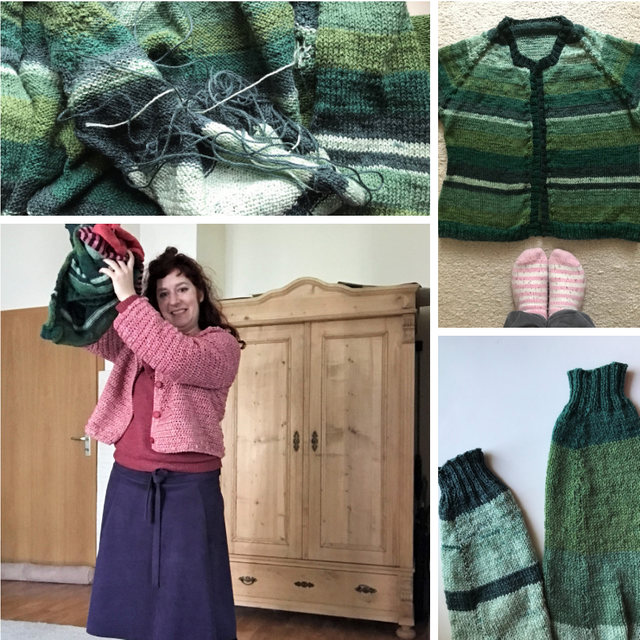 Nevertheless, seeing her on TV (and naturally your supportive sock comments) motivated me to tackle some of the most unpopular works (in my universe) needed for knitted and crocheted garments:
Knitting the first sleeve
Knitting the second sock
Knitting the second sleeve
Sewing sleeves
Sewing in yarn-ends
Sewing buttons on
So, now you know my hierarchy of dislike – I started with mild and ended with gag. While reading my own list, I wonder why I do not have a wardrobe full of vests :-DDDD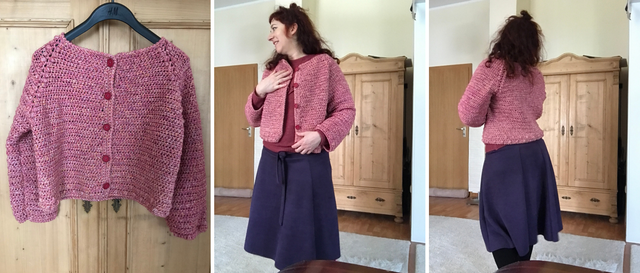 I proudly can present the finished crochet cardigan… buttons, sleeves, sewing all done. Only the pattern is still not ready. Sadly, I am not sure if I still understand my own notes on this pattern, as I have written them really long ago.

And I finished sewing the sleeves of my Bobbilette cardigan (Miette with bobbles and some other changes). The buttons – although already chosen – are not done yet and the vast amount of yarn ends creeps me out. But I have hope that my motivation holds some days and I will tackle these tasks. If not, I will cast on something new and watch Mari Kondo tiding up some rooms 😀
Thank you @crosheille for iniciating and @muscara, @shanibeer, @marblely for hosting the #needleworkmonday. If you want to see more beautiful projects with yarn, fabric and most of all needles, follow @needleworkmonday on steemit. Or even better grab your needles and keyboard and join the #needleworkmonday community. You can read more comments on this post on my steemit blog.