It did not work out. In the end I had a sweater I will not make again. I lost my precious fabric to the realm of destruction. Above my sewing machine dark clouds are gathering. Far away I can hear thunder rumbling and while looking down on the seems of my sweater I notice small cryptic signs emerging. Did I accidentally formed an incantation by sewing in an ornamental stitch? What have I done???
Yes, what have I done…
For some time I have this amazing book of Rosie Martin, where she explains how to construct clothes without a pre existing pattern. I instantly fall in love with her clothing style and wanted to make them for ages but never felt experienced enough. Last week, after I bought this fun fractured fabric on the market, I thought the day come, where I will try out a formula from her book.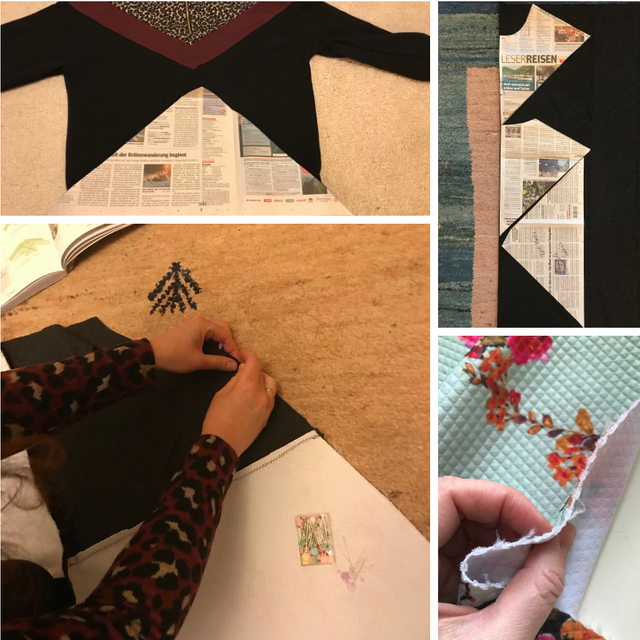 I decided to try out her puzzle sweater which consist of triangles which are cleverly arranged. Cowardly as I am I used some scraps which are left overs from a skirt I made: a lovely flower fabric which has a kind of stuffing (like a duvet) and a simple grey jersey. With @cryptocariad's help I figured out, that here occurred the first mistake as the flower fabric is much stiffer than the jersey.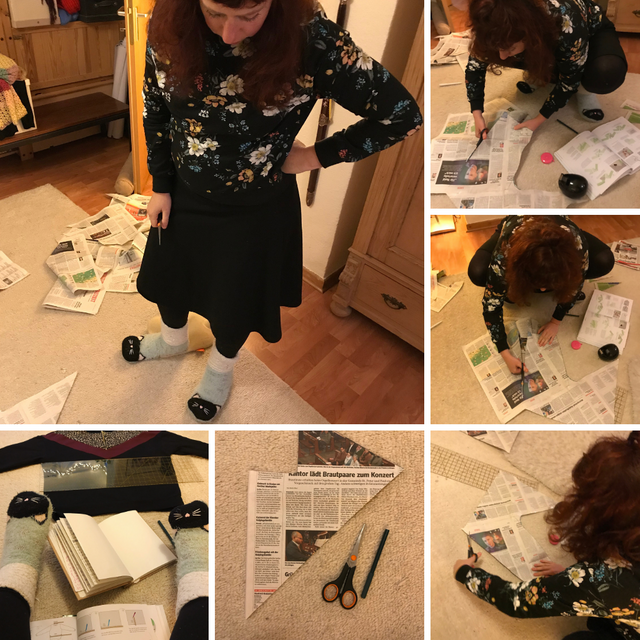 But a step backwards. I sat down on our floor and calculated, measured, cut and glued and finally I had the sweater pattern ready. As I had more of the dark jersey I decided to make front and back of the sweater differently. The modular pattern makes this very easy… nevertheless I had to fumble a bit, as the flower fabric was insufficient. But I was more than satisfied how the triangles formed this geometric sweater.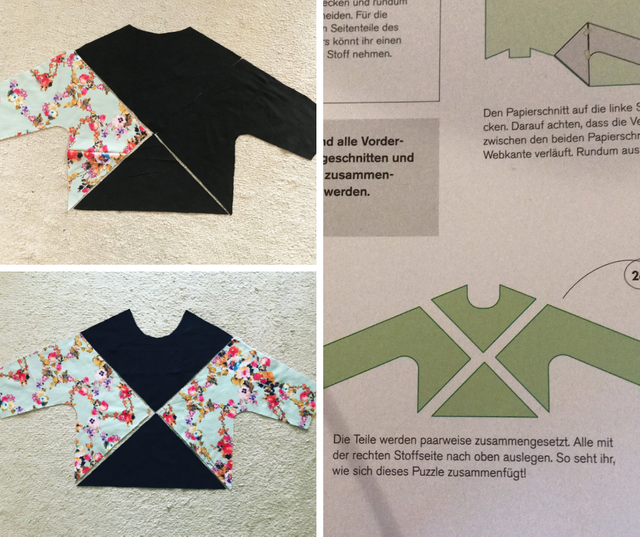 So, on to the sewing. As the sweater consist mainly of straight lines, it should not be too difficult. You see the 'should not' in the sentence… I was sloppy with the pinning and so the tips of the triangles did not align: AHHHHHHHH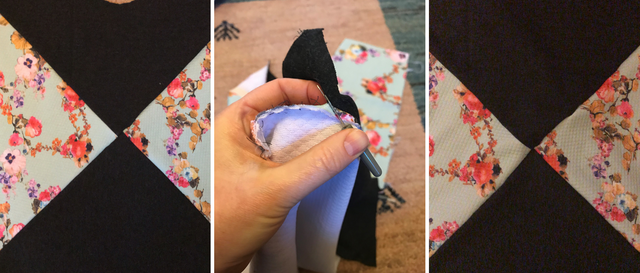 Next step ripping everything open and rearranging the triangles. The second attempt was ok and I decided to not go for perfection ??
After I had the sweater together I tried it on and thought again something like 'AHHHHH'. The sweater was to tight on my hips and much to wide at the bust and shoulders. After seeing the sweater on my body I had an epiphany that a sweater which consist of triangles ultimately is a square. And my body is not a square. I could have anticipated this. The next problem was the stiff flower fabric which lent the sleeves extra volume (which was absolutely not needed).
In sewing, especially the sleeve cuffs put up a fight, as the flower farbic did not strech properly. But the end product is quite nice (at least for me)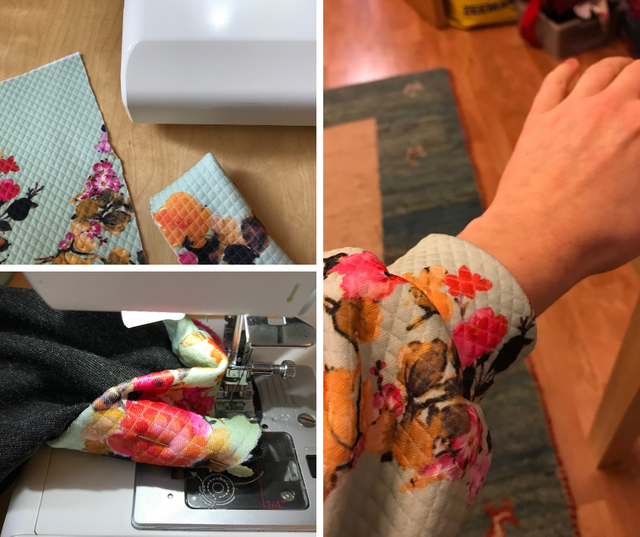 I wanted to quit but @cryptocariad motivated me to finish by sewing the neckline and shortening the body of the sweater. And tada: here it is, fitting much better.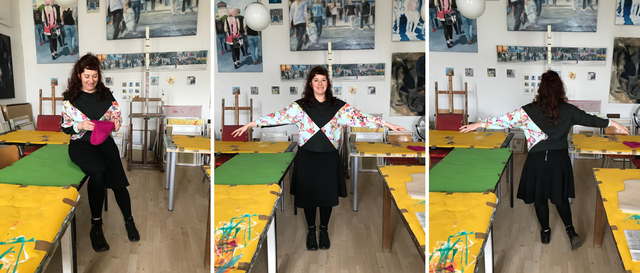 I still find the sleeves to wide and although I like the construction, I perhaps won't use it again, but the sweater is now wearable. I hope it will soften after washing it and get a better drape. But I am back at the beginning with my wonderful fabric find from the market….
The photos are made by the wonderful @giavellottista and by Silvia whose amazing paintings you can see in the background.
Thank you @crosheille for iniciating and @muscara, @shanibeer, @marblely for hosting the #needleworkmonday. If you want to see more beautiful projects with yarn, fabric and most of all needles, follow @needleworkmonday on steemit. Or even better grab your needles and keyboard and join the #needleworkmonday community. You can read more comments on this post on my steemit blog.