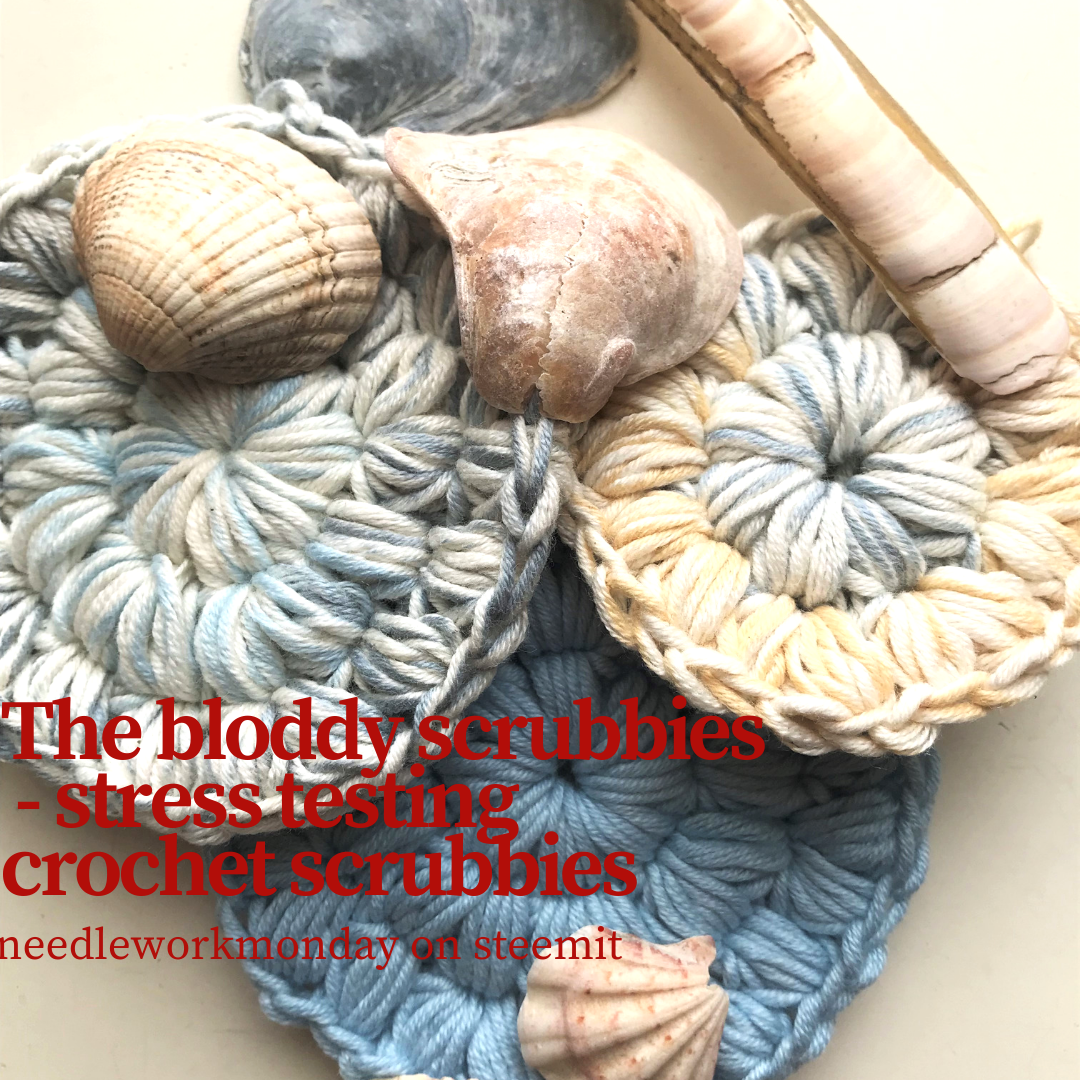 Stress testing sustainable crochet scrubbies
Look I crocheted some fossils. These are face scrubby fossils. They are made from organic sea shell which will purify your face by cutting away everything that's reaches more than 2 mm over your skin. Like your nose or your eyelids… This purification will draw a bit of blood which then smoothens the whole process… It's a bit like a Korean skin care routine only faster. You skip all steps besides the exfoliating. Or wait you can use the sea shells as organic and sustainable razor replacement, if you like/must shave your whole face as a beauty routine. It's only a bit rougher as the razor, but so ecological (Just that you know: I have my face full of peach fuzz and a full grown mustache like Hitler over my lips ?? Thankfully in blond)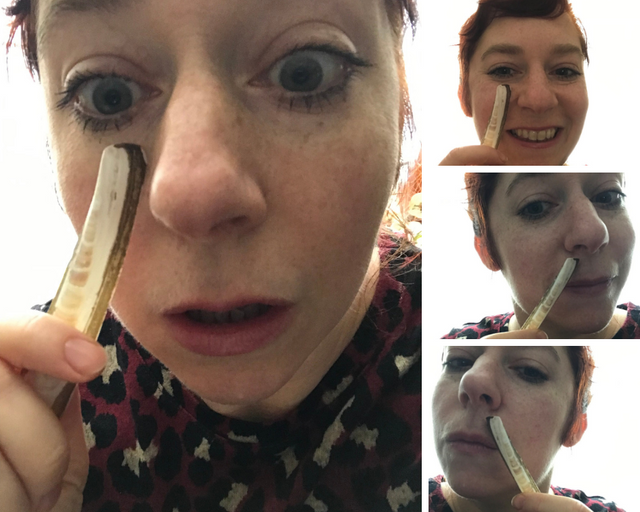 AHHHHH who put this words images into my head. Why do I contemplate using sea shells, how did I get there? Nevertheless, I am a bit proud that I managed again to write a bloody introduction ?
It all started so nice, with this lovely photo of my cream and blueish puff stitch scrubby. Maybe it even started earlier, precisely last week, with @cryptocariad's post about how to crochet reusable face scrubbies at home (yeah,… with that intro you are perhaps not so happy for the mention @cryptocariad … sorryyyyyy ???) She gave us a nice link with a puff stitch pattern and I was so drawn to the thick and cushion like stitches, I had to try it out. Besides, on most days I use mascara and remove it with a washcloth which afterwards:
Does not look good
Is very scratchy on my skin
So, fluffy and puffy scrubbies it should be. But all the cotton yarn in my stash is super stiff and unpleasant to face and hands, which is one reason I seldom use it. There is still this striped summer cardigan waiting to be finished, but I really despise to work with the cotton yarn (and the fit will be much to wide and to short, so the poor yarn is not the only culprit…)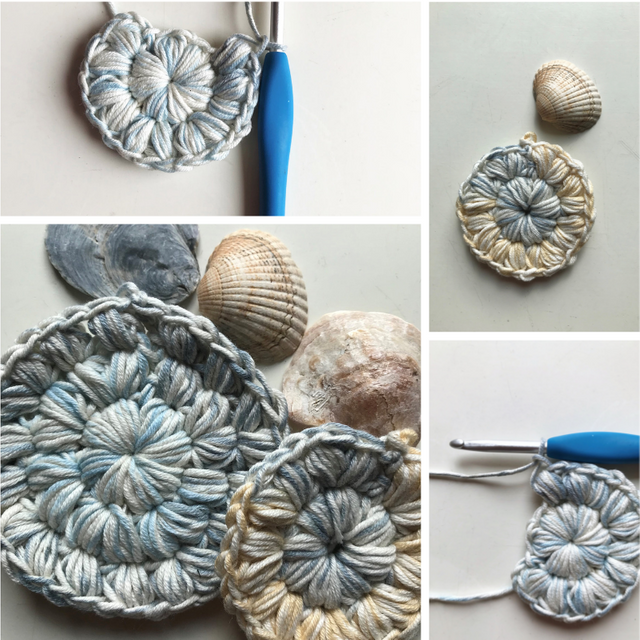 Back to the scrubbies. On Thursday opened I a new shop in town. A Netherlands bargain shop which also has yarn in – for this price – good quality. Especially their tweed yarn, a sturdy blend of wool and acrylic is lovely and I have used it in several projects e.g. the big miette. They now have two more varieties one in mustard (I did not bought it, but dream about it) and a pink/coral version which I posted on Thursday. But that's not all. As a opening surprise they introduced a new yarn blend, a mix of cotton and acrylic in three variegated versions and three matching solid colored ones. And this yarn is soooooo soft!!!!! What a luck, a washable yarn in powder colors perfect for the reusable make-up cleaners.
I bought two skeins and got one for free and directly started to work on the scrubbies. I used a 5 mm hook and this pattern as a guideline. Some of the pads I made bigger with three rows of puff stitches and some with only two rows. I tried once to finish the scrubby with a single crochet row, but I did not like the finish and ripped it out.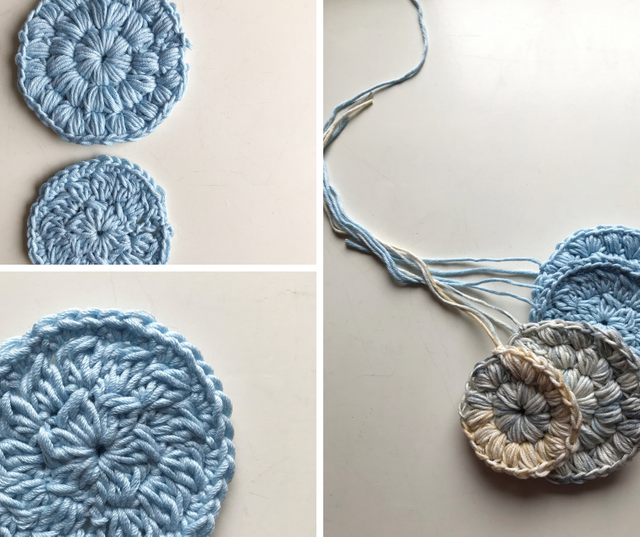 While crocheting happily away I thought this will make a nice present for my make-up using friends and while pondering this, I also notice how long I need for all these puff stitches. As a lazy person clever strategist I wanted to try out a faster pattern with less yarn overs. So I used a cluster stitch instead of the puff. Meh… not so cool. I think this scrubby would work ok for removing things from your skin, but it is not as soft and cushion like as the puff stitch variety. I would not recommend it for your eyes.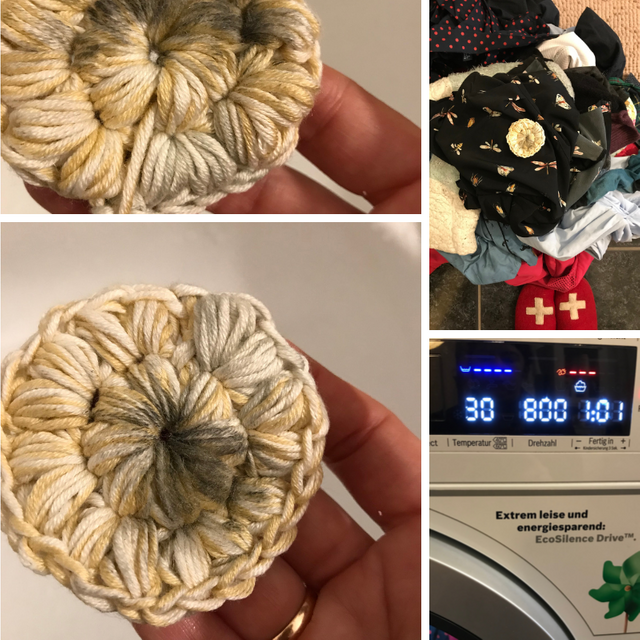 With the stitches all done stage two will now start: the high-pressure test. (I exaggerate, as I mostly use water soluble mascara and a bit of eyeliner) We are back to the Korean my skin care routine which consist of a handful of warm water over my eyes to dissolve the mascara. After this I used almond oil to remove every bit of tint from my eyelashes ? (I have almost transparent eyelashes) The almond oil I applied on my biggest puff stitch scrubby and a bit of rubbing, of the mascara went. The scrubby now jumped into the washing machine and I hoped it will not disintegrate. I washed it on 30 degrees C as I had some more delicate blouses and pullover to go with it. To avoid bacteria growth in this tepid water I dumped some laundry disinfectant into the machine. 1,5 h later this emerged: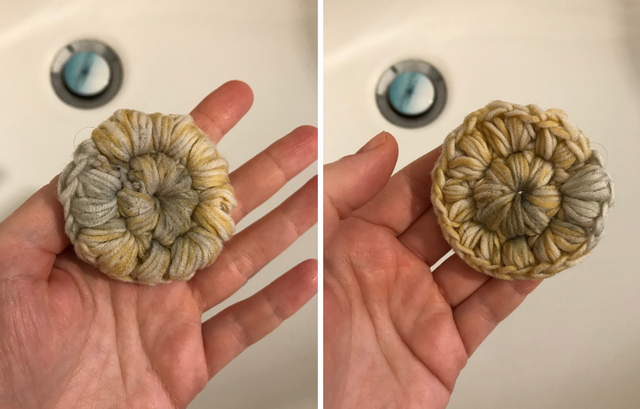 I am not happy. Do you see all the grayish stains? This cute shell colored puff stitch scrubby is still dirty. I am disappointed… sigh. I will give these pads another chance to get clean in a 60 C° washing program (and perhaps shrink, as the manufacturer recommends washing their yarn not exceeding 30 C°). I hope I can tell you something more encouraging next week.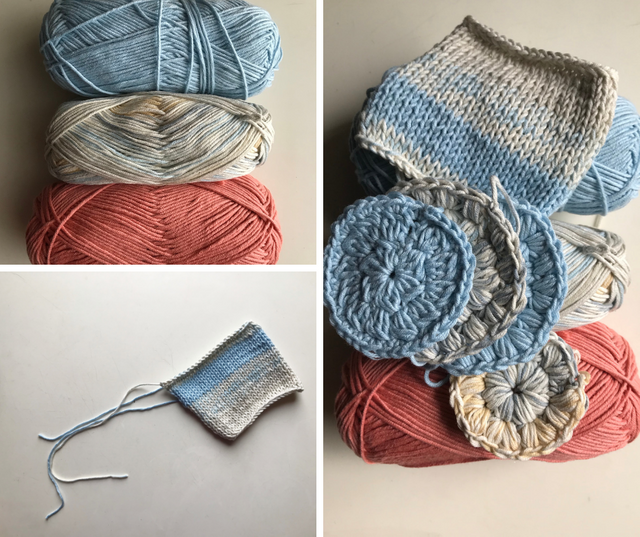 So, after this failed scrubby experiment I am thinking about a knitted project with this soft cotton yarn. I made a small tension square and was amazed how nice the yarn draped…. But I cannot envision a garment in these colors. Alas, I found a wonderful shawl pattern in The Knitter called Vashti. It has a floral lace part and the whole shawl tapers to one side. I have the perfect amount of yarn left over from the scrubbies (read: I secretly casted on this new shawl project – please don't fink on me)
If you anyhow want to crochet these little pads as they also make wonderful hanging ornaments you can follow @cryptocariad's explanations in English or @grizzabella's post in German and English.
Thank you @crosheille for iniciating and @muscara, @shanibeer, @marblely for hosting the #needleworkmonday. If you want to see more beautiful projects with yarn, fabric and most of all needles, follow @needleworkmonday on steemit. Or even better grab your needles and keyboard and join the #needleworkmonday community. You can read more comments on this post on my steemit blog.