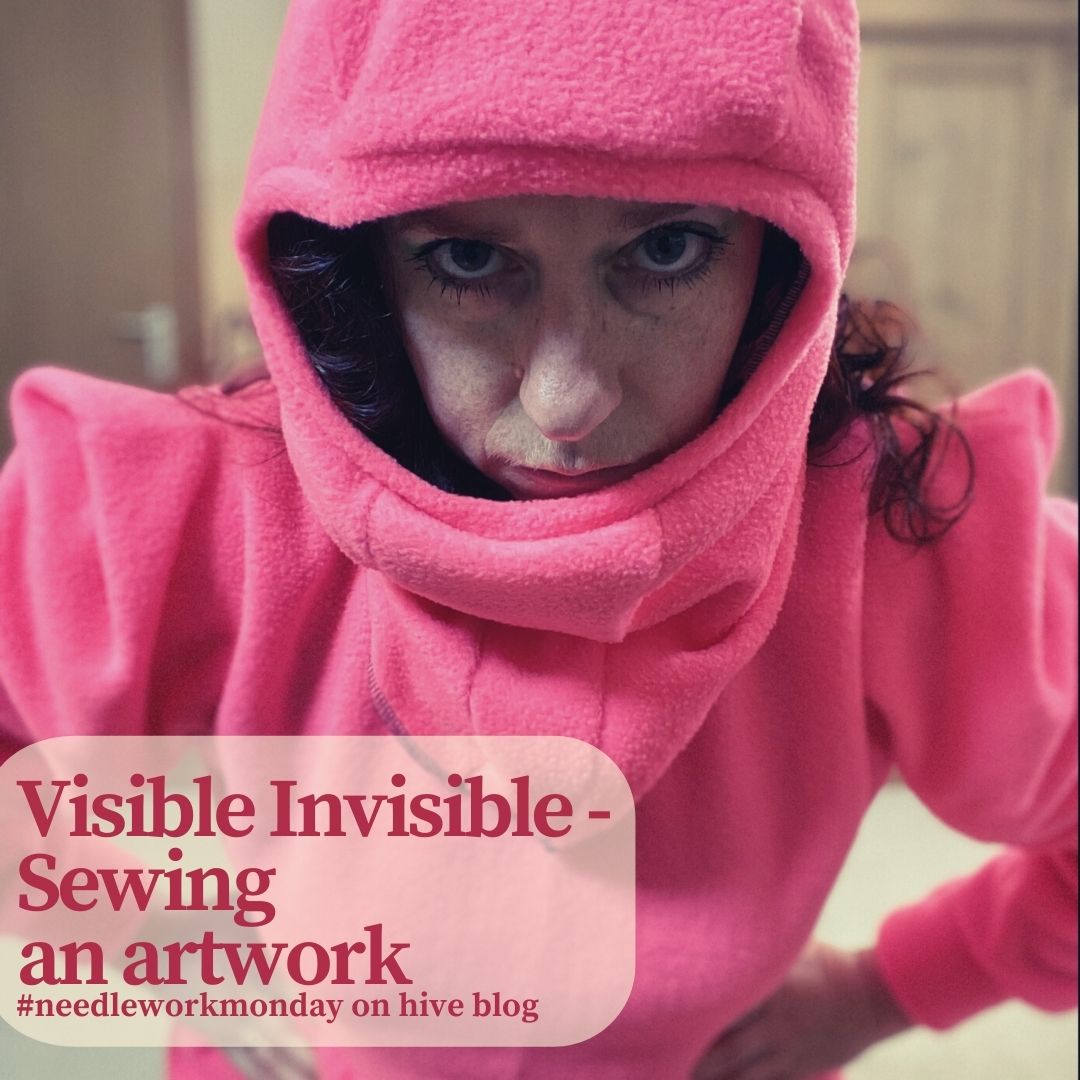 It's the month of art for me. In February and March, I have exhibitions upcoming and in Mai also. And after you all commented so supportive last week, I today dare to again write about a project I am working on. But other than the sculpture last week its still in its beginning and it cost me a lot of effort to write about this incomplete work: I am a bit of perfectionist and it goes against me to present something completely out of context. But as I made some funny photos, I guess I can perhaps entertain you with this.
After this lamentation here it comes my first VISIBLE INVISIBLE dress.
I still work on the topic of visibility of (older) women, and I came up with an idea for an art installation which will consist of photographies, text, some digital paintings and as the main piece garish and absolutely not unobtrusive garments.
I started out with some keywords floating in my mind like cocoon, armour, softness, hiding in plain sight, warmth etc. And I then started out to browse my patterns and find a matching fabric. I ended up frankensteining designing a wide dress with ruffles and pointy shoulders made from soft neon pink fleece with a balaclava as a head piece. For me a completely obvious solution :-DDD But I feel that a tiny explanation why I made the dress as it is may be helpful. I will insert some making of and wear photos, but know that the dress is not planned to be worn but to be displayed in an exhibition, I only put it on to make you smile…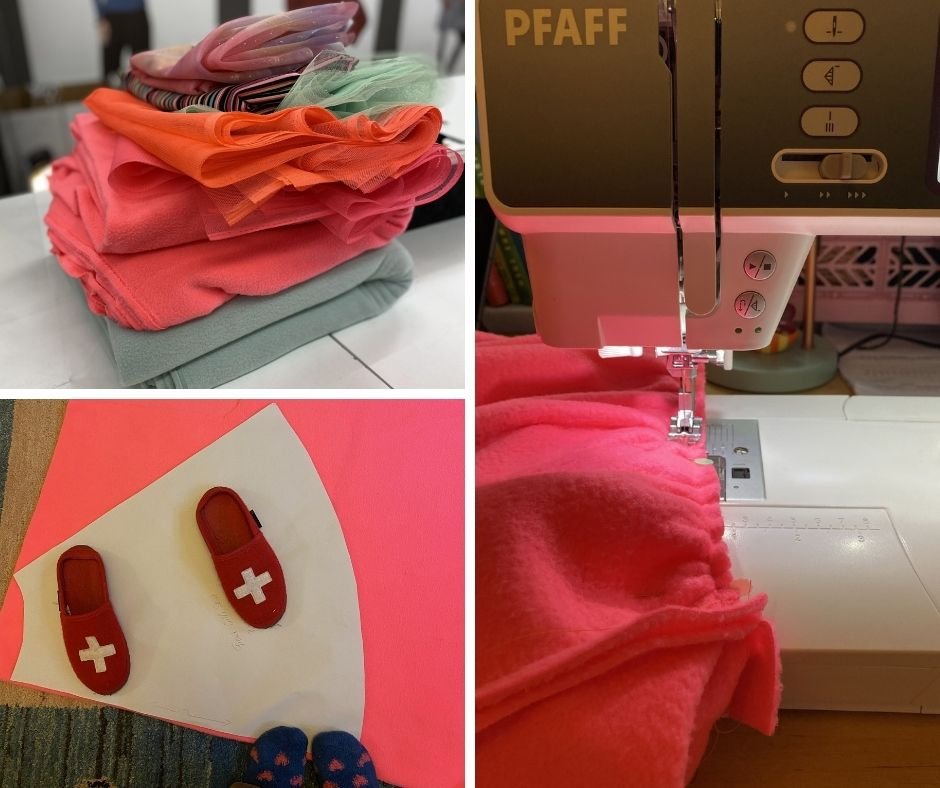 For longer now I am obsessed with wide dresses (and wide skirts) For me they represent freedom of movement, being comfortable and being able to dress for nearly every weather from freezing cold to blistering sunshine. So, choosing a dress as a first VISIBLE INVISIBLE garment was a given. Wide dresses (in dark and muted colours) are furthermore often read as an garment to hide behind; to hide your body, to hide tools beneath it, to hide age or status.
These features of "invisibility" I enhanced buy sewing a balaclava as a head piece which can be put on and so can hide your facial features too. But on the other hand, especially this balaclava – tellingly in German it's called "Sturmhaube" which can either refer to a garment for bad weather but also alludes to war – exaggerates the idea of hiding and alludes to face coverings worn during demonstrations which may be prone to violence. The balaclava often is used to hide one's head while committing crimes or at least films and novels make me believe this. All in all, for me the balaclava adds a bit of brutality to the wide flowy and often feminine read dress.




The next breach is the use of the fabric which is on the one hand super soft and warm and on the other hand is so garish and bright that you cannot be overlooked while wearing it (not sure the photos can show how bright it is in real life). Although being masked with the dress, the wearer is very visible. Together with the pointy shoulders – which are a feature often equated with power and masculinity, a feature often found on uniforms – the soft and cocooning dress gives opposing signals to the viewer: cheery, bright and soft but secretly an armour.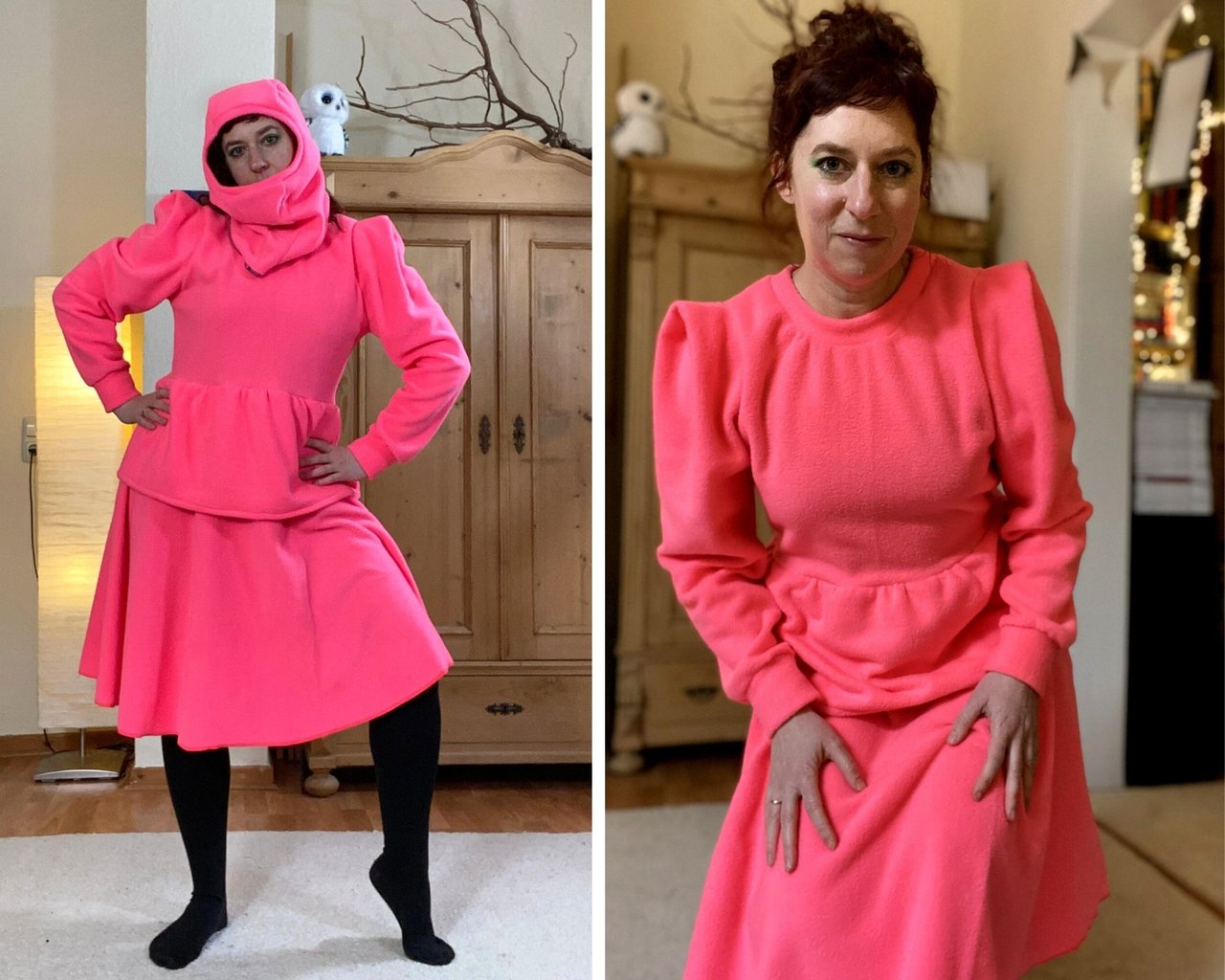 So far I am planning to sew some more of these VISIBLE INVISIBLE garments… not sure how fast I can work (sweating!!!!) as I also am working on the setup for the photos and the rest of the installation. I kind of feel the deadline breathing down my neck 😱
---
Thank you @crosheille for initiating and @marblely for hosting the #needleworkmonday and the community builder team @lauramica, @romeskie and @kattycrochet I am so glad to be part of.
If you want to see more beautiful projects with yarn, fabric and most of all needles, follow @needleworkmonday on hive blog. Or even better grab your needles and keyboard and join the #needleworkmonday community. You can read more comments on this post on my hive blog. 
Read more about my art und upcoming exhibitions on neumannsalva or buy some of my digital artworks on NFT showroom.
Last but not least: if my post coaxed a smile on your face you could support me with cocain coffee on Ko-fi