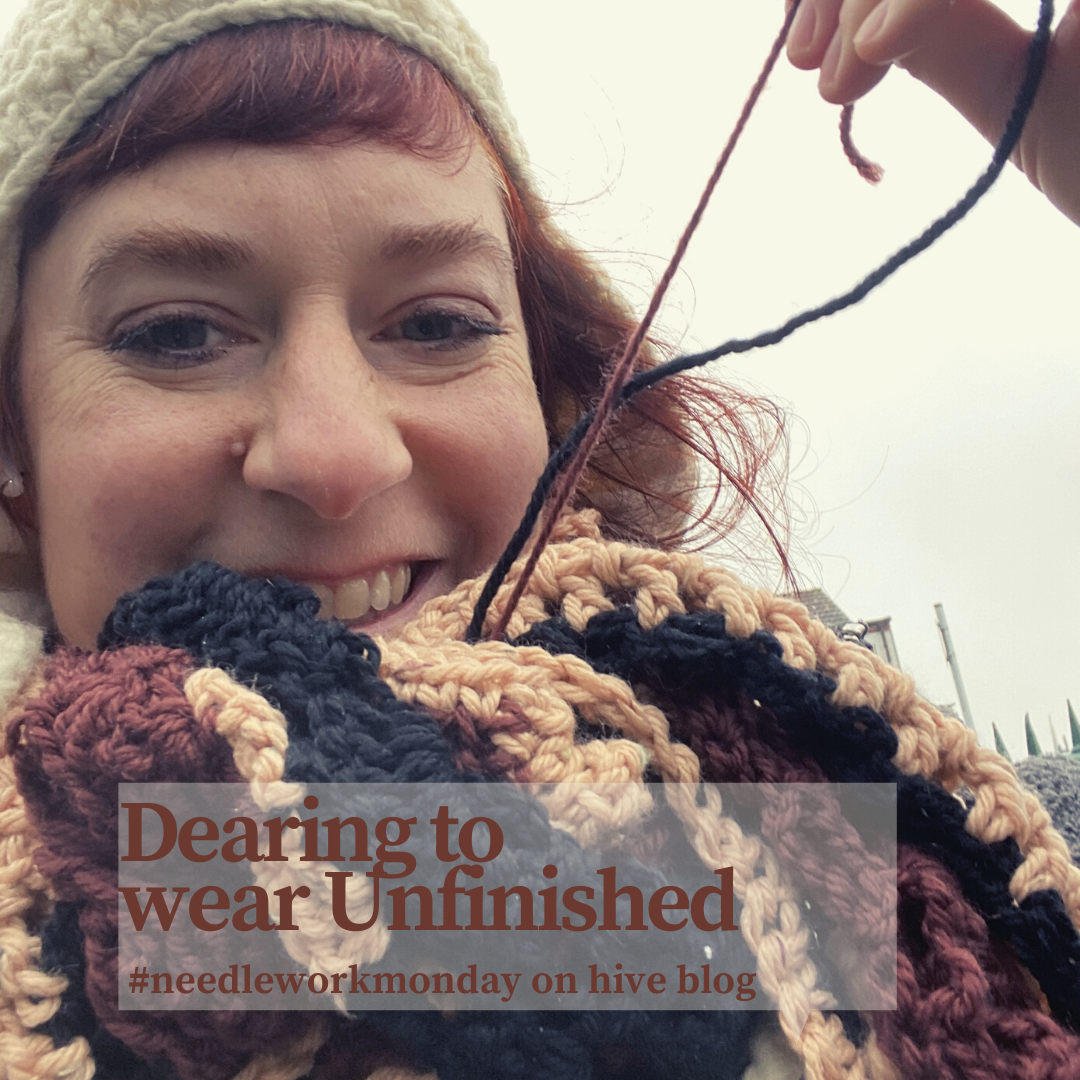 Its Monday morning and after the fabulous Barbie contest I am still in a glow about all the creativity and skill in this community. But what's going on with me? No Barbie clothes, no finished slipover…. Do I have nothing to show you? This would be a horrible situation. So, I took heart, sat down on Saturday evening and finished my crochet shawl I started during my visit of Erfurt. And I can assure you, I honestly did not procrastinate, as I was so diligently working on my artworks for the exhibition next year, that I hardly had time to do one stitch of sewing or crochet. But on the weekend, I needed a creative break.
(By the way: I still would like to hear about your experiences during the Covid pandemic. I would be so glad, if you would write me some words or send some photos. For more infos read my original post about this art project)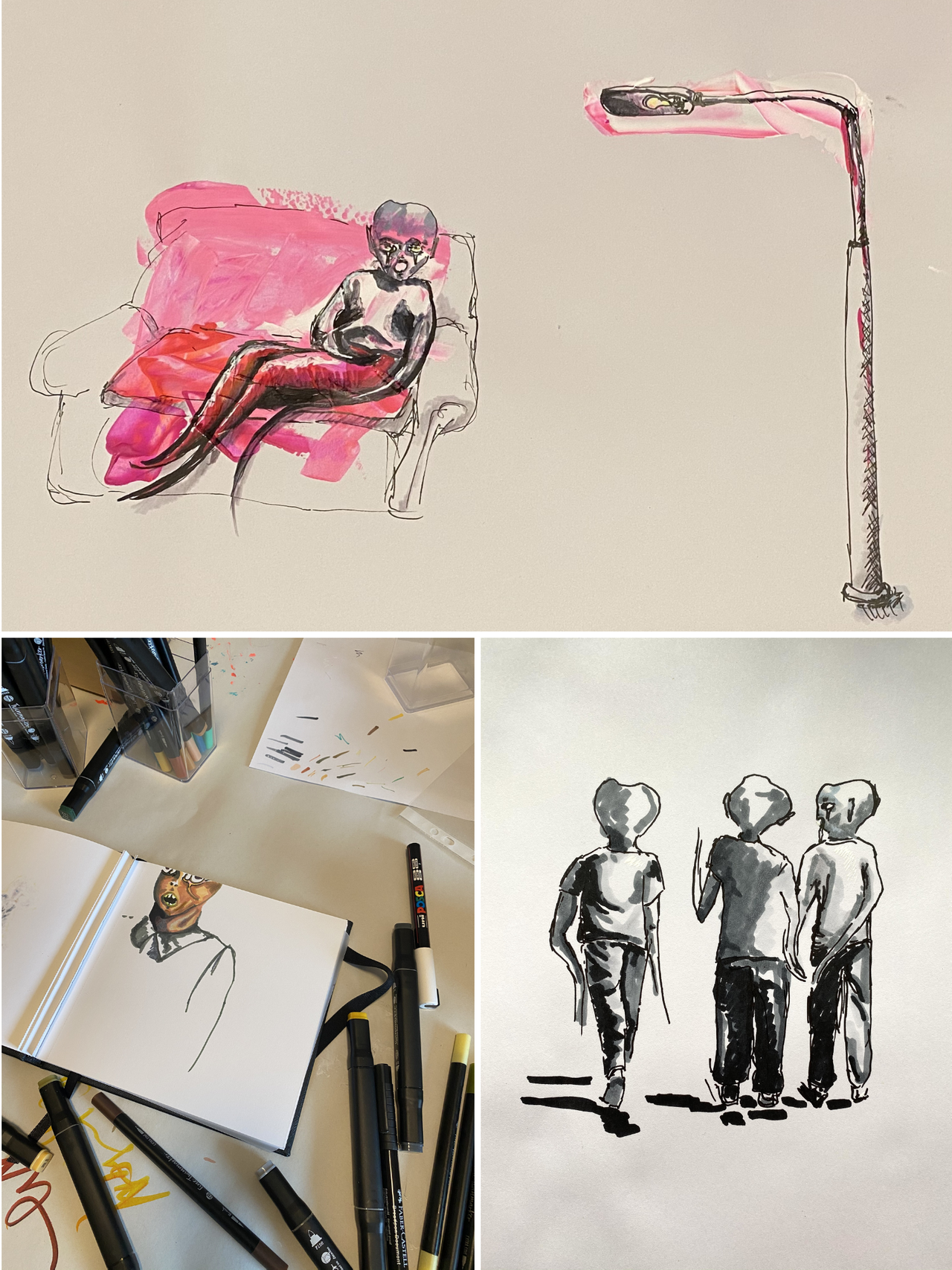 Here you can watch me crafting while simultaneously looking something up on the phone and watching a serial – I am a bit ashamed about my multitasking aka being unfocused. But this photo shows perfectly how I work in winter, because the huge beige thing is our flat's super old heating which is so huge that I can sit besides, it and three more people could fit in :-DDD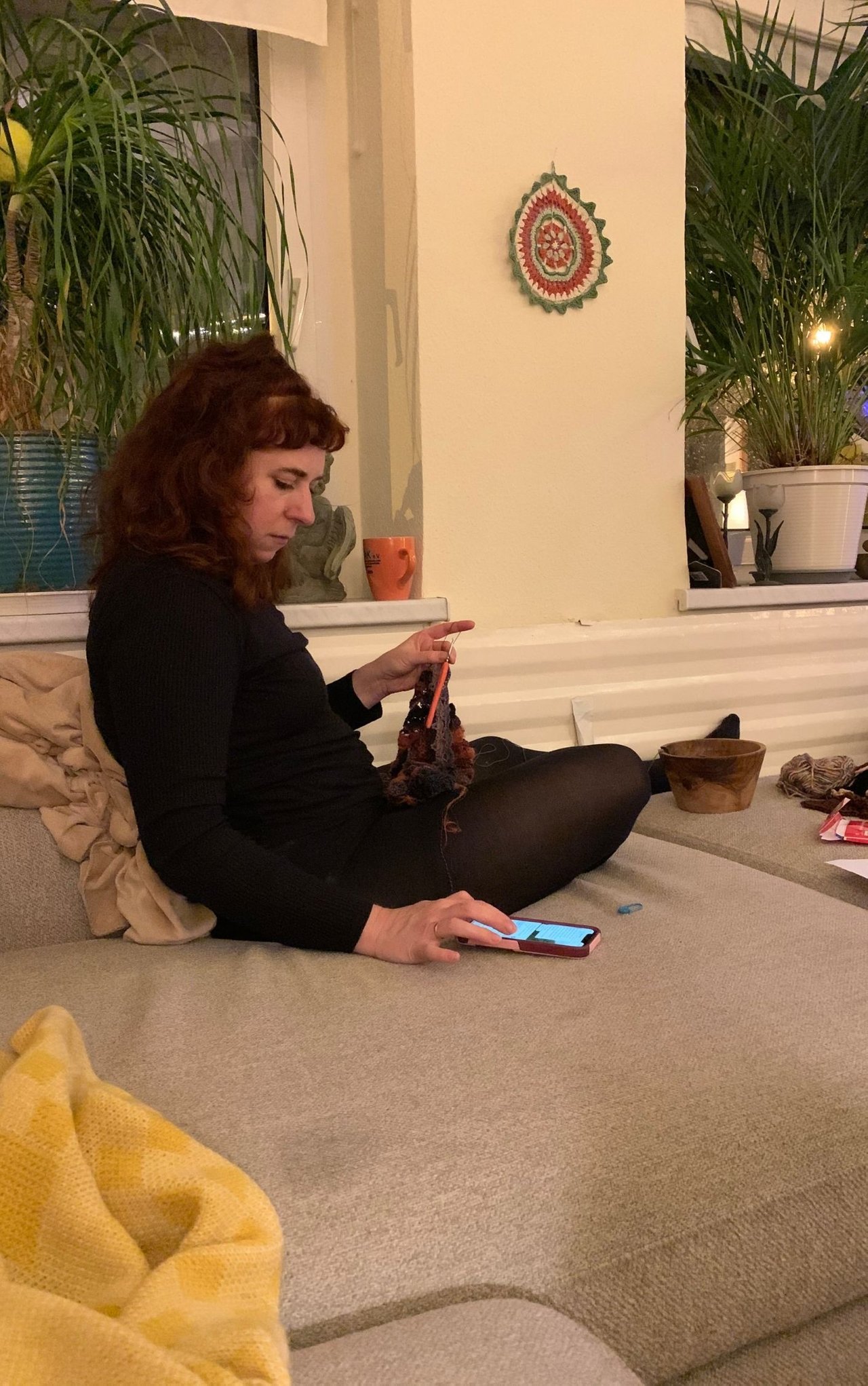 Back to the crochet shawl. I used a free pattern with an entertaining lace pattern which has a 15-row repeat. I think this is the longest repeat I ever encountered in a shawl. No boredom in this pattern 😀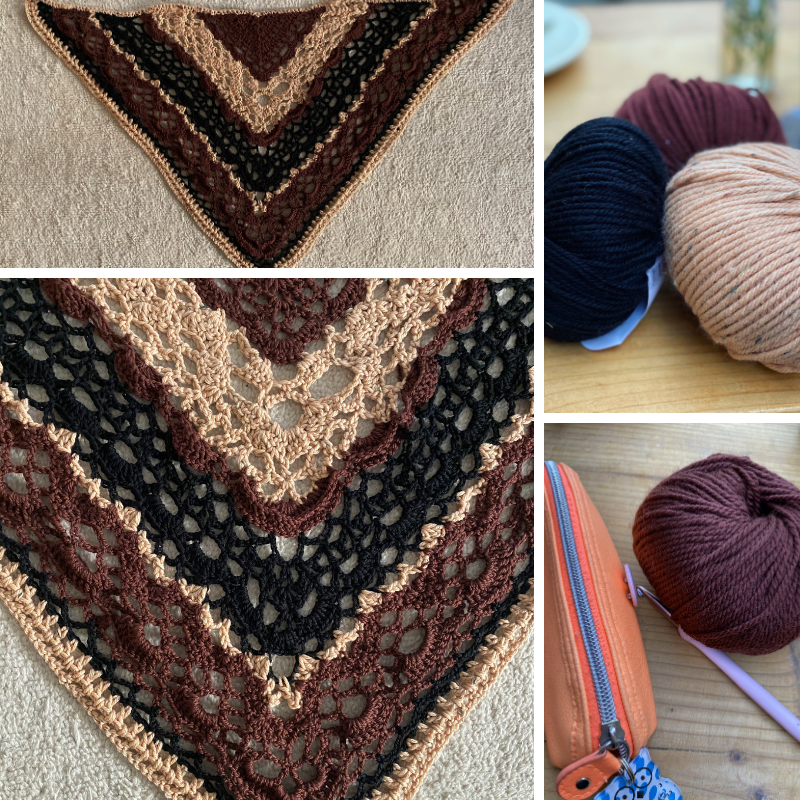 The pattern worked fine and I found no mistakes or uncertainties, but I had to use the schematic to work my way through it because the repeat was too long for me to memorise (and I worked too sporadically on this project). The yarn colours are a for me unusual choice as they are fairly muted; it's a black, a deep brown and a beige, the latter in tweed quality. The three yarns are not the same thickness, which makes the finished shawl a tad irregular, but this is ok for me. I have chosen these colors to make a matching shawl for the brown coat I sewed some time ago (yes dear readers, this time I had a good thought before I made the garment, not afterwards, as it is my usual method).
So, here is my amazing, mind boggling, wondrous photo of me wearing the brown shawl and my matching handmade brown coat… haha…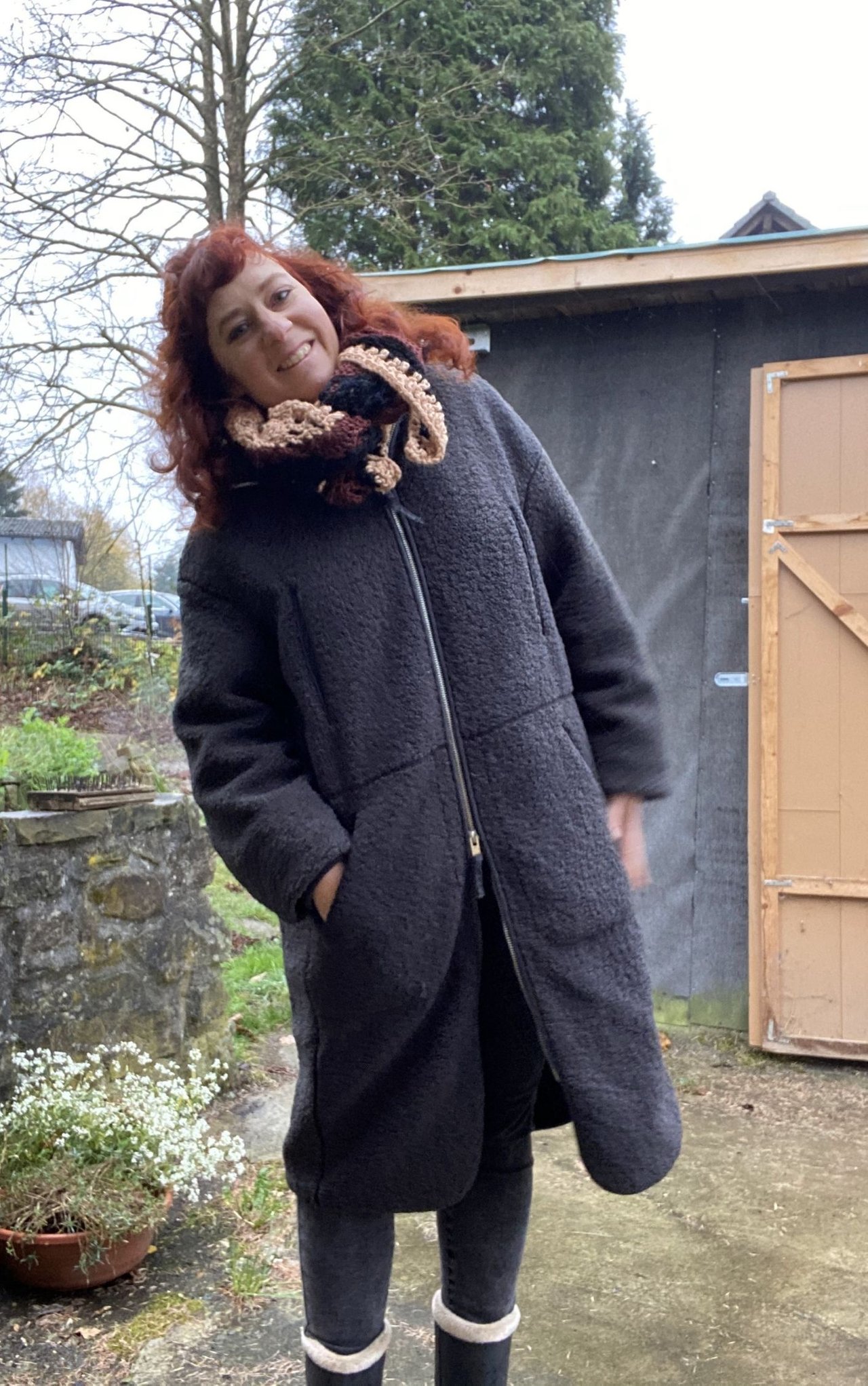 Sorry to mislead you, you do not have problems with your screen's colors and neither are your eyes strained, I am wearing a grey coat, not a brown one. I took the photos on Saturday in the garden and it was so cold that my brown coat was not enough. And as staying warm was imperative you again must look at a typical garment ensemble of mine, which is not really matching, but I think somehow ok 😀
To make it even more fun: I was not fast enough and did not managed to sew in all ends, but I WANTED to take the shawl photos for my Monday post… So, you can again admire a unfinished project :-DDD (Meanwhile I am well versed in wearing handmade things with threads hanging out in public, I can do this with a straight face and no blushing).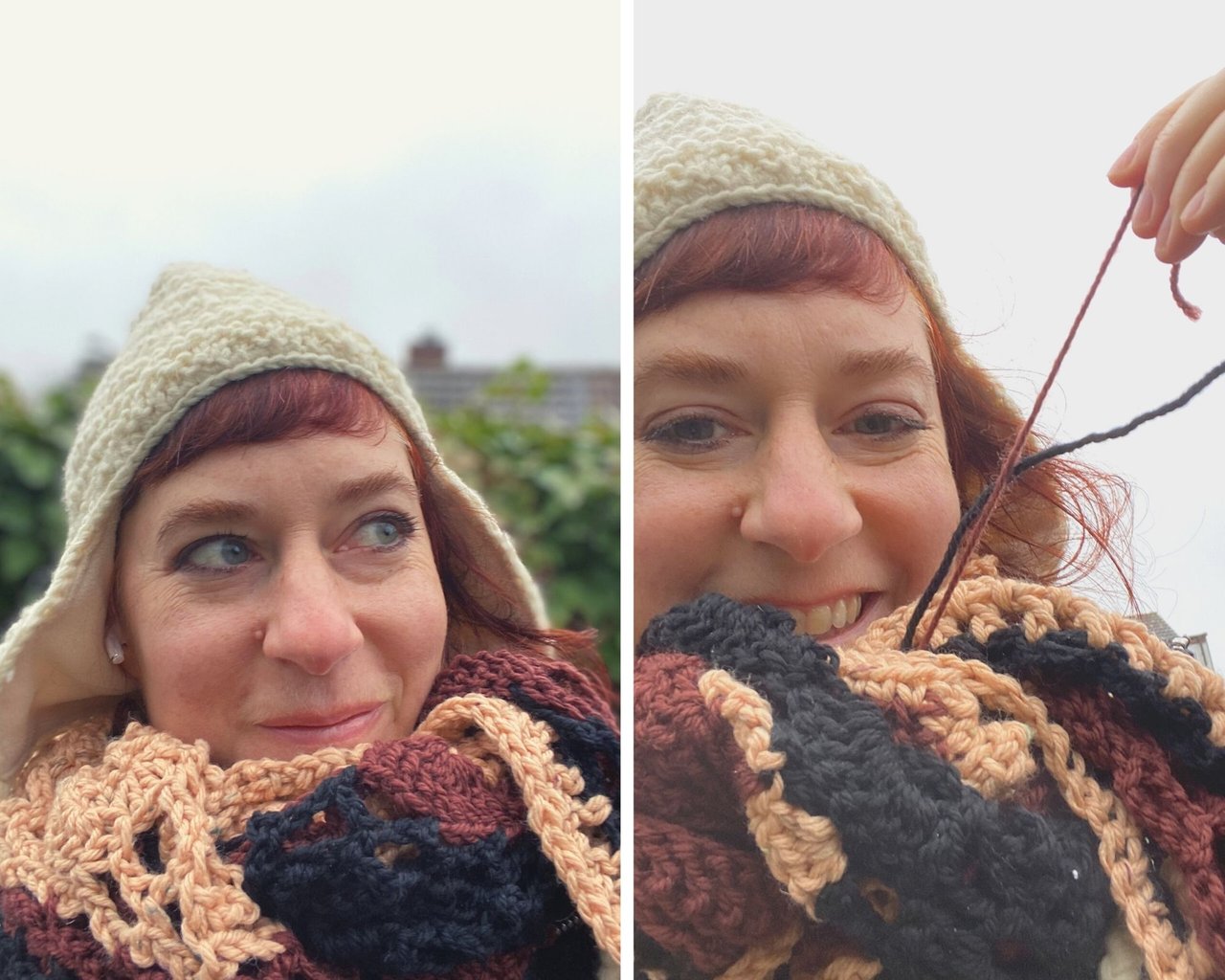 If you are in search for an entertaining lace project I can only recommend Kirsten Bishop's free pattern. The only critique I have is, that I would have loved the sides of the triangular shape to be longer, so that I can wrap it better around my neck. On the other hand, I am not very creative in draping shawls 😀
Thank you @crosheille for iniciating and @muscara and @marblely for hosting the #needleworkmonday. If you want to see more beautiful projects with yarn, fabric and most of all needles, follow @needleworkmonday on hive blog. Or even better grab your needles and keyboard and join the #needleworkmonday community. You can read more comments on this post on my hive blog.