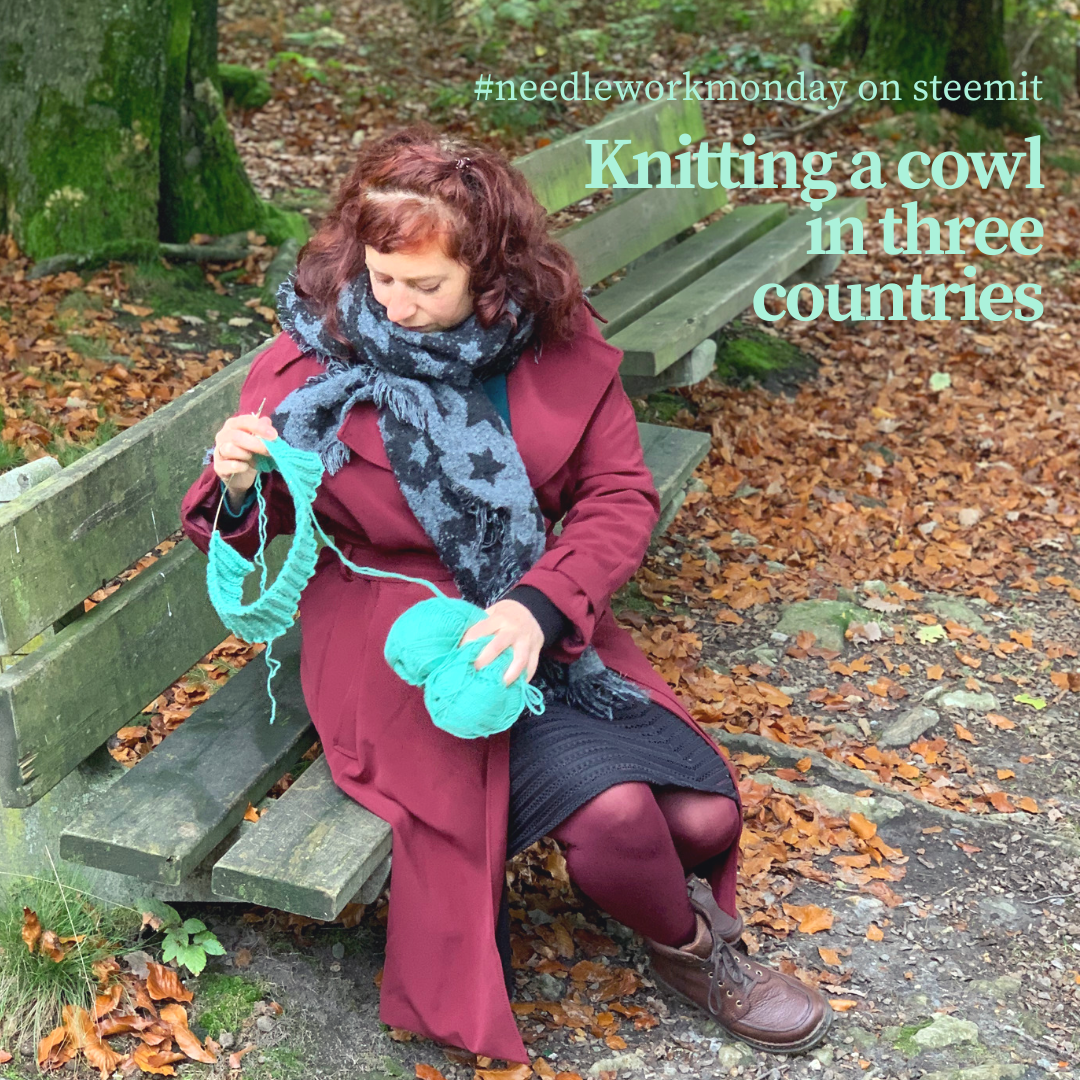 ---
Last week I told you of my new love Maastricht a wonderful town I visited per chance because the weather during our short vacation was gruesome. Our original travel destination was Aachen, which by the way is also amazing, but this will be a topic for another post. One reason we have chosen Aachen was, that we wanted to go hiking. Near Aachen is a moor which was intriguing for us and very near is a point where three countries meet. The latter will be in my focus today …. And if you wonder why I am writing about knitting although I just told you of our plan to go hiking, then read the intro again 😀
??⛈???☁️?☔️???????
Near Aachen in the Netherlands town Vaals you can find a place where Belgium, Netherlands and Germany meet. This point is on a hill, which is said to be the highest place of the Netherlands. The area around this "Dreiländereck" is built as a theme park with a labyrinth grown out of bushes adorned with secret doors and water fountains. I read beforehand that this is very touristic, but as we arrived under a dark gray sky, the place was mostly deserted.
This three-country corner is the starting point for over 60 hiking tours. You could visit Belgium and its old mining buildings (some are even from the Middle Ages), walk along old watchtowers on the German side or visit beautiful meadows of a nature conservation project in the Netherlands.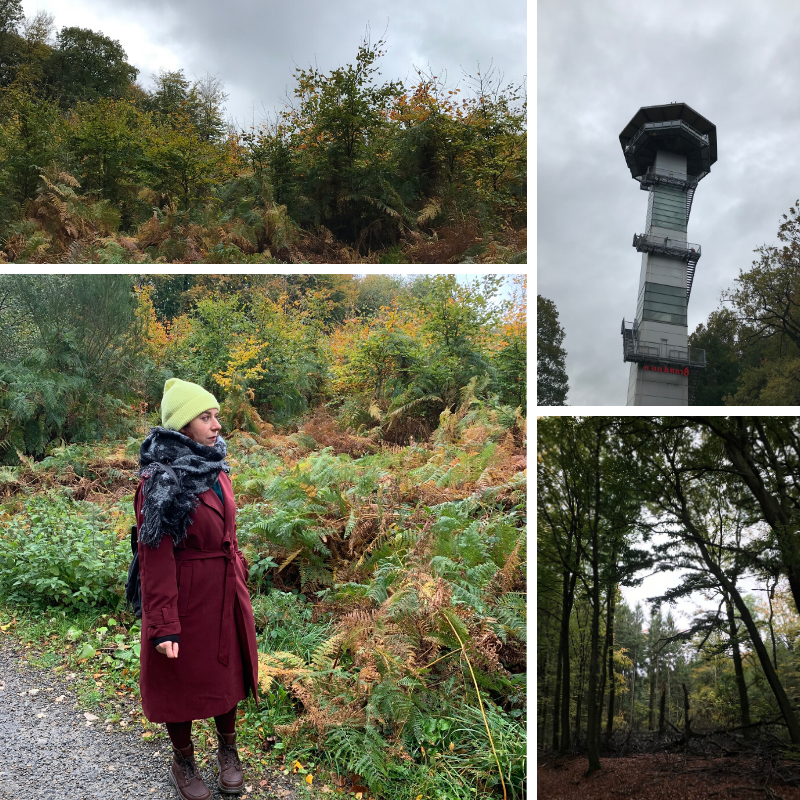 Highly motivated we wanted to take the path through Belgium and started to walk. Both in warm clothes and sturdy shoes (which we may have bought a day before Maastricht, because ours were so wet, they made strange noises with every step). The forest and landscape were amazing, dark conifers alternating with fern meadows. We walked on paths full of red leaves and encountered several different mushrooms. Amongst others this amazing toadstool.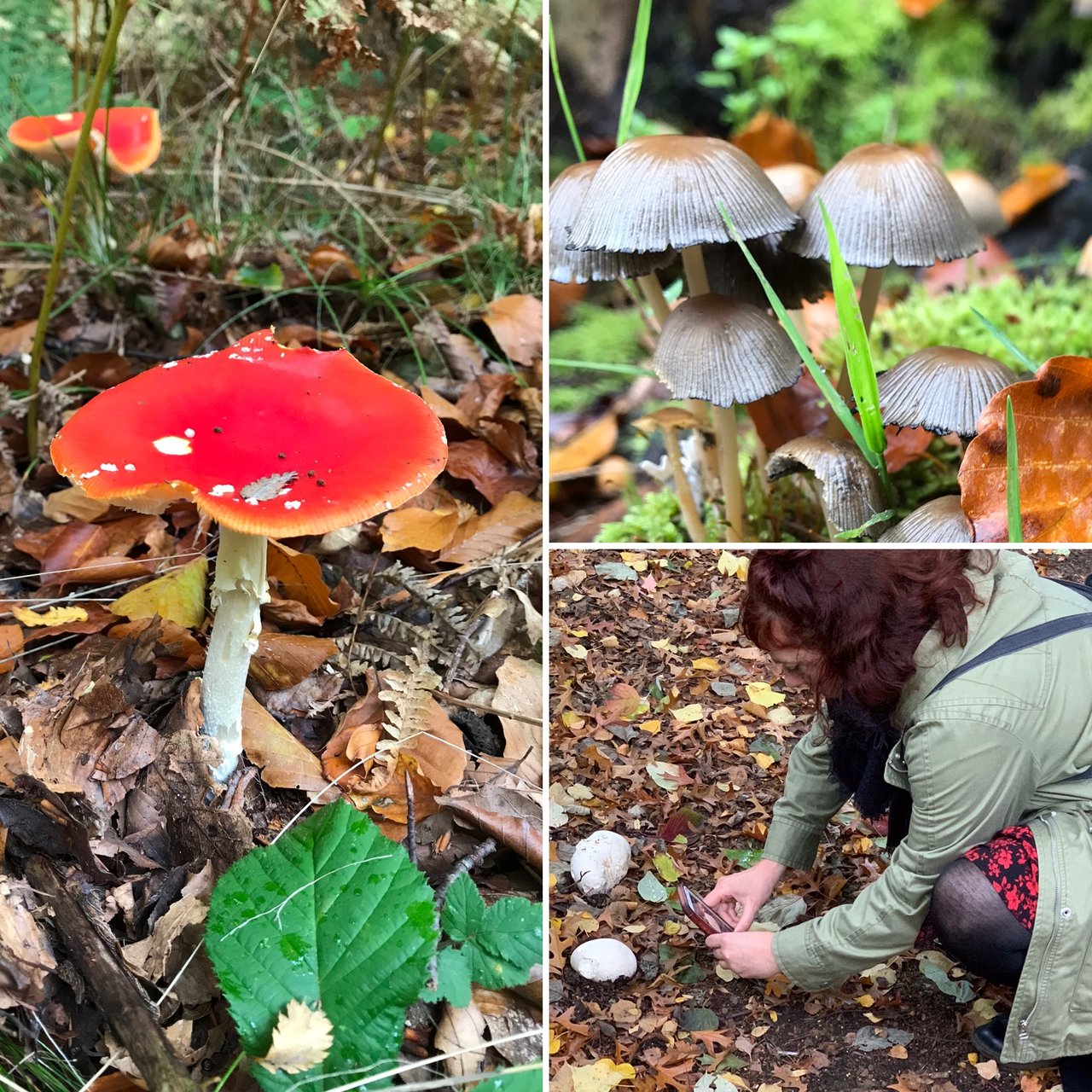 The landscape seems to be enchanted and I felt like a protagonist in a fairy tale. I deemed it possible that we would lose our orientation if we do not leave a trail of breadcrumbs…
As I am always prepared to knit or crochet (or take photos of me doing this) I took my knitting out of my backpack and sat down to pose, before a witch would come to invite us into her gingerbread house (which is doubly realistic in Aachen, the hometown of gingerbread)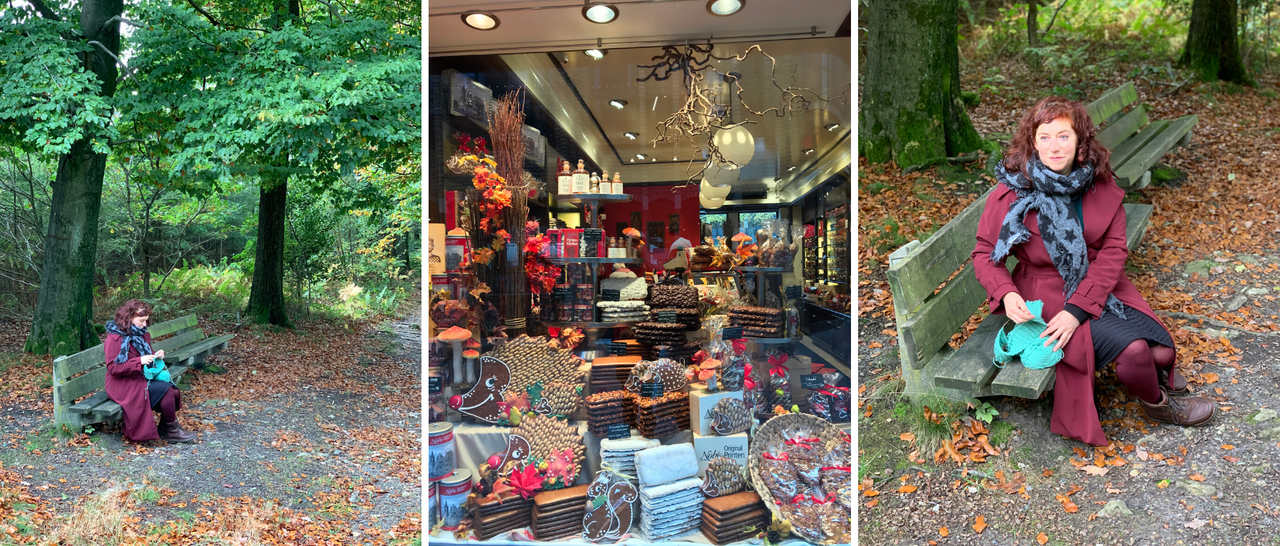 As it again started to rain intensely this was only a short pleasure. We hurriedly packed everything and tried to accelerate our walking speed, which was hopeless because of the beautiful mushrooms, trees and the view – I guess we stopped every 6 meters to admire something new.
Back at the starting point we were again soaked, and I simply refused to walk another step:
Back at Vaals we thankfully found a wonderful café, which also was an exhibition room for paintings, where we could dry out (and knit). The interior was beautiful, many old furniture, carpets and a huge oven. The best was a big window and some chickens which watched us through it (their food was in front of the window ?) Here we could relax, and I worked on my knitting.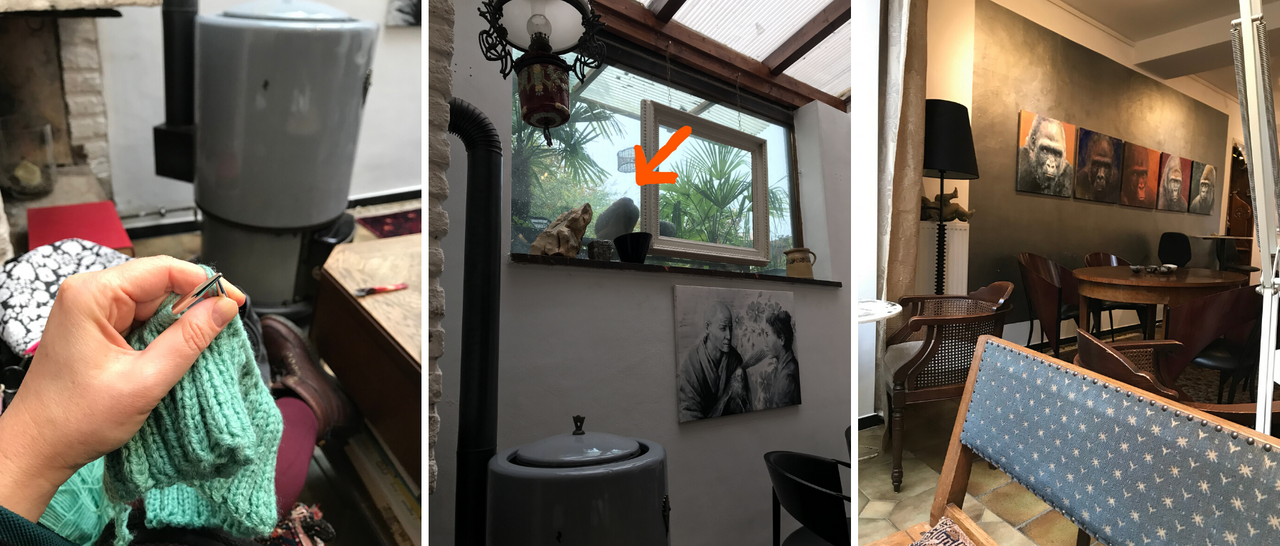 Finally, the knitting…
The mint green thingy you could see on the photos will be a cowl for my mother. I found a wonderful pattern in Made by Me. The whole cowl is made of a k2 / p2 ribbing and it is closed with 6 buttons. But its best feature are the fringes. I love this, the design looks so cheery. I never knitted such a long ribbing and I am a bit disappointed how long it takes (me) to get the thing finished.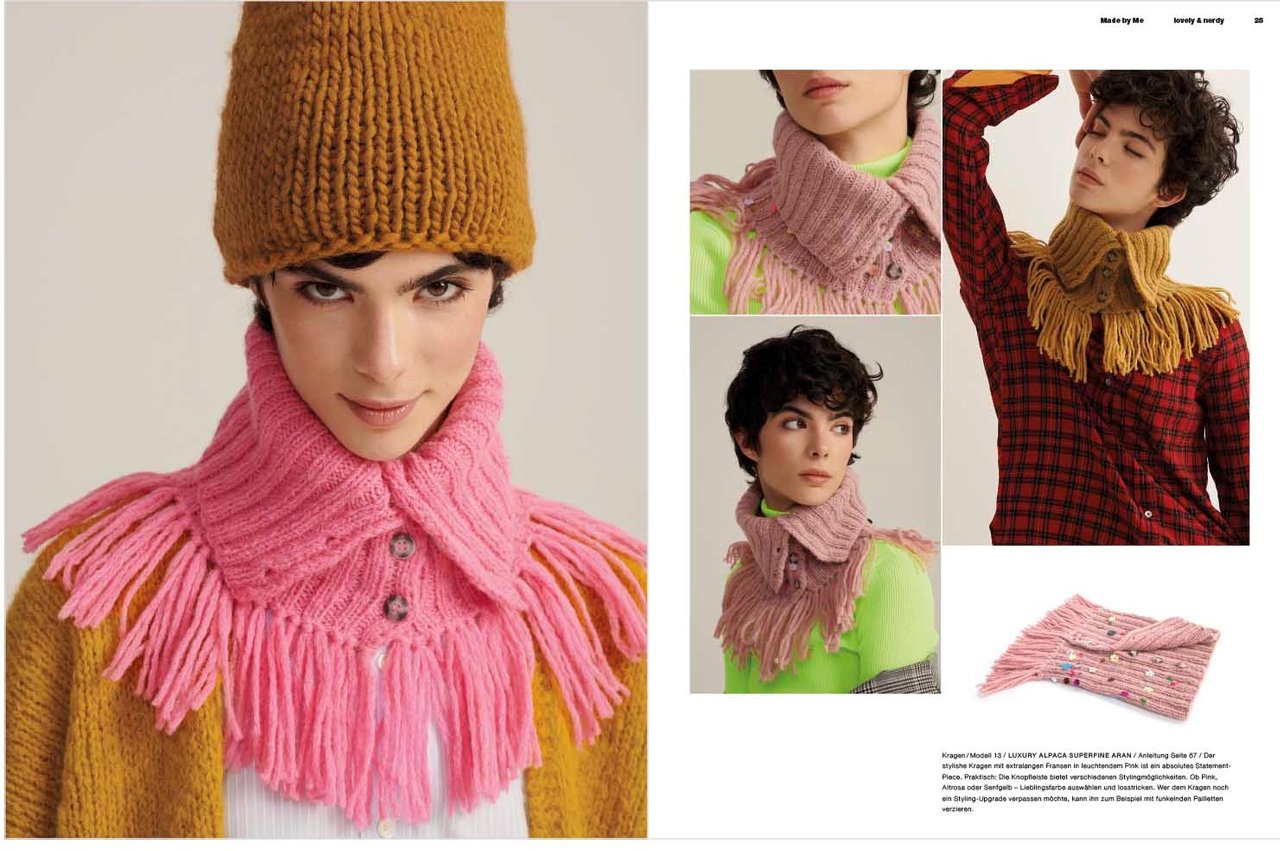 Foto source: https://www.idee-shop.com/rico-design-made-by-me-handknitting-nr.9-herbst-winter-2019
Currently I have made 3 buttonholes and according to the pattern it should have six. Some rows to knit till Christmas.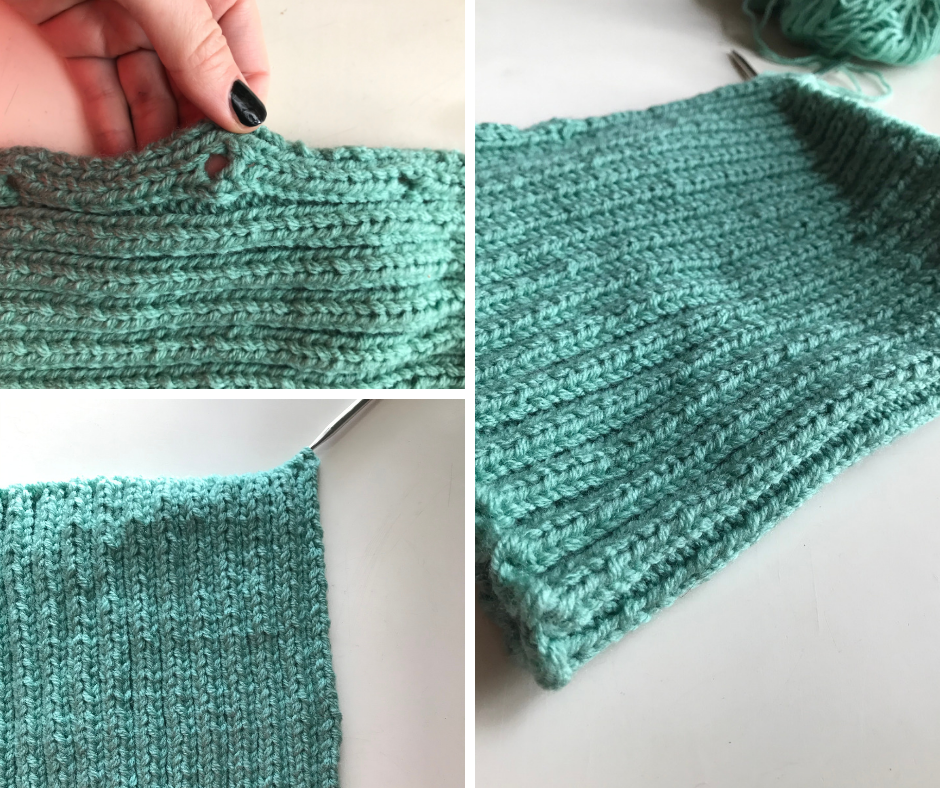 How are you doing? Did you start on Christmas gifts already (or are you much better organized and have something finished already?) I am planning to sew another sweater for my husband, there is this cowl for my mother and some socks I will give away as a present… oh and I wanted to dye wool for a friend…. While writing this I get a tiny bit of panic ???
Thank you @crosheille for iniciating and @muscara, @shanibeer, @marblely for hosting the #needleworkmonday. If you want to see more beautiful projects with yarn, fabric and most of all needles, follow @needleworkmonday on steemit. Or even better grab your needles and keyboard and join the #needleworkmonday community. You can read more comments on this post on my steemit blog.
Ohhh, if you don't have a steemit account and want to comment here, feel free 🙂
The amazing photos are from @giavellottista (the rest I made myself :-DDD)